This is Kollapuri chutney or Masala which I made and used it in this
recipe
, I was looking for some Authentic Maharashtrian delicacies and as always I go to her blog, I just love her blog and find her writing very interesting, and when I read that her mom has sent this to her I just fell for it.
I made half of the recipe and I have some left, which I use now and then 🙂 in my cooking, gives a flavour and taste to the dishes you create everyday.
Here goes the recipe.
Before that don't you want to see the click here it is...........
KOLLAPURI CHUTNEY/MASALA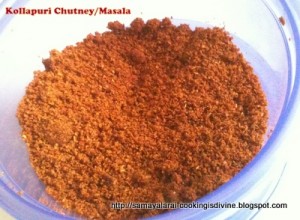 INGREDIENTS:
1 Cup Red Chilli Powder (I used whole chillies 7-7 Badgi and Guntur)
1 Cup Coriander seeds
1 tbsp Cumin seeds
1/2 Copra (dry coconut)
1 tbsp Sesame seeds (white til seeds)
1/2 tbsp Black pepper corns
1/2 '' Cinnamon stick
1/2 tbsp Cloves
1 tsp Fennel seeds
1/2 Cup Onion
8 - 10 Garlic
1 Cup Cilantro
2 tbsp Oil
WHAT IT I DO ?
I made half of the recipe, I substituted Red chilli powder with 7-7 whole red chillies (Guntur-Badgi), and halved the recipe where ever possible, I used 6 Cloves, 4 Garlic, so that's it and proceeded as indicated in her blog.
METHOD:
A very simple recipe, Toast all the spices on a dry pan or skillet, except for Red chilli powder if you are using powder, as I used whole red chillies I roasted them as well with oil and keep them aside, when I was frying I used 1/2 tbsp with all the dry spices, and with the other half oil I fried Onions until well browned (do not fry it to dark) and cilantro and few minutes with Garlic.
When all is well done, leave it aside to cool and then grind them into a nice powder and store it in a airtight container for future use.
That's it well done, look for more recipe Ideas with these powders check her blog.
c u soon with an other recipe........
sending this to Flavours of Maharashtra strated by Naina, hosted by PJ