Of course, who doesn't know Ghasa-ghasa paayasam, and why am I posting this recipe now!!, I do make this a lot and I have never been able to take photos of them anytime, Like my Bisibele Bath!!, I keep forgetting almost all the time, Today my kids were back with their dad from their Bank Holiday Monday Vacation, and I was stuck with my daughter at home, thinking I will make her sit and study as her exams start from coming tuesday and is upto June end!!, I am completely gone bonkers , and keep screaming and shouting at her most of the time, she has started to hate me I think.
She is a kind of person who takes everything very calmly, sometimes which makes me wonder why is she like this, I remember my Dad used to say when she was a little baby around 2-3 months old , she used to just stare at the ceiling or somewhere God knows where and was very quite, smiling and very sweet baby, He always used to tell me when Ramakrishna Paramahamsa went he must have left her and gone !!, I used to laugh and he used to tell me I am really serious, why does she stare like that completely blank she sees through you, I wonder and want to know what she might be thinking!!, well, we never knew what she was thinking and still I do wonder what goes on in her mind.
I never remember her throwing tantrums or talking with a childish or should I say baby talk with some letters being disappearing or give a stress or streched or sing along way when they talk which Aishu never did !!, when she started speaking at the age of 10-11 months she used to speak very fluently and we were quite surprised, she always used to be a very quite child, always loved to read books which she still does. Yesterday when we went to the centre she said I have got a wishlist of books and want to buy them I said let's see if we can get some here in the mall, we could buy only one book "20 thousand leagues under the sea", the other books she couldn't find, "Catcher in the rye" was another one, which she told me that they wouldn't sell in the shops as it is banned. she wants me to read that book, I still haven't had the chance, another book I have been suggested by her is "To kill a Mocking bird", I have to soon read these books for her!!!. she has asked me this time when she goes to India she wants to buy Mahabharata and Ramayana, she is now reading War and peace. God!!, she is a serious reader.
She has never been a trouble to me in any ways, she doesn't gets tensed up for her exams and tells me be cool ma, don't worry I will do alright, and takes everything very calmly, I get scared and she tells me to take a breath of fresh air, and second girl says breath in breath out, mom and don't worry everything will go well, but, that one is not at all like my eldest, she gets tensed up but she is like a girl with time management skills, she keeps alarm with anything and everything that she has to finish !!.
Oh! now I have left everything in HIS hands and pray she does well in her exams and her ambitions gets fulfilled. Best of luck to her future and God bless her always….
Coming back to the recipe, I saw this event hosted by
Priya of easy n tasty recipes
who started the CWS event and this is her month of seeds and it was Cardamom, I thought two in one, kids would enjoy and kheer delight and I could as well participate in the event. so….here is my recipe, this is H's favourite sweet and I keep making it often.
KHUS-KHUS KHEER/ GHASA-GHASA PAAYASAM/ WHITE POPPY SEEDS SWEET DRINK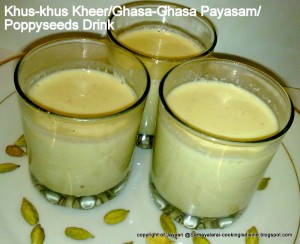 2 tbsp of Poppy seeds/ Ghasa-ghasa/ Khus-khus
10 Almonds*
10 Pistachios*
10 Cahew nuts*
1 Cup Coconut milk
1/2 cup freshly grated coconut
A pinch of edible camphor/ paccha karpooram
2 pods of Cardamom
A fist full of Rice (2 tbsp of Raw Rice)
1 and 1/2 ltr of milk
150-200 gms of Jaggery (use jaggery according to your sweet tooth!!)
You can use coconut milk by extracting it from the fresh coconut or as sometimes I just grind freshly grated coconut with the other ingredients and make the kheer
First of all soak in hot water poppy seeds, all the nuts and rice, leave it an hour or so until they are well soaked.
Remove husk from the seeds.
Next Grind all the above said ingredients into a smooth paste, mix this paste with 1/4 cup of water.
Meanwhile In a 1/4 cup of water boil the grated jaggery until it dissolves then filter and keep it aside.
At the same time Boil 1 and 1/2 litres of milk and set aside.
In a large container boil the filtered Jaggery syrup when it starts boiling add this ground paste and keep on stirring otherwise it will stick to the bottom of the vessel in a few minutes you will see that it starts forthing up, do not stop as the kheer starts to thicken and if not careful it might start sticking to the bottom.
Then add the boiled milk lower the flame, Then add well powdered cardamom seeds and paccha karpooram/ edible camphor and stir continuously fort few minutes, keep on stirring for around 5 minutes,
you can see bubbles forming at the edge of the container, then put off the stove other wise it starts curdling and your kheer will be spoiled.
Serve hot or cold
Mum always said Drink Ghasa- Ghasa paayasam and sleep well!!
* You can reduce the quantity of the dried fruits or you can completely omit them and just make it with Khus-khus and coconut.
Just use less than a pinch of edible camphor, very little might be more !!, It has a very strong smell some people do not like it, so you can totally omit if you don't like the smell.