Hi, this is the recipe for the Indian cooking challenge, which is hosted by srivalli of spicyingyourlife I had such a wonderful time preparing this today morning and except for the rising time it was so quick to make with no fuss, and the end product was absolutely gorgeous, and all my friends out their you must try this recipe.
My daughter enjoyed it thoroughly only thing was I had to make a sweet chutney for her !!, Valli thanks so much for the recipe you selected and it just turned so fluffy and soft. Here goes the recipe…..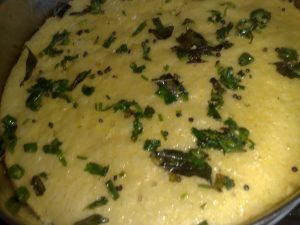 For Batter
Bengal Gram Flour 250 gms ( 1 & 1/2 cup)
Curd 1/2 cup (not very sour)
Water 1/2 cup
Cooking Soda 1/2 tsp
Seasoning
to be mixed to the batter which is to be added just before cooking
Oil 1 tbsp
Turmeric a pinch
Green chilli paste 1-2 tsp
Sugar 1tsp heap
Citric acid 1/4 tsp ( if not use Lemon Juice)
salt to taste
Eno 1 packet (5 gms- 1 tsp) for tempering (Green colour Fruit Lime)
For Tempering
Sesame Seeds
mustard seeds
cumin seeds
coriander leaves
Grated coconut
METHOD
Mix all the ingredients under the batter heading without any lumps like an Idli batter it should be in dropping consistency, Not too thick not too thin, Add soda and Keep it aside for an hour.
to rise.
Once the batter is raised to the batter add Citric acid (I added Lemon Juice) oil, salt, sugar, chilli paste (which i omitted) & turmeric powder which should be done right before pouring it to the plate
Now mix Eno to the batter
Dust or Sprinkle Eno to the plate, Then immediately pour the batter to the plate.
And allow it to steam in the pressure cooker just like Idlis for 5 to 7 minutes. Leave it for few minutes, Remove the lid check with a tooth pick if it is cooked, so it comes out clean,
In a bowl mix 3 tsp of water and a tsp of oil mix well, and pour it over the dhokla. Then in a wok heat a tbsp of oil and temper it with all the ingredients in the tempering list and pour it over the dhokla Now you cut it into cubes or however you choose and serve it with Green chutney or sweet chutney