This is another dish which I make now and then, It's one of our family favourite because I use Karamani in it, as my daughter loves it .and of course katharika is my hubby's favourite. Adding Dals/ Lentils/ Pulses and Legummes in our everyday recipes is one of the basic cooking in an Indian kitchen. The blend of all the spices obsorbed by the pulse gives it a much more tastier recipe, I would also prefer to eat with Yogurt and rice. Here is the recipe....
KATHARIKA-KAARAMANI PULIPPU KOOTU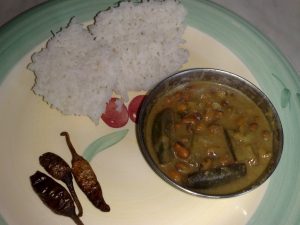 Ingredients:

1/4 kg Brinjals
a fistful of Tuvar dal
1 fistful of Karamani / Alsande / Lobia / Black eyed Peas
salt to taste
2 to 3 sprigs of curry leaves
a pinch of asafoetida
Gooseberry size of Tamarind
1 Tomato
To Grind:
1 tsp coriander seeds
1/2 tsp pepper
1 a 1/2 tsp channa dal/Bengal gram
1/2 tsp urad dal/Black gram
3-2 Red chillies (Guntur-Badgi)
2 to 3 tbsp of Grated fresh coconut
Seasonings:
1 tsp oil
1/2 tsp of mustard seeds
METHOD:
Soak Tamarind in a small bowl of water, extract thick filtered juice from it and keep aside
In the Meantime Cook Tuvar dal, Karamani and tomato together in a pressure cooker with a pinch of turmeric.
Meanwhile in a pan fry all the ingredients except for coconut in a tsp of oil until a nice aroma comes out or they change colour into golden brown. allow it cool, once they are cool with coconut grind all the ingredients together into a powder.
In the same pan heat oil, add the seasonings with curry leaves and fry Brinjals which are cut 2'' by four pieces in the middle and cook them until they are soft but firm, keep aside
In a vessel, Add the cooked dal and pulse add tamarind extract and allow it to boil for some time until the raw smell of the tamarind is gone.
Add the masala powder, made it into a paste with little water or else they form lumps then add to the boiling sambhar.
Allow it to boil for few minutes now add the sauted brinjals
Add salt and pinch of asafoetida
Serve it with hot rice and papads.
NOTE: you can also do the seasoning and to this add chopped Tomatoes, Onions once they become soft add Brinjals cook firm and soft then add it to the sambhar.