style="border-bottom: medium none; border-left: medium none; border-right: medium none; border-top: medium none; clear: both; text-align: left;">Kachori was first eaten in college days, That was when I was crazy about North Indian delicasies, That was when I got obssessed with Pulavs until now!!!, Chats, Tandooris, rotis, pulkas, koftas…. God!!, that is going to be a big list, Let me stop, When
Srivalli of Cooking 4 all Seasons
asked us to make Kachoris I was quite amazed, because I had a recipe with me from my recipe book, which I wanted to try out!!, but then it is still going to be their some more time I think !! as I tried these kachoris and was quite a hit, I should say the moong dal wasn't a big hit, but the peas one was a great hit, and I just made only so much which you can see in the plate, but the other lot I made was moongdal ones!!, I must say kudos to
Medha
and her aunty who gave this wonderful recipe.., we all loved it thanks to both of you dears..
KASTA KACHORI WITH SWEET CHUTNEY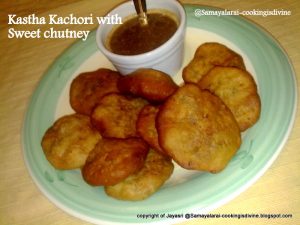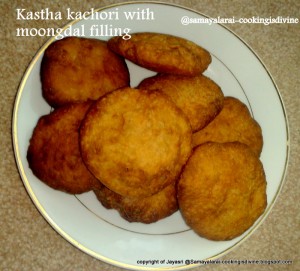 2 and 1/2 cups All purpose Flour/Maida

1/4 Cup Ghee

1/2 tsp Salt

water fro kneading
Mix Maida, ghee and sallt together into a crumble then add water slowly and knead into a dough to a soft dough and leave it to rest for 1/2 to 1 hour, covered with a wet cloth, don't make the dough dry.
There were 3 options, I made two out of them, but I will give the recipe for all the three…
MOONGDAL KACHORIS
1/2 Cup Moong dal

1 tsp Cumin

A Pinch of Asafoetida

1 tsp Fennel seeds

1/2 tsp Garam Masala

1 tsp Amchur powderaste

1 tsp Ginger paste

salt to taste

1 tsp Green chilli paste

2 tsp cuury leaves

1/2 tsp Red chilli powder
METHOD
Wash and soak dal for an 1 hour, then drain all the water I even dried it with a kitchen towel, then grind it into a coarse powder (Idli thari), Take oil in a wok, once it is hot add cumin seeds, when they splutter, add the chopped curry leaves then the moong dal mix well, and fry until it dries out and turns slightly bownish, add all the other spices mix well, and leave it for some time so the masala gets well absorbed and the aroma spreads around the kitchen.
MUTTER KI KACHORI (PEAS KACHORI) FROM TARALA DALAL
2 Cups Green peas

1 tsp Green chillies

1 tsp ginger

1/2 tsp Nigella seeds

2 tsp Fennel seeds

2 Bay leaves

1 tsp chilli powder

1 tsp Garam Masala

4 tsp Coriander chopped

2 tbsp oil

salt to taste
Grind Green peas, chillies and ginger into a smooth paste without adding water, then In a wok heat oil add nigella seeds, fennel seeds, bay leaves and the ground mixture mix all the ingredients until well cooked, and dry. Discard the bay leaves and now the filling is ready
2 Cups of onion chopped

2 tsp Fennel seeds

1 tsp Nigella seeds

2 Bay leaves

1 and 1/2 tsp Green chillies

2 tbsp Bengal Gram flour

2 tsp coriander powder

2 tsp Chilli powder

1 tsp Garam Masala powder

3 tsp Coriander leaves chopped

2 tbsp oil

salt to taste
Take a wok, heat oil, add nigella seeds, Fennel seeds and green chilllies and add the chopped onions and saute until they are transluscent, then add all the ingredients and saute until a nice aroma comes out and dry it .
Just remember keep all the filling ingredients quite dry otherwise it might ooze out!!
METHOD TO MAKE THE KACHORIS
Make small balls, and make it into small rounds just like you make for Kozhukottais, or shall I say like small pooris, do it with your hand or with a rolling pin, If you use your finger tips it is much better keep turning it around your fingers like small bowl shape then fill in the filling any of your choice and seal the tips pinch of if it is excess, and oiling your palm press them or flatten them carefully that the filling doesn't come out, make them and fry them in batches, till golden in colour.
and serve it with anything of your choice, sauce, ketchup, Sweet chutney, green chutney.
Hope you all would make this and enjoy like we all did making it…, check on this
link
step by step preparation by valli and others from the other ICC bloggers