As my father-in-law is here i am doing lot of authentic cooking, and one of his favourites is this Idli, he always used to ask to make these idlis when we were in India, I just remembered and thought let me do it, as the weather is very good here right now, it is so so hot, i need not have to worry about fermentation either.., I always have a small question mark in my heart and head somewhere when ever I am making Idlis here, but after the summer has started I don't have to worry at all, now I have worry about other things like, anything left over I have to keep in the fridge as they get spoilt by next day!, believe it or not, during winter nothing get spoilt if I kept it for 2 days with out refrigerating it nothing would happen!. Let me come back to the Idlis.
KANCHEEPURAM IDLIES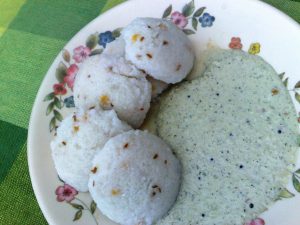 INGREDIENTS:
1 cup Parboiled Rice
1 cup Raw Rice
1 cup Black Gram Dhal
1 tbsp Pepper seeds
1 tbsp Cumin seeds
1/2 tsp Dry Ginger or 1" finely chopped fresh ginger
1/4 tsp asafoetida
salt as required
1 sprig curry leaves
Oil as required
Wash and soak both parboiled , raw rice and dhal together for 2 to 3 hours.
Drain and grind coarsely without adding too much water, just as you grind for your ordinary Idlis
Add salt and asafoetida, mix well and and keep it overnight, that is allow it to ferment.
Next day add the dry ginger powder or the fresh finely chopped ginger.
Add whole pepper seeds or slightly coarsed pepper seeds, I break them into 2 pieces at least and mix it with the batter because otherwise my children will throw away the pepper seeds!.
Add cumin seeds and chopped or whole curry leaves to the batter and mix well.
Add water if necessary just that it should be in Idli consistency
Take a Idli vessel, apply Gingely oil or any oil you have and grease the inside of the Idli vessels or cooker, pour the batter to 3/4th of it.
Steam cook in a pressure cooker for 12 to 15 minutes, without weight.
After they are steamed Remove and serve with coconut chutney or what ever you wish to serve it with.
It goes very well with Idli molaga podi.