Hi friends, I come today with some baking!!, As I have already told you about my Baking passion and the root cause of my baking in my
Sweet bread/Milk bread recipe
, I had to make again a long distance call to my cousin and to get this recipe!!, He was laughing his heart out and told when I go to India on my next visit he said he wants me in the bakery for a week so he would teach me about tips and tricks on Indian Baking, may be I should call it, Iyengar Bakery Baking!!. These lovely
Iyengar Bakery Khara Buns
are so Beautiful you will love it for all the flavours you enjoy when eating it.
When
zora
of Bread Baking Day (BBD) announced the #28 BBD, this month hosted by
Tangerine's kitchen
and her theme was Bread Buns, I knew what I was going to do. Last time i missed the latino breads this time I did not want to give up, so here is my Bread Bun. Hope she likes it!!
This is my Dad's favourite Bun/Bap what ever you want to call it, when ever I would say I am in the Bakery what do you want, he would say get Khara Bun for me please, My cousins when I visit them in their bakeries they always pack a couple of Khara Buns for my Dad!!, I still have to call and tell him that I could make these!!, so how do you think I came into doing this, around 2 years back, I had tried, but then I never asked how it was made, and I just assumed, even though I wasn't 100% right, like I fried the onions before adding them to the buns, that was one mistake I had made, otherwise I was quite nearby but never added so much sugar, talking to my cousins, I rectified all those and it was a great achievement, I have made palya bun/Potato bun many times (I have never posted them still!!!), some day soon I will post them soon, it was a big at home, I made 10 Buns actually out of this dough, I baked and had gone out, when I came back their was only 3 left, my kids apologised and said sorry mum we didn't take any photos but they were so delicious we just ate them!!, Today my hubby called me from work and asked, what was it I made, and I said it was khara bun!! he is not keen on breads and buns, I have never seen him eat one, I think he eats palya bun just because it has potatoes in it!!, well coming back to it, he said he took 2  of them to office and gave it to his friends and they also just loved it, actually it was quite spicy but my kids loved it. So here comes my recipe.
I had only two left for my super clicks!!
KHARA BUN/SPICY BUN/SPICY BAPS
650 gms All Purpose Flour
10 gms salt
50 gms Sugar
75 gms oil
7gms yeast
1/4 cup cleaned washed and dried herbs of your choice (I have used fresh coriander leaves, curry leaves, dill leaves)
1 medium sized onion
2 to 3 green chillies
1/2 tsp cumin powder
1/2 tsp pepper powder
1 and 1/4 Cup to 1 and 1/2 Cup of warm water
First of all take yeast in a large mixing bowl add 2 tbsp of warm water (note it should not be too warm, this kills the yeast) with a tsp of sugar and leave it in a warm place for few minutes it starts to frothing up that means your yeast has started to work and it is live,
Mean while when the yeast is in the process take a medium sized onion, green chillies and herbs (which should be cleaned, washed and dried with the help of a kitchen paper so that their is no water content) chopped finely and kept ready.
Sift  All purpose flour, the spices powders and salt and mix them well with the help of a sieve, then mix the chopped ingredients well together in a large bowl.
Make a well in the centre pour the yeast liquid and oil into it and mix well then add warm water little by little making into a dough
Knead this dough lightly and then cover with oiled cling film and leave to rise in a warm place for about 1 hour (depending on the temperature/altitude etc.,!!) , until it is double in size.
Once it is rised turn it out into a lightly floured work surface knock it down then give a gentle roll and divide the dough into portions as how big or how small you want ( I mean how small/large your Buns/Baps you want them).
Or you can flatten it into a square cut them in equal sizes, with your fingers lift each piece place it on your palm and bring together all the four corners together, roll over and turn it into a round ball or rolls and place them apart  1 to 1 and 1/2 inch apart.
If they are not looking good don't worry, once they have their second rise it turns out into a nice round shape and wobbly to touch! leave them on a greased and floured baking sheet giving them enough space to rise and expand, again cover with an oiled cling film or a Tea towel for at least 1/2 hour to 45 minutes leave them to prove in a warm place until well risen. (Again depending on the place where you live).
Meanwhile heat the oven to Gas mark 4/350 degree farenhiet/176 degree Celsius , when you leave the dough for its second rise.
Once they are proven take out the clingfilm and brush them with milk/Egg wash/butter, press a bit in the centre of the buns to equalize the air bubbles and prevent any blistering on the top when they are baked.
Bake the baps between 20 to 25 minutes depending upon your oven, first after 10 minutes turn the Baking sheet and bake for another 10 this helps in the uniform baking of the buns.
Until they are golden in colour, Insert skewer and check if they are done, take them out from the oven, allow them to cool for 5 to 10 minutes and immediately cool them  on a wire rack.
If left in the tin usually the baked goods like breads and Baps/buns become soggy beneath, so it is better to take them out and leave them on a wire rack, which gives breathing space for them underneath.
They are now ready to be eaten with a hot cup of coffee, tea or with cheeses of your choice .
Take an other look at my lovely Khara buns/Spicy buns, and I wish to thank my cousins, krishna and Ram prasad for  me helping bake these beauties.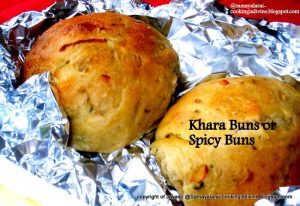 Hope you too make these and enjoy, as I have told earlier in my sweet bread recipe, allow it to rise properly then only you will succeed.
Updated on 19th september 2010
Hi all, few of them wrote to me about the crust on the buns so, I had to confirm with anything was wrong with the recipe, The recipe totally remains the same, the only thing my brother said was the minute you take it out of the oven he asked me to sprinkle little water on top of them or asked me to make the dough consistency little sticky mean to say do not keep adding flour to make it into a firm dough, What I do is I use water until I feel it has formed a dough then when I keep kneading I do not add any extra dough when it starts sticking to my hand what I do is I just dip my hand once or twice into the flour take it out and start kneading again this way I will not be adding too much extra flour at all. Kneading helps the gluten to form well and helps the bread to bake very well with soft interiors!
One more thing he said was once you have kneaded it well, he told me to just leave it for 1/2 an hour, need not have to wait for the first rising, but asked me to shape the buns after 1/2 hour and place the buns apart to giving them space for a complete double in size raise, then again either give it a egg wash or milk or butter before baking, for 15 to 20 minutes interchanging them after half the time of baking. It starts to a golden colour, which should ensure that it is baked well or insert a skewer to find out if it done, take them out and leave them on the counter top for few minutes and immediately turn them onto to the wire rack.
If you still have any doubts please do write to me..
thanks to you...
Sorry I am really late in corresponding when somebody asks me something please do forgive me...,
Updated:
What I learnt from lot of Baking now is, Check if your yeast is still in condition I always put yeast, water and a tsp of sugar and leave it for few minutes, when I see the yeast is bubbling up I know the yeast is active then I add the other Ingredients and knead the dough for at least 10 minutes, (I will be posting how I do it ASAP), I just keep it in a normal temperature, The slow the rise the bread seems to be better,Don't hurry up the rise,  Once they rise, do not allow them to drop back, keep an eye on them, next thing is I knock it down, and treat as a flower handling the second rise carefully.