This is an other kolzmbu which I learnt from R's Attai, Jaya Atte was a very nice person, she always liked me, I have already posted one of her recipes, she always used to sit and chat with me and talk about different things from cookery, films, jewellery and she used to crack jokes now and then in her narration, she always stayed in our house whenever she came to Bangalore, she lived in Madras and used to talk about the city and people and politics, Oh!, yeh, It was real fun talking to her, she is no more, I do  miss her.  This she taught me on one of her visits.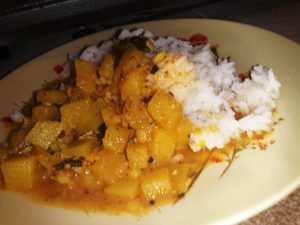 2 Chow- Chow (Bangalore Katharika/seemebadanekaayi)
1/2 cup Tuvar dal
2 tsp urad dal
1 tsp methi seeds
a pinch of asafoetida
4-4 Red chillies (Guntur-Badgi)
2 to 3 flakes of Tamarind
4 tbsp of dry coconut/copra
a sprig of curry leaves
1/4 tsp of turmeric powder
salt as required
Take a wok in a tsp of oil fry methi seeds until they turn golden brown, then fry urad dal and red chillies.
In a mixer Grind the above ingredients and flakes of tamarind, turmeric powder, asafoetida & copra into a paste and keep aside
Meanwhile, chop the chow-chow into cubes, Before that cut the vegetable into half first and Rub against each other and take out the white thing which comes out and clean the vegetable again with water & then cut again into half and remove the seed portion of it, the white thing is just like when you cut the cucumber you cut the end portions on both sides and rub against each other and the sourness comes out of it and you discard the ends, even in chow-chow it is done the same way! but not the ends but in the middle, that's how my mom used to do, and I follow!.
Then cook the vegetable and 1/2 cup of Tuvar dal in , together or separately, but it is better cooked separately because chow-chow gets cooked faster and it might become to soft, during the process of boiling they might get mashed up, 
meanwhile soak Tamarind in warm water so, you can squeeze the juice from it very well.
Take a container add 2 cups of water and squeezed Tamarind juice and allow it boil for few minutes until the raw smell seizes, then add the cooked vegetable, dal & the ground paste.
Do not use too much water when you are cooking the vegetable add everything into the container, just like that add the cooked dal with the water in it do not throw away.
Just make sure that you are not using too much water, it is just like cooking for your sambhar.
Then boil all the ingredients with a sprig of curry leaves.
Season it with a tsp of oil & mustard seeds and serve hot with rice.