Lo! here is an other Thogayal recipe, This can be also used with Chapatis, add an other 1/4 cup water to loosen it a bit and goes very well with plain idlis and Dosas.
I always end up with lot of coriander stalk, so i keep using them in lot of different dishes so I don't have to bin them. This is one such recipe which I made use of the stalks.
INDIAN HERBS CHUTNEY
INGREDIENTS:
2 stalks of Curry leaves
1/2 cup Mint leaves (around 4 to 5 stalks)
A bunch of coriander stalks
1 fistful Tuvar Dal
1 fistful of Channa dal
1 fistful of urad Dal
1 fistful of grated fresh coconut
5 Red Chilies
4 Guntur Chilies
1 tsp of Pepper Corns
2 Tamarind Flakes
1and 1/4 tsp Salt
1 tsp Oil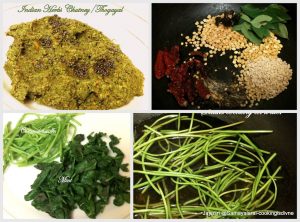 METHOD:
In a pan heat oil and add all the dry ingredients (channa dal, Tuvar dal, pepper corns, chilies, Urad dal, tamarind flakes)
In a cup of water, cook all the stalks until they become soft in a low flame, Drain water if there is any left do not throw away the water, drain the water and keep aside, which can be used while grinding for chutney/thogayal.
Once they all change colour and add curry leaves and fry them too, they wilt away but see that they don't change colour, Take them out and keep aside to cool down.
Next fry Mint leaves and take them out and keep aside, until they wilt without changing colour.
Once everything is ready, Grind the dry ingredients into a coarse powder,
Now to this add all the herbs and grind them into a coarse paste.
If you want to eat it with rice, just keep the grinded mixture as you see in the photo that is like a thogayal and season it and serve it with a tsp of oil or ghee.
If you want to use it in any other way, add water and make it into chutney consistency and enjoy.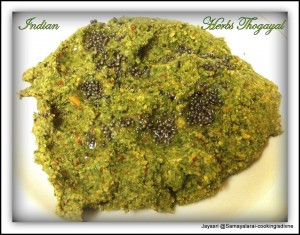 This is my 5th day submission for BM# 15 for Group 1
Check out all my other blogging friends for the rest of delicious recipes....
Check out the Blogging Marathon page for the other Blogging Marathoners doing BM#15