This was the most wonderful cake I ever tasted, it had so much Indianish in it, well I need not have to say it right ? the name itself tells you that it is made from Mawa or Khova, which almost all the Indians use in one way or the other in making sweets. As a kid I always liked to eat the sweetend khova, they were my favourite as I have already told in most of my recipes that I love milk and milk based sweets, that is why I love bengali sweets, This wonderful cake recipe I got it from Helen of tartelette, who is an amazing baker, you must go through her blog and her lovely recipes and photograhy and the presentation is is…, I don't have words to express, I tumbled into her blog because of our lovely Indian daring baker, who is my inspiration in baking none other than Aparna of My diverse kitchen, seeing her baking success, I thought I should also join the Daring Baker's and as you all know I have indeed joined and struggling to become a baker (?) !!!, well, coming back to the recipe Helen gives good tips, facts, tutorials to help the daring group in achieving it, and I saw lot of them praising her, wanted to see what's she is been doing and I thought she is truly fantastic, this cake I made doesn't look anywhere near her clicks or looks, if you really want to see how it is been done and the real story of how she came upon this cake you visit her, in her blog thanks to Helen again. we all loved it.
I made this Mawa cake on the 28th of october, that is on my wedding anniversary, I had never ever made a cake all these years, well I just thought I will do it this time, when I came across this one, after 17 years of marriage. well, I couldn't get all the pics as I had left with only one for myself.
INDIAN CARDAMOM MAWA CAKE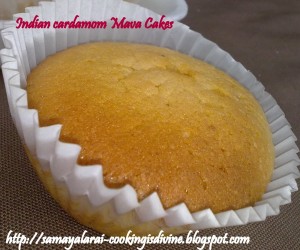 INGREDIENTS:
2 cans (14oz) evaporated milk (not low fat)

1 cup (250ml) heavy cream
1/2 tsp (baking powder-25g)

1/4 tsp Cardamom powder

pinch of salt

1/2 cup (100g) mawa, at room temperature

6 tbsp (85g) unsalted butter

1 cup (100g) sugar

2 eggs

6 tbsp whole milk
METHOD FOR MAKING MAWA:
To make khoya or mawa, take a thick bottomed kadai or a vessel, prefferably a non-stick one would be much better, pour both evaporated milk and heavy cream and allow it to boil, with a spoon in it, but be careful when it is boiling so it is better to keep on stirring it, so that when it starts thickening it doesn't get stuck to the bottom.

Once it starts to get thickening lower the flame and keep on stirring, it starts to become like a pudding/halwa consistency allow it thick a lit bit more, but don't stop stirring.

Now your khova is ready, I think it is slightly different from the khova you make from milk, this one had so much fat in it (oily). but then after sometime they all got absorbed by the khova!!

well it tasted nice.
METHOD FOR MAKING MAWA CAKE
Preheat oven to 350 degree F/180degree C/Gas mark 4
Take mawa at room temperature. add unsalted butter, sugar and beat it until light and fluffy
Then add eggs once at a time and beat well until everything is completely folded in it properly
Then in an another container take flour, baking powder, cardamom, and pinch of salt and sift well
Next slowly add the flour to the fluffy mawa little by little with no lumps and milk until the mixture is smooth.
I used muffin cases to do this as i did not have the moulds she had, but as her suggestion in the recipe she says whatever you have, I made them with muffin cases,
Bake these cakes for around 20 to 25 minutes or until done
This yielded me 12 cups of large muffin cases, they were so lovely, they were quite moist too, I just had one left, as it was mine, and enjoyed it with a cup of tea, thanx once again helen.