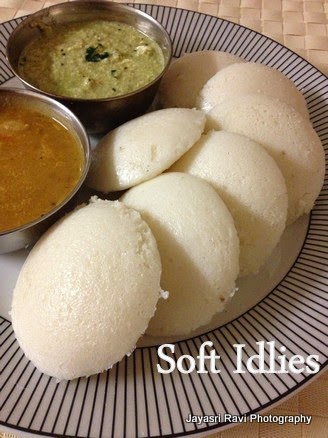 This is the most famous Tiffin in South India, It is not only healthy but tasty too! As this Idlis are not cooked with oil and are steamed they are good for digestion. Doctors advice us to eat idlis if somebody is not feeling well!, as it is not made of oil I suppose!!, Of course not with Sambhar and chutney!!, Idli tastes nice just as it is or with Ghee as the way my daughter loves eating it, I usually prepare idlis almost every week, as it is my daughter's favourite,
The  thing is even though I prepare them fortnightly, when ever we take my twins to restaurants or hotels and ask them to order my daughter always asks for Idli,vada and sambhar and my son always asks for Masala dosa!! , They say they miss India for that.....,
Well I use two methods to make my Idlis, Here I will show you two different methods of making Idlis...
IDLY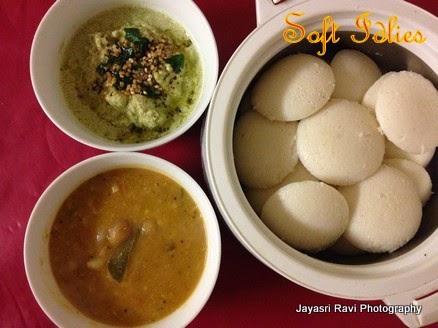 Ingredients:
2 or 3 cups Idli Rice (Salem Akki)*
1 cup Urad dal/Black Gram Dal
salt to taste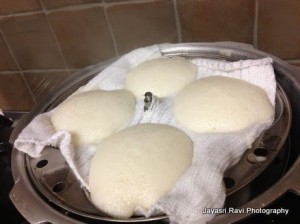 Wash and soak Urad dal and Rice separately for 4 to 5 hours, Grind them either together or separately to a very smooth batter.
Grind  the batter to a very  smooth consistency.
After the batter is ready add salt, mix together and leave it in a warm place to ferment.
Grease the Idli moulds with little oil/Ghee , pour a ladle full of the batter into each of the mould and cook them in the pressure cooker for about 12 to 13 minutes, without putting the weight on the cooker.
Take out the idli moulds and leave it for a few seconds and scrape out the idlies on to the plate and serve it with Sambhar, Chutney or Kadagpuli.
IDLI TARI (AKKI TARI)

The Idlis which I have shown above are made from Idli Tari (Akki Tari / Ground Rice), Even though they taste the same. These idlis are made from Akki Tari and in super markets or in Indian shops you can ask for Idli Tari, from which you can make these Idlis which are more simpler and easier to make. My Radha Perimma always used to make Idli Tari on her own, It was quite a long process, she always made Thatte(plate) Idlis with coconut chutney or Kadagpuli, They used to be really soft and very nice. She used to soak  Rice, Just ordinary Rice was used, their was no salem akki / Idli rice then, she used to soak it for about 4 to 5 hours then drain it and dry it in the shade on a white towel or cloth , then she used to roast it in a wok little by little in a medium flame, just until they became quite warm and became white, then she used to put it in the Oral Kallu or the Grinding stone, which you find in most of the south Indian homes, Then their were no mixies, She used put them little at a time into it and pound them with a big pounder (Onake) make a coarse powder using the sieve now and then in the end sprinkle water and keep it wet and then grind Urad dal into a fine paste like consistency and mix it with the latter and allow it to ferment and make wonderful soft pillowy Idlies,  that was quite a process.
This Oralu Kallu ( Mortar and Pestle), only it was a very big one, even today you can find them in most of Indian homes, Just like the Fire places here in UK, It is also considered auspicious too, Then Mum used to  to grind all the sambhar masalas, vada, dosa, Idli, poli etc..all the pastes and batter in this, Even today mum loves to use it and always says the final product tastes much better and tastier.

Ingredients:
2 or 3cups Akki Tari or Idli Tari*
1  cup Urad dal/Black Gram dal
salt to taste
METHOD
Wash and Soak Urad dal for 2 to 3 hours
Just one hour before Grinding the dal in warm water soak the Akki Tari or Idli Tari. Do not add too much water, before soaking just wash it once and the water should be just 1/4 of an inch above the Idli Rice.
After grinding the dal into a smooth batter mix it with the Idli Tari and salt.
Allow it to ferment for 10 to 12 hours
Just follow the above said method to cook Idlis after Fermentation, and serve hot with a dollop of ghee, chutney, sambhar or kadagpuli.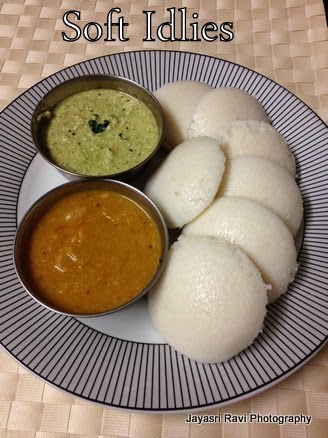 1. *  I have marked it in the Ingredient list like this just to tell you something, If you increase the quantity even     to 3 cups Rice or Coarsely ground Rice (akki tari / Idli tari) still the Idli will turn out well not to worry.
2. Adding 1/2 cup of cooked Rice or soaked 1/2 cup of poha / Avalakki to the batter when grinding makes       Idlies really soft
3. Wash and Soak Poha / Avalakki in water just in 1 cup of water, grind it with the Rice and  If you are              going to use cooked rice just add a softly cooked Rice, Grind it with Rice into a smooth batter.
4 Very important don't add too much water when grinding for the batter, Probably for the whole process around 1 to 1 and 1/2 cup water would be enough. After using 1 cup of water start using a little at a time
5  Grind Urad dal Separately into a very smooth batter again do not use too much water, The batter should       be like a beaten egg white soft and fluffy.
Some more things I like to share... 
There are some utensils like the one my mom uses which is called the Idli cooker, which blows a whistle and the top of the cooker opens up on its own once the idlis are cooked. The one my Nan had was a big vessel made of brass and had 8 moulds in it we had to pour water underneath and 2 plates were fixed quite up and would cook the idlis really really soft...., My perimma used to cook idlis in plate and was called plate idli, Now a days they cook them in different ways to make them more attractive......They cook in small tumblers in Roti Ghar in Gandhi Bazar, Bangalore, India. That is called Idli kadabu from Mangalore,  I used to cook for my children button idlis which are also called small idlis, They used to love it..., The Idli plate has small button like holes.
Fermentation process takes place very soon in India, around 3 to 4 hours is enough for fermenting because of the tropical temperature. In cold countries leave the batter in a warm place such as near a heater, or in your boiler room, some of my friends leave them in Oven with the light on, Depending on the weather conditions the batter ferments.
Once it ferments, make Idlies, If you leave it longer it becomes sour, once it is fermented leave the remaining batter in your fridge, and can use it again next day.
If you do not want to make Idlies again, you can make paniyarams seasoning it with chillies and onions and with tadka serve it with chutney.