Hi everybody, how are you all ?, This post was in my draft from 2 weeks, This one I tried in an impulse, and it turned out great, A good way of making kids eat a healthy steam cooked, protein rich food and of course no oil too.., isn't it great about these Idlis, I love Idlis anyday (I love dosas too and love upma Oh! shut up ..), well that would be a long list.
Hmm.., But, I do have to tell you this, when I land in Bangalore go home, have a good bath the first thing I do is straight to the Darshini around the corner, near my house for a plate of Idlis and Vada!, Oh! that is a complete satisfaction don't you say...
Ok will stop now, I have few more posts to link..., Coming back to the recipe, absolutely it was delicious.., should thank satya, because of her I made these... my Idli maniac daughter loved it, that is a very important matter to me, her approval!, made it, served it and looked at her face for reaction, she said to me now and then I do cook well :)). But, she did say that like normal Idlis she couldn't indulge in it more, as it filled her stomach very soon, it kind of cheated on her :)). Oh! God she and her jokes....
HUSKED GREEN GRAM IDLIS






INGREDIENTS:
3 and 1/2 Cups Idli Rice (or Sona Masoori)
1 and 1/2 cup Husked Green Gram
1 Cup Urad Dal
1 tbsp Fenugreek seeds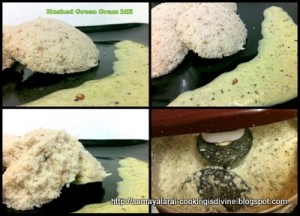 METHOD:
Soak everything under Ingredients previous night, Soak Rice and Fenugreek seeds together and Urad dal and Husked Green Gram separately.
I have asked you to soak the dals separately because they require more water than the rice.
In the morning Grind the rice for few minutes until they become grain like then add the dals and grind together, you might feel that the rice is still grain like but it is alright.
Do not add too much water when Grinding for Idlis it should not be like Dosa batter, it should be more thicker in consistency.
You can leave it to ferment for few hours or over night.
Grease the Idli plates with little oil every time you steam the batter this helps everytime Idli to come off easily from the plate and with a ladle full fill them up and steam them for 10 to 12 minutes without a weight on the pressure cooker, If you have a Idli cooker no need to bother about the time then as it pops on its own once done.
Serve the Idlis with chutney or sambhar.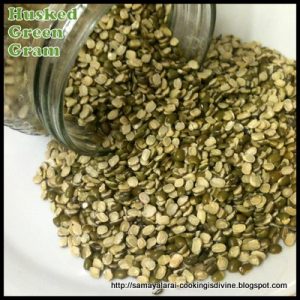 LITTLE NOTE : You can use Idli Rice or Sona Masoori, as the rice which you use is very important, sticky rice or pudding rice won't work. You can use Ground rice/ Idli Tari sold in some supermarkets or Asian shops, use the same measurement but you don't have to soak like rice, you just have to soak the dals and grind it to a smooth paste. Just 1 hour before you grind the dals soak Ground rice or Idli Tari in warm water, the warm water should be just to the level of the rice or a bit more 1/2'' more. If you add more water the Idlis become like Dosa batter.
After the dals are grinded add this to the tari, mix well and keep aside for fermentation, later on carry on as you do for steaming Idlis.
If satya hasn't done her round-up I would like to link this to her Twist the Traditional - Idli event.