A few weeks back I made these pickles, It's been in my draft for a long time now!!, I have mentioned in my old posts that I make my own pickle, but never thought of posting it.., A few of my friends have tasted my pickle too!!, and as I make it often I usually do not go with measurments and very confident in making it. I make these pickles especially for my son, he loves Lime pickles as much as I do, this is my favourite. It takes a little time but worth the effort in the end, I tried taking some clicks to show you how I do it, actually I took all the process but my powder picture was a disaster so I didn't post it here.., Hope you all like it.., I might not be precise about some quantities but trying out in small quantities really helps :), Just because I didn't exactly measure as I completely forgot that I am going to post this !! I am giving you some excuses, may be next time I will remember and do it properly, The next time will take a longer time as I have made two bottles like that!!.
I have made these pickles with both Lime and Lemon, this is with the Lime as you can see, but they are not like those yellow Lemons/limes we get in India, the Indian lemons have soft skin and they marinate by around a week But, both Lime and Lemon are quite thick skinned here in UK and takes around 10 to 12 days to marinate. coming back to the recipe here is how it goes........
HOME MADE LIME PICKLES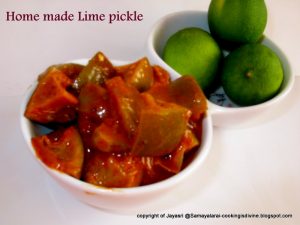 25 Limes (Extra 4 to 5 Limes)
3/4 th cup Salt (I might have used around 200 to 225 gms)
1 tsp Fenugreek seeds
1 tsp Mustard seeds
4 to 5 tbsp of Chilli powder (I used 10 Badgi and 10 Guntur chillies)
1/2 cup oil (I use sunflower oil or Gingely oil)
1/2 cup oil ( I use sunflower oil / Gingely oil )
1 tbsp of Mustard seeds
1/4 tsp Asafoetida
First of all wash the Limes and wipe them clean, Keep a clean and dry container and salt ready.
Next chop the Limes into half and again into another half and again that into another half , what I am trying to say is cut each lime into 8 to 10 pieces, cutting them into smaller bits is what I recommend.
cut to 2 to 3 of limes spread it in the container and on top of that spread 2 to 3 tbsp of salt on it like this keep on building layer by layer, Take another 4 to 5 Limes squeeze juice out of them and add it to this layered Limes. Close the container air tight and leave it to marinate. Mix this Lime once in two days with a clean ladle for about a week or 10 days that is until you notice that the skin is becoming soft.
I have shown here how I have layered salt and lime to marinate....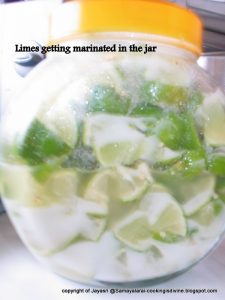 After it gets Marinated, That day you prepare the Pickle spicy powder. To Prepare the spicy powder, Take a clean wok roast the fenugreek seeds without oil and keep aside, Then roast Mustard seeds and keep aside, then roast Red chillies broken with just a 1/4 tsp of oil in a very low flame (But, if you are using ground chilli powder dry roast them in a wok for a few minutes), Once all the ingredients are finely roasted and cooled put it in a dry grinder (mixie) to make a fine powder with 1/4 tsp of Asafoetida, Take a wide mouthed big bowl and pour all the marinated lime into it then Add this powder to the marinated limes and mix well,
Now take 1/2 cup of oil heat it up and 1 tbsp of Mustard seeds, keep the oil in a low flame once they splutter put of the stove and keep it aside until it is cool, Once the oil is cool pour it into the Marinated lime spicy mixture, mix thoroughly and let it rest for few minutes
Now your Lime pickle is ready......
Now the pickle is ready. You can put this back into the same container and this kind of pickle stays for a long duration of time...they can be stored up to 7 to 8 months if it is still left over!!
Take an other look at my lovely mouthwatering pickle.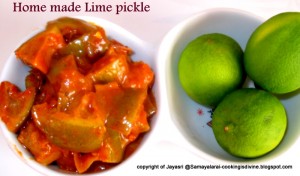 SOME TIPS:
I squeeze 4 to 5 Lime juices into it than avoiding adding water which ensures more shelf life.
Do not store pickles in steel containers as acid in the pickle and salt will cut the steel and you will have a hole!!.
If you want to use water boil the water thoroughly so the impurities are destroyed and allow it to cool down and then add.
Adding more oil keeps the pickle in good condition for a long time, I do not use too much or too little oil. Keeping this in the sun will give the process a boost in marinating and also shelf life, (But, I have never kept my pickles in sun, I just leave them on the counter top here as sunshine is something I get only in summer).
VARIATIONS:
When I was in India I used to add Maakali beru, Manga Ingi (kind of ginger), to these pickles which gives a great smell and taste to the pickle, Maakali and Manga Ingi does not need any marinating and can be added at the end of the process too.. I also use few green chillies which I marinate with the limes cut them into small pieces and add them to the lime. This time I didn't use anything with it.
You can also add Fresh turmeric and fresh Green peppers too.., If you are using peppers reduce the quantity of chilies in it.
Health tips: Not a very healthy option, that is why use a little at a time!, as pickles have lot of oil and salt (that too shop bought ones) it is not good for people with high Blood pressure.
Hope you enjoy my pickles.. sorry only viewing... and please try it out and tell me how it turned out....do please remember chillies may be different so it is better know your chillies and chilli powder, so you can increase or decrease to your liking.... c u soon...