I had an eye on this Tart recipe from David Lebovitz's blog, He is got such a wonderful space, you get just drawn to it so easily well explained, Daring things he explores with ingredients and in culinary art of cooking and baking, you can learn a lot from his wonderful posts, not only that his beautiful photographs are a feast to your eyes even though we know we cannot lay hands on them!. I have not done a good justice to this tart recipe as he has done, because I was little slow in checking out the tart when it was baking so you can see a little nicely browned edges, Anyway my family loved it and they all enjoyed it and it was like a one pot meal as it was quite filling.
I have to write about this tart as he learnt this from this lady by name Paule Caillat who teaches cooking classes in Paris Promenades Gourmandes. You have to visit his site and read about this lady and how she taught him make this Tart in his own words as it is very interesting to read, as we all go through that phase when you listen to something you have never heard or thought before that you can do some thing like this for a pastry!, I was really drawn into this French Tart dough and wanted to try out this right away.
You can see wonderful photo Tutorial of this Tart dough in his blog and you would really understand well and try this out.
As we in India make a lot of cakes, this tart dough something very similar to it and a very interesting recipe to try it out.
HERBED MASCARPONE AND VEGGIE TART WITH FRENCH TART DOUGH
So let us start with how to make this French Tart dough..., check out his blog on the link above for this tart recipe with lovely clicks than mine, and he uses microwave to make his butter to boil and I did this on the stove top!. coming back to the recipe.
FRENCH TART DOUGH
INGREDIENTS:
90 gms Unsalted butter
1 tbsp Vegetable oil (I also used canola oil)
3 tbsp water
1 tbsp sugar
1/8th tsp salt
150 g (50z or I used 1 cup of flour).
METHOD:
Preheat the oven to 410 degree F or 210 degree Centigrade, mine is a Gas oven so I baked it at Gas mark 6
Take a thick bottomed wok as shown in the photo take the measured quantity of butter and start melting it once it is completely melted add the other Ingredients oil, water, sugar and salt and allow it to boil, for a few minutes you can the edges turning brown (something like the smell of ghee I did not allow it to turn brown too much) then put of the flame add the sifted flour to the wok and mix it well until well combined and forms into a ball and pulls out or comes out clean from the wok.
If you are using a Microwave method put all the first five Ingredients into a microwave safe bowl or pyrex bowl and allow it to boil for 15 minutes as David Lebovitz says until you can see the edges turning brown and be careful when handling the bowl as it will be very hot and do not grab it with your bare hands!
Once the dough is done, transfer it into a 9 inch (23 cm) Tart mould with a removable base and spread it with the help of a spatula once it starts getting cool with the back of your fingers/heels press the dough completely into the tart mould to cover it pressing it to the base and edges as shown.
Prick the dough a few times and bake the tart shell in the oven 15 minutes until it is Golden, mine turned a Golden brown as I baked it a few more minutes and my tart mould was bigger than anticipated and the crust of the shell was really thin.
HERBED MASCARPONE AND VEGGIE TART FILLING:
This filling was again from David lebovitz blog as the spring onions caught my attention. Actually this Tart caught my attention then when I scrolled down thinking that I wanted to make my own pastry case, I found this French Tart dough recipe! So I made both of them, as usual I had to make some changes with my filling as I had to use the things which I had in hand and fridge.
Basically David's recipe calls for Ricotta, which I did not have and no time to make it as it was night! So, I had to tweak the recipe to my pantry requirement.
My tart tin was a little bigger I think so use the 9 inch (23 cm) mould for a perfect pastry.
So I used what all I had in hand I had .............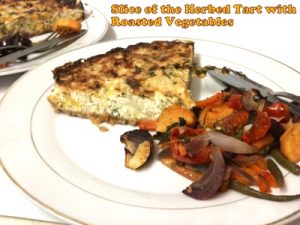 I
INGREDIENTS:
250gms of Spring Onions
1 tbsp butter
1 and 1/2 tbsp Fresh Thyme
5 ounces of Mascarpone
1 Large Egg
1/2 Cup Heavy Cream
1/2 Cup whole milk
300 gms of Broccoli
1 Yellow pepper
50 gms of Crumbled Tofu
METHOD:
Preheat the oven to 400F/200C/Gas mark 6.
Clean and chop the spring onions into 1/2 an inch thickness, cook Broccoli and peas until 3/4th done drain and keep aside until all the water is gone. Press the Tofu and squeeze out all the water and crumble it. wash and pat the Thyme leaves ready.
Heat butter in a wok and stir fry the Yellow pepper (thinly sliced) first and then add spring onions until tender and then put of the stove season it with salt and pepper and some fresh thyme, and allow it cool down.
Meanwhile In a large bowl take egg beat it well so the egg and yolk are well mixed then add the cheese, milk and heavy cream give a whisk again then add the crumbled Tofu, Broccoli, Peas, thinly sliced yellow peppers
and the spring onions and some more salt and pepper to season as required.
I had some mint and coriander leaves I added a tbsp of them into it. mixed them well and scraped it into the already baked tart shell.
Bake this in the pre-heated oven until it is nicely done as you can see above and check with a tooth pick inserted comes out clean for 20 to 30 minutes
I served it with an array for oven roasted fresh vegetables and sauce of your choice.
I would like to send this to Priya who is hosting AWED - French started by DK of chefinyou, and to Healing foods started by Siri and Guest hosted by Spice mantra.
Hope both of them would like it as my family did....
I am also linking this recipe with ..........