Hi Everybody, Hope you are all doing well, I hope and wish you all had a lovely Christmas  too..., And of course,
A VERY HAPPY AND A PROSPEROUS NEW YEAR
  Happy Pongal too..., I know I am always late. I thought better late than never saying it at all :), Hope you all forgive me.  To all my dear Friends and Family (especially who constantly remind me to get back to blogging :), Thanks to all of you who sent me wishes I feel so bad for not writing back to you.., Thank you very much once again for everything.
Christmas and New year  brought a new  leaf in my life, Moving to a new house - Even though I am still in the process of setting it up. I still feel much better, lots of things to sort out (health wise) and lots of things happening in the midst of all these things I still had time to enjoy Christmas and  baked some goodies, will post them sometime soon and enjoyed New year too.., with lots of family and friends in my new abode :).
''WISHING YOU ALL A VERY HAPPY PONGAL''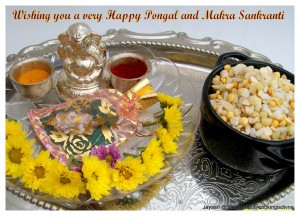 As we all Indians know what is Pongal ?, I would like to write a few words about this...thinking someday my kids would love to read what mum was doing on this occasion right? as we all do right ?
December 14th to January 14th was Marghazahi Maasam (Month of Marghazahi according to Tamil calender), This is a month long ritual or Penance (Tapam/Tapasu) carried out by Andal during the month of winter, I have written about her here do check out if you are interested. In this cold weather she gets up so early morning for a month-long period to awaken Vishnu and prays in such a way leading an austere life to attain his love, Her severe penance ends on the day of Kudaaravellum which fell on January 12th this year. From Dec 14th to Jan 12th, we in our community do not prepare any sweets, and make Ven Pongal (Savoury Rice) but on the 12th where Andal completes her Penance she makes Sweet Pongal to please Vishnu - I have written about this post
here
. Check it out.
Coming back to Pongal in Tamil Nadu, Makara Sankranti in Karnataka and Andhra, Lohri in Punjab, Magh Bihu in Assam etc., The dates of some festivals might change but this Festival has never changed dates, According to the Gregorian calendar January 13th-15th ie., form the last day of the Tamil month Maargazhi to the third day of Thai. I have taken few lines from Our Wikipedia, which describes in more detail about the  scientific reason behind this celebration.
Courtesy of wikipedia
The time of the festival is of great importance to all Hindus, as it corresponds to the solar equinox when the days begin to lengthen and the nights begin to wane.
Sankranti, or the transition of the Sun from 
Dhanu rashi
 (
Sagittarius
) to 
Makara rashi
 (
Capricorn
).
For this purpose, the signs and houses of the zodiac are calculated using sidereal time, not tropical. As such it does not account for the Earth's 
precession
. The festival therefore takes place around 21 days after the 
winter solstice
 (between December 20 and 23) that marks the starting of the phenomenon of 'northward apparent migration of the sun' or 
Uttarayana
, literally meaning northward journey of Sun.
Considering the 
winter solstice
 marks the beginning of the gradual increase of the duration of the day. Scientifically, the shortest day of the year is around December 21–22 after which the days begin to get longer, hence actual Winter Solstice begins on December 21 or December 22 when the tropical sun enters Makara rashi. Hence actual Uttarayana is December 21. This was the actual date of Makar Sakranti too. But because of the Earth's 
tilt
 of 23.45 degrees and sliding of 
equinoxes
, 
Ayanamsa
 occurs. This has caused Makara Sankranti to slide further over the ages. A thousand years ago, Makar Sankranti was on December 31 and is now on January 14. Five thousand years later, it shall be by the end of February, while in 9,000 years it shall come in June.
[

citation needed

]
While the traditional Indian Calendar is based on lunar positions, 
Sankranti
 is a solar event. So while dates of all Hindu festivals keep changing as per the 
Gregorian calendar
, the date of 
Makar Sankranti
 remains constant over a long term, 14 January. 
Makar Sankranti
 is celebrated in the Hindu Calendar month of 
Magha
.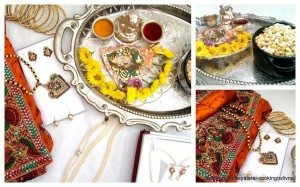 In Karnataka - the place I come from the kannadigas celebrate in a different way, Amma has adapted to both Tamil Nadu culture (as we being Iyengars and as we have been born and brought up in Karnataka) Amma has always seen to it that we enjoy both the festivals and traditions as much as possible.On this auspicious day even today Amma buys us new clothes to my kids and me!, Early in the morning having a good head shower wearing new clothes we keep the pongal paane (Paane is nothing but a mud pot but as we don't use them anymore we use Brass vessels or sometimes a pressure cooker!) decorating it with Fresh Turmeric stick in a thread applying Naamam to the vessel and saying Pongalo Pongal....
In our home,  we say this when the milk is starting to boil - 
 ''Pongalo Pongal Porandaath Kulandanvaalatum
Meaning for the above words-
porandaath (the family I was born) Kulandan vaalatum (live peacefully) Pukkath (the family I have been given to - Husband's family) Pongi Vaalatum (flow with prosperity)
After the ritual done, The day before we would have packed Ellu-Bella and Sakkare Acchu in covers, Then she would ask us to take plates - place a cover/box of Ellu-bella (sesame seeds- Jaggery), Sakkare - Acchu ( sugar candy moulds in different shapes), sugar cane, Banana and some kind of gift.  This ritual is called ''Ellu Beerodhu'', There is a saying in Kannada '' Ellu Bella Thindu Olle Maathadi ( which translates to eat the mixture of sesame seeds and jaggery and speak only good
). 
In Karnataka newly married women give Bananas for a period of 5 years to married women 
(muthaide Baagina), with other things little Beetle leaves, Areca nut and other fruits and things 
which they are able to give for the first years of marriage and start increasing the Bananas in 
multiples of 5 and pray for their husband's Longetivity by the 5th year they give 25 Bananas :)).  
Will continue this post tomorrow with other things which I follow and celebrate during this 
period....