I can't believe it, it is already nearing the end of August and it is already the reveal day for SRC , I was not even ready for this as I wasn't doing well from some days, I just made this yesterday night, Going through
Kosher cooking for ordinary people
quite an interesting journey, simple recipes with beautiful clicks, she has two blogs, check both of them when you have time, Lovely blog, lot of lovely baking too.., I have Bookmarked a few, I wanted to make something which was unique and something close to her home and heart, I came to know that she is a Jewish and this was traditional sweet during Purim, during Jewish festival.
The lovely things I enjoyed seeing in her blog was her kids enjoy making these and trying to bake with their little hands and smiling was much fun to see.
When I was googling I found a lot of things and different recipes and fillings for this pastry too...
This has a little story; it's the celebration of good triumphing over evil, intelligence and courage trumping greed and oppression. It's based on a story that took place some 2500 years ago, when evil Haman's plan to annihilate the Persian Jews was foiled, he was hung on the gallows he himself had constructed.
During Purim there are many wonderful foods associated with it, Filled foods such as Hamantashen are typical, as they represent the intrigue associated with Queen Esther and Uncle Mordechai's uncovering of Haman's wicked plot. Sweet foods convey our wishes for a sweet future. Sephardic Jews eat cookies that are fried or baked in the shape of Haman's ear, which was purported to be twisted and triangular in shape, Ashkenazi Jews enjoy fruit or nut filled triangular shaped cookies or pastries – a shape said to represent Haman's hat, Haman's pocket or alternatively the three patriarchs: Abraham, Isaac and Jacob.
What fascinated me was the Poppy seeds in their traditional filling!, It's been said that Poppy seeds were the popular ingredient in Purim confections, aside from their general widespread use in Eastern Europe and the Middle East, the seeds are said to be the only food Esther consumed during her three-day fast prior to revealing Haman's plot to the king. Some say poppy seeds also symbolize the promise God made to Abraham to have offspring as numerous as the stars of heaven and the sand of seashore- the antithesis of annihilation.
Mohn or poppy seed filling with a mixture of ground poppy seeds, milk, sugar or honey, raisins and nuts was popular addition to triangle cookies in medieval central Europe and the finished confections were known as Mohntashen or poppy seed pockets. Iti is said that because these cookies sounded like the name ''Haman'', Hamantashen (or Haman's pockets) thereby became adopted in the 11th century as the first unofficial purim treat.
When I saw this filling I was so interested well, for our Indian sweets we use poppy seeds, that got me hooked and I decided i am going to try this recipe only thing was I substituted it with oil and made a quarter of this recipe. I rolled it out very thin, so it was a little crispy but I really got confused few sites said that need to be crispy but some said more like a cookie (softer version), anyways it turned out really well, I liked the poppy seed filling, but I made little ones with
Nutella
filling too.., just for my kids to enjoy.
Here is the recipe for this delightful dish...
This recipe is very flexible as she says you can add flour until it is non sticky I might have added around 180 grams of flour.
5 ½ - 7 Cups flour (I used 1 and 3/4th Cup, I added little more to make it non sticky)
3 Eggs (plus one extra for egg wash if desired)
( I used only one egg)
2 sticks margarine
(i used ½ Cup Oil)
1 cup sugar
(1/4 cup sugar)
½ Orange juice
(2 tbsp Orange Juice)
1 tsp vanilla extract
(1/2 tsp vanilla extract)
1 tbsp Baking powder
(1 tsp Baking powder)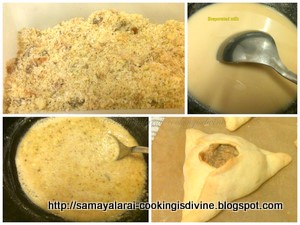 ½ Cup Evaporated milk
4 tbsp of Mapel syrup
I had around 2 cups of coarsely grated nuts such as pistachios, Almonds, cashews, poppy seeds, Pecans, Dates and I added some Raisins in it, but I had also added some sweetened coconuts too, so I really Can't give exact measurements for this.
Preheat the oven to 325 degree/Gas mark 4
Combine all the dough ingredients in the bowl as I have no stand mixer I had to mix by my spatula and then used my hand, if you have a stand mixer fitted with the dough hook, start with 5 ½ cups and work your way up to 7 cups if needed, just use the flour until it is well combined and not sticky any more, I started with 160 gms and then kept on using extra flour until I reached that consistency so I used around 180-190grams of flour.
After I did the dough I rolled it in a plastic wrap and kept it in the fridge for 2 hours, when I was Googling I found that if you leave the dough overnight, it really works very well.
After 2 hours I took it out and with little balls I made small round discs put in the filling and folded it into a triangle, it is very important about the sealing, wet the circle with water, overlapping and pinching the ends seal the pastry case well, so when you are baking they don't open up and become messey, check here for the folding techniques.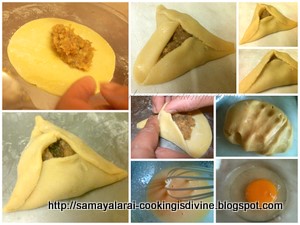 In a pan I boiled ½ Cup of Evaporated milk with 4 tbsp of Maple syrup and I added 1 Cup of my chopped nuts and poppy seed mixture and in a low flame I kept stirring until it became thick like a halwa consistency.
Arrange these filled cookies on a Baking sheet with parchment paper for 15- 20 minutes, half way through turn the baking sheet, until it turn golden in colour (mine did not turn golden, but you would know that it is well done), If you give a Egg-wash it gives a lovely shine to the cookies, I just brushed it with milk.
Once completely baked remove them on to a cooling rack, and enjoy eating them.....
Here are a few links if you are interested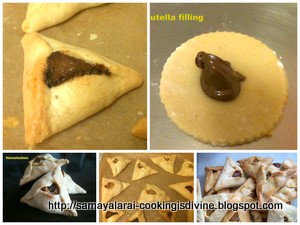 Thanks to Amanda and her team for this lovely concept and how I love to see the next one soon, If you want to see what others been doing in the
Secret Recipe Club
check out..., Thanks to
Angela of Big Bear's wife
for organizing our team, check out below what our team has done....