Here I come with a different kind of Starter. I had mentioned about this Recipe in my sister's side dish of Malai Bhendi, where I met a Mallu girl who taught me this, Nithya had made this. I will tell you how it is made, people who don't mind a little bit of salt in their palate may enjoy this, as this is a saltish cheese and it is called Halloumi cheese, it is a Greek cheese, The label says it is great with salad dressings, anyway everybody in the party enjoyed it and here goes how it is made!!
HALLOUMI CHEESE STARTER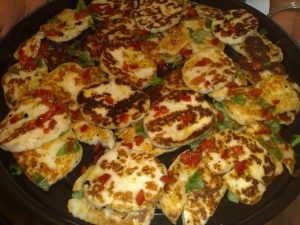 Ingredients
2 packets of Halloumi cheese
1 cup extra virgin olive oil
4 to 5 red chillies
METHOD:
Cut the cover & drain out the water in them, Press it with a kitchen towel to remove any moisture. slice them horizontally or as shown in the photo.
Take a pan & heat it nicely, say sizzling hot, place these cheeses on them & roast them as shown in the photo, until the watery thing in them disappears & becomes nice golden brown in colour
In a cup take olive oil to this add the red chillies by deseeding & cutting them into thin slices mix them together.
Now Garnish the cheese with the above-said oil mixture, Basil leaves & serve them hot.
Well, it was quite delicious and I thought the saltiness blended with the spicy chilli I think! I liked it, Try you may like it too.