I know you might be wondering why I have made a unhealthy snack.., Now and then my kids do enjoy these kind of snacks too..., Left alone, they wouldn't mind eating it everyday.., But now a days kids are a bit concerned about their looks !!, They tell me mum we should try to stop eating oily food as it will lead to acne!, They eat everything in very limited quantities.
I had bought 2 packs of
Haldiram's
ready made samosas sometime back, I had completely forgotten about it, I found it few days back hidden so I thought i could use this for kids 30 minutes snacky meals.
I made this on weekend so that could sit back and enjoy it.
This is quick to make as you don't need to plan anything to make this...
Here is how you need to make it...
INGREDIENTS:
Serves 7 to 8
(depending on how many samosas you want on your plate :))
1 and 1/2 cup (frozen peas)
1 small potato
1 cup Sweet corn (I have used frozen)*
2 to 3 small Red Onions*
2 Medium Carrots*
1 cup Sev
3 stalks of coriander leaves to Garnish
For Making the Sauce or Gravy:
2 and 1/2 Cups water
salt to taste ( around 1 and 1/4 tsp)
cooked Potato
Cooked Peas
1/2 tsp Garam Masala powder
1 tsp Chilli powder
1/4 tsp of Crushed Saunf (Aniseed)
1 tsp Chat Masala powder (optional)
1 tsp Kitchen king Masala powder (optional)
1 or 2tsp of oil
METHOD:
For Making the Sauce or Gravy:
First of all cook peas and peeled diced potato with 1 and 1/2 cup of water in a medium flame, in a cooker until 2 whistles. (I have a small cooker)
Allow it cool down.
Remove the potatoes from the cooker do not drain the water, keep the water with the peas as it is.
In a pan heat oil, add crushed saunf , leave it for a minute, then with the water and the cooked peas into the pan, when it starts boiling add the Sauce and salt.
Mash the potato nicely and add it to the gravy.
Once you add the potato, the gravy starts thickening so you can make it thinner or semi thick using the water to your liking. keep stirring now and then to make sure they do not form into lumps or get stuck to the pan, always keep your flame low or medium.
Taste and check the seasonings, just after adding the sauce, If you think you need extra seasoning you can add the Masala powders which I have mentioned in 1/4, 1/2 or a tsp quantities and check the taste and add the powders to your liking.
**The thickness of the gravy and the taste of the seasonings is totally upto you, Change it the way you like it by Decreasing or Increasing the powders to your taste.
If the Gravy is very runny with the amount of water I have given, do not worry, as I have not given you the exact amount of the potato size I have used.
Here potato is acting as a binding agent, so if the Gravy is very thin, then take a 1/4 of the water from the gravy add a tsp of Corn flour make a nice paste without any lumps and add it to the gravy. Do this only after checking the seasonings, Keep stirring once you have done this as it might get stuck to the pan.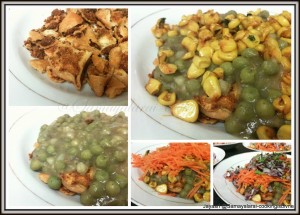 SWEET CORN IN GARNISHING:
Thaw the sweet corn, In a pan heat a tsp of butter/oil add the sweet corn and in a medium to high flame keep frying it continuously tossing and turning around it starts to brown and turn to slightly black, it gives a nice aroma, (don't get tempted to eat it!, I was telling myself that I am making this for my kids, I can't resist eating sweet corn, I just love them). add one or two pinch of powdered pepper if you like. Remove it from the flame and keep aside, until needed.
ASSEMBLING THE SAMOSA CHAT.
Peel the skin and Chop the onions
Peel and grate the carrots
Chop coriander leaves
Break the Samosas 3 to 4 in a plate, then add the Gravy on top of it, then add the chopped onions, grated carrots, Roasted sweet corn and sev then garnish with Coriander leaves.
Serve immediately.
If you leave it for sometime, gravy will more thicker because the samosas start obsorbing the Gravy.
Enjoy the chat...
Do you have any tips for me..., so I could use it next time when I make it.... do write to me... I will update here and in my next session of this chat.., My kids welcome any changes..., as far as they know mum will make it again...
This I made for BM#14 which I am posting so late, because of my health problems, hope valli will forgive me..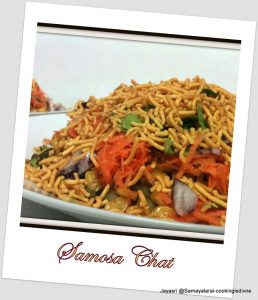 Check out the Blogging Marathon page for the other Blogging Marathoners doing BM#14