Hi, all at last my Jamoons made it into the blog!!, It all started as you all know that
srivalli of cooking4allseasons
started this Indian cooking challenge and this month's challenge was making jamoons from scratch, that is we had to make it from Khova, I took this recipe from the
yum blog
by two people Latha and Lakshmi, this was the first time I visited their blog, and they have wonderful recipes!!, just check their blog for some more delicious dishes!!, valli had three recipes the other two were Indo of
Daily musings
and
Alka of Sindhi Rasoi
, check out their blogs too, I have decided I will try their versions next time when I make jamoons again.
I thought of writing this in the end but let me write it now as you would have all gone through all the ICC bloggers who have already posted the jamoon recipe.
My verdict: Just follow what the yum blog says very carefully otherwise you would end up as I did the first time, I just read through the recipe and with over confident, let the khova, for a few minutes say around 20 to 25 minutes and then started making the jamoons and LO!!!, they just started disappearing slowly in the oil and I felt like crying and somehow I finished all the dough and put it in the sugar syrup they stared dissolving and I was left with small marble sized jamoons with large mass of them too!!, well, this I did 2 weeks back and decided to post it on the deadline that was the end of last month, but when valli changed the posting date, I was so happy that I could try one more time, and did it yesterday and here I am with lovely gulab jamoons, carefully read the recipe properly followed the instructions and completed the challenge, that was quite a challenge here are lovely jamoons.
That is daughter's bowl who has a very sweet tooth, she initiated that she would take the photos and eat them as well, (The last time the disaster jamoons were well taken by both dad and daughter who finished off even it did not had a jamoon shape!!) Thanks to them.
GULAB (LESS) JAMOONS
Ingredients:
Khova -1 and 1/2 cups
Maida - 1 cup
Sugar- 1 cups (If you want excess cup that is floating jamoons increase by a cup)
Water - 1 cup (increase if you're increasing sugar
Cooking Soda - 1 pinches
Cardamon - 3 pods
Rose water - 1 tbsp
Saffron leaves - a few
Oil - 1 cup ( for deep frying)
METHOD:
Combine sugar and water in a flat bottomed broad pan and simmer on a low heat until sugar dissolves.
Add cardamom powder and saffron leaves and remove from fire.
Knead khova, maida and soda and quickly shape into balls
Heat oil on a medium flame. Fry the jamuns till golden brown over a low to medium flame, keeping oil temperature uniform. Oil should not smoke.
Drain the jamuns and soak in the warm sugar syrup.
Serve the jamuns after half an hour.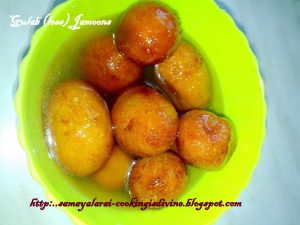 Tips:
You will achieve correct consistency for Jamoons syrup when 1 cup of sugar dissolves 1 cup water over low heat.

Only when the syrup is ready, mix the Jamoon dough. Since the dough has soda, if its kept aside the Jamoons will disperse while frying and will not hold well.

Right temperature of oil of utmost importance to get soft Jamoons.

Never refrigerate Jamoons. Jamoons when refrigerated will shrink and become hard. Jamoons will stay fresh for 4 days when stored in air tight containers.

If you like you can add two drops of rose essence to the syrup to make it Gulab Jamoon