Hi, I had this lovely dal few days back, My second daughter was the first to have food, and she said it was 'Thumba chennagide' means it's very nice, I think the combination of dates and tamarind was very good!, I have to tell I was thinking twice to try this out, as my kids are not any more kids they are teenagers who don't get pleased very easily.
I thank Srivalli, for this venture of me, cooking dates in a dal recipe, and want to thank Pratibha and Jigyasa for allowing us to use this recipe from your second book
'Sukam Ayu'.
The dal was quite tasty with different flavours, I had to tweak it a little bit, nothing drastically I had no dried dates so used soft dates, cooked them with Dal so they can be mashed up and my children wouldn't even know !!.
I couldn't get hold of yam so I had to omit it, I used lot of other vegetables such as carrots, beans, Lilva beans, Drumsticks and it was really nice.
I could notice the Fenugreek taste in the Dal, sweetness and tangyness of dates and tamarind, I omitted Jaggery as my hubby seems to find out even a little bit of Jaggery I add!, he did ask me if I had added Jaggery but when I told him what I had done, he said Mmmm.., and said it was quite nice.
so here is the recipe...
GUJARATI DAL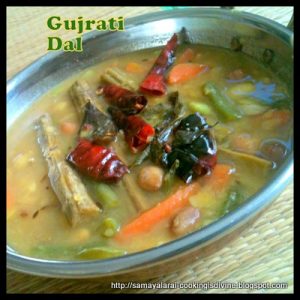 INGREDIENTS:
1 Cup Tuvar Dal
2 Drumsticks
1 Medium sized carrot
1/2 cup Lilva Beans
7 to 8 French Beans
A fist full of Ground nuts (Peanuts)
1/2 tsp Turmeric powder
1 Green chillies
5 Nos soft dates
1/2 tsp Cumin powder
1/4 tsp Garam Masala
1 tsp Ginger
1 tsp Coriander powder
few Coriander leaves
FOR SEASONING:
1 tsp Ghee
1/2 tsp Fenugreek seeds
1/2 tsp Mustard seeds
1/2 tsp Cumin seeds
4 Nos Red chillies
curry leaves
A pinch of Asafoetida
METHOD
Cook Tuvar dal with turmeric powder and dates ( but in the recipe what valli sent us was you have to use dried dates soak them in warm water and cook them with other vegetables, as I had no dried dates and I did not want my kids to find out what was in it I cooked them together with Tuvar dal and mashed them well) in a pressure cooker for 3 whistles.
chop the Veggies, cook them in a vessel with 2 to 2 and 1/2 cup of water with a ladle in the vessel and close the top with another broader vessel ( say like a besan type of vessel) with a cup of water in it. This helps in cooking the veggies quicker and faster in a medium flame, keep an eye when it is boiling so it doesn't burn underneath with no water :)). Add the masala powder, tamarind and Jaggery and let it also cook when the veggies are half cooked.
Once the veggies are done, add the Dal to them mix together and cook them again for few minutes adjust salt and curry leaves.
Meanwhile in a small wok, heat a tbsp of Ghee and add all the Ingredients under seasoning fry them for 2 minutes, add this to the dal and serve hot with a dollop of ghee and rice or with chapati or pulka.l
Mmm.., very delicious, you too make this healthy recipe and enjoy it.