Hi everybody, First of all I would like to apologise to Lakshmi for announcing this event so late, I did not really do it on purpose, as I had no access to net connection I was not able to post this announcement, Lakshmi please do forgive me.
After a long interval I am back, actually not really back, I might start blogging regularly may be after 2 weeks , I am in India, and very busy with family and friends and a small function and most importantly no net connection, I had almost forgotten how a comp looks like!, I was lucky today I am in my sis's house and luckily BIL is at home :), making use of this opportunity I am posting this event, which was already typed and ready to go, I was just waiting for the logo and April 20th, which is long bygone with no net connection, My sincere apologies to lakshmi and next host of this event, for the delay in posting this wonderful event!.
I know I will be missing T and T of Chef and her Kitchen announced by Sushma of Savi-ruchi, I love her blog, as she cooks more like me and had Book marked somethings I wanted to try which I have to wait until I am back :(, no net, no new recipes, I feel so bad!.
Coming back I am so delighted to Host this event, which is one of my favourite events, this event was started by
zlamushka
and is now taken care of by
Lakshmi of Kitchen Chronicles,
I don't have to introduce you to
Deeba's Passionate about Baking
blog, she is so creative, beautiful photos, drool worthy recipes, lot of original creations, lot of recipes you can find from scratch and of course if you love baking here is a wonderful space you can just love to try with no regrets, I love her blog and hope that you all love her blog too…,
So let's start trying out some recipe (s) from her blog….
Deeba's – PASSIONATE ABOUT BAKING – May 2nd – May 31st
As always little rules to follow:
nothing much…
Please remember this is a vegetarian blog and eggs are allowed
Do link the Tried and Tested event to zlamushka's blog, and then to Kitchen Chronicles as they both needed to be acknowledged for this beautiful event.
If you have already tried any recipes from her blog, no need to re-post just link this event page to that post, and mail me.
Please stick as much as possible to the original recipe.
Non- bloggers are welcome too, they can send me a mail and a picture of what you have made.
Please send me your entries to cookingisdivine@gmail.com with T and T- May 2011 as subject.
Send me your name, URL link of your recipe and a photo of your dish
Please send in your entries from May 2nd – May 31st ( I will posting the round-up by first week of June.
Oops I had almost forgotten :),
My lovely Non-bloggers can also participate in this event, Just write to me with your recipe and a click of the dish and I will be glad to share it with all my other entries…..
A very special thanks to Ksenia, who has been kind enough to make this logo for this lovely event
Please do include the logo in your creations from Deeba's blogging world if possible :)). Many thanks.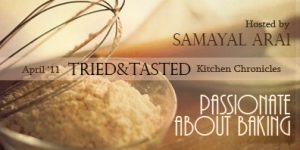 A small change in the logo it is May '11, Looking forward to seeing your creations from her's to mine.
If you have any doubts, please mail me, and if I have missed out anything do please write to me, I might me be a little late in responding to you as again because of net connections.