I know this is so tyring for me, doing last minute entries, well, I am always like that I think, I told you in my last post that I have been in her kitchen looking for recipes matching with my Ingredients in my pantry, fridge, freezer, Garden etc., yes, your guess is absolutely right!, I have been growing some veggies in my garden you must have seen lataji mentioning so in my comment section I had few plants growing, actually I was not really happy about it, as the weather keeps changing the best I could get was the pepper, chillies, swiss chard and Tomatoes, that's right, I will be posting a recipe today with Home grown Tomatoes, Tried and tested from Aparna's kitchen.
Here is a click of my Tomatoes, which I took , not a good one though.
I had to try out something of my own, but T & T was hosted, as I was searching through the recipes I saw these recipes..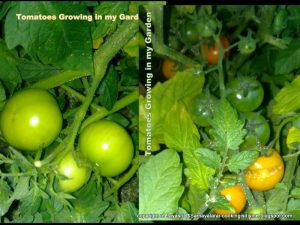 So, I had a bunch of Green Tomatoes, few of them were turning red too..., just today I plucked a few red ones!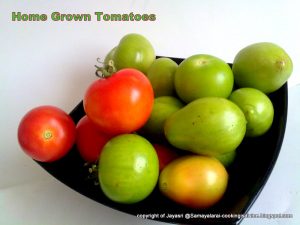 Don't they look lovely, coming to the recipe..
GREEN TOMATO PICKLE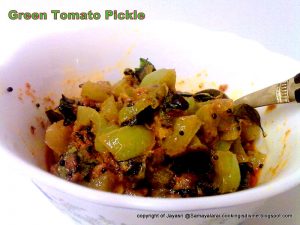 Does it look nice?, Mmmm.., it was too gorgeous I should say, especially my son loved it so much, he wants to make it with remaining Green tomatoes!, It was a great hit in the family, I made only so much as I used some for the Kurma, so it lasted only 2 days, because kept eating with anything and everything! thanks Aparna for this lovely recipe.
6 TO 7 Green Tomatoes
3 tbsp of sesame seeds
1 tsp mustard seeds
1 tsp of Fenugreek powder (I used Schwartz fenugreek powder)
1/2 tsp of Mustard powder (I used Colman's mustard powder)
2 tsp of Chilli powder
Salt as required (sorry I forgot to measure it 🙂 )
1/4 tsp of Jaggery
1Sprig of Curry leaves
Wash and cut the tomatoes in half and again into half and again into halves (1/4), To this add the Chilli powder, Jaggery and salt mix well and leave it aside.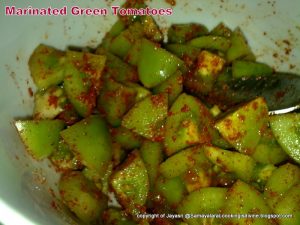 Take a wok, heat oil add mustard seeds, when it splutters, add the curry leaves and do not make it burn, add the marinated Tomatoes immediately, stir well, allow the tomatoes to cook for about 5 minutes, they should cook without losing the skin or becoming mushy. Then add the fenugreek powder, mustard powder and leave it for an other 2 minute or so, and then take off the heat.
After it cools down you can bottle it up and Aparna says you have to refrigerate it and stays good up to one week.
I did not bottle them up or put them in the fridge as I made only so much which you can see in the cup and it stayed in my counter top.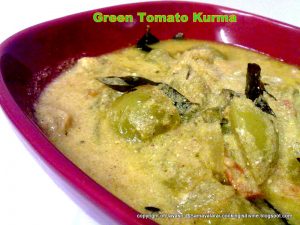 7 t 8 Green Tomatoes
3/4 th Cup Yogurt
2 Green Chillies
1 tsp sugar
1 tsp turmeric powder
1 tsp Garam Masala
4 to 5 tbsp of oil
1 sprig curry leaves
4 to 5 sprigs of Coriander leaves
1 Sprig of curry leaves
2 bay leaves
1 Big Onion
1/2 '' Ginger
3 to 4 Garlic pods
1/2 tbsp Poppy seeds
4 tbsp of freshly Grated coconut
2 cloves
1 Cardamom
1 Green chilli
Cut the Tomatoes into 4 pieces and keep aside. Take all the Ingredients from the Grind and make it into a paste. Take a wok heat oil add Green chillies, Turmeric powder and Bay leaves fry for a minute then add the ground paste and fry until all the raw smells disappear and oil oozes out, then add the chopped tomatoes and fry for few minutes then add a cup of water.
Meanwhile when it is cooking take the yogurt, add the Garam masala chopped coriander leaves, sugar, mix well, and add this to the cooked Tomatoes, do not boil after yogurt is added otherwise it will curdle and spoil the curry. you can leave it in the wok for a few minutes stirring continuously so that it doesn't curdle. Take off the heat and serve hot with chappatis
or with Rice like my husband had.
well, anyways, it was a great dish, we all loved it, thanks Aparna for the lovely dishes...
Hope valli will accept this last one entry I still had an other two, I think I will just post it later on for some other events.
I am also sending this to Nupur's , it's been a long time, I entered her event, I love her blog I especially chose these dishes keeping
Nupur's Iron chef edition
event in mind, I have missed so many of her events, even though I cooked from other blogs but never could post them :(, and I really didn't want to miss this event and when I saw these recipes, I thought this was perfect, Hope Nupur accepts this and likes it, I am truthful here Nupur, I really did this for your event, I would like to participate in these kind of events as I have always told that I always look for new recipes and try and cook something new every day from other blogs.