Hi, everybody, Hope you all trying out recipes from RAKS KITCHEN for my bloggers Marathon..
well, this was an old post in my draft once you see the pics you would know how old it is :)). I took four days to track down this click, couldn't find it in my thousands of pictures, I felt like crying, because I wanted to post this to Priya's CWF-Oats event. I think I am in time for this.
These Peppers were grown in my garden and they were so tasty too..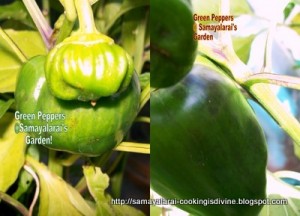 I was like using them so preciously, thinking they will get over! I just loved to see them in the Garden, When my sis visited me, she laughed and said It is grown to be eaten not to just look at it and how stupid I was to leave it rot there!,and from that day I started I started picking them up now and then, as we all try to use different veggies every day I had almost forgotten these peppers and one day I noticed there were a few of them, that's when I decided I will make rice out of these lot and wanted to try out some new powder than the same old powders. I ended up making this lovely powder which was really a good combination with this rice.
GREEN PEPPER RICE WITH OATS, LINSEED AND QUINOA POWDER
1 Cup Ponni/Sona-Masoori Rice (Use whatever rice you have in hand)
5 tbsp of Oil
1/4 Bunch (around 5 to 6 stalks ) Coriander leaves
2 Sprigs of curry leaves
1 tsp of Mustard seeds
1 tbsp of Chenna dal
1 tbsp of Urad dal
3 to 4 Green Chiilies
2 tbsp (1 fist full of raw Groundnuts)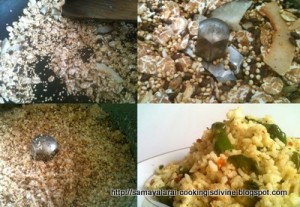 1 tbsp of Quinoa
2 tbsp of Oats
1 tbsp of Linseed
1/4cup of Dry Copra
2 Red Chillies
In a frying pan dry fry all the Ingredients except Asafoetida, you can fry them separately or together just for 2 to 3 minutes, Quinoa changes colour, Linseeds start crackling like Mustard seeds, Here I actually had already roasted copra, to a golden colour and dry chillies separately, but gave a quick mix in the first photo here, Grind them to a fine powder with Asafoetida and keep aside.
I have used of this powder when making dry curries, and used 1 tbsp with sambhar, etc.,
METHOD FOR MAKING GREEN PEPPER RICE
Cook rice with a tsp of oil to a Medium soft, It totally depends on what rice you are using, the above said Rice sometimes require 2 and 1/2 to 3 times water to 1 Cup of Raw Rice, If you are using Basmati for 1 cup use 1 and 3/4 th of water that would be sufficient and allow it to cool down, so that the grains separate out.
In a large Pan heat oil, Keep it in a Medium flame, once it is quite hot add mustard seeds after they splutter, add Ground nuts as they take a little while to cook, saute them for 2 to 3 minutes then add all the Ingredients and fry them again as the dals change colour very soon it is important to add Ground nuts first, so they don't retain the raw smell.
Once they all change colour and Groundnuts start crackling a bit, then add the chopped Capsicum/Pepper and curry leaves together, I had kind of diced them up so they don't become too soft and have that crunchy bit in them, now you can make the flame a little high and fry them quickly so they don't tend to become too mushy, after few minutes, once you know that they are cooked, kind of they start curling around add the spice powder mix and add required amount of salt mix well , then wash and chop the Coriander leaves add it to the dry curry, bring it to a low flame, close a lid and leave it for 5 minutes so the powder gets absorbed by the Peppers. (do not leave it too long).
Switch of the stove, add the cooked rice mix well and serve it hot, with papads, or raithas etc.,
Enjoy... take care... c u soon....
Oh! you can have a another look at my delicious rice..