This is an other Punjabi dish I found in a book, I do not know the real recipe for this, I do not know if it is authentic, please forgive me if it isn't but it was quite nice and tasty recipe as it had potatoes in it :).
GREEN BATAKI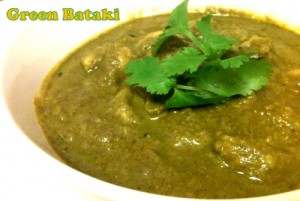 INGREDIENTS:
FOR THE CURRY:
1 bunch of Mustard leaves (around 250 to 300 gms) (Recipe called for spinach)
1/4 Kg Potatoes (5 to 6 Medium sized)
3 to 4 pods of Garlic
2 small Onions (45 to 50 gms)
2 Small Tomatoes (45 to 50 gms)
3 to 4 Green chillies
Ground to Paste:
6 to 7 Cashew nuts
1 tsp Fennel seeds
1 tbsp Anardana seeds ( Recipe called for Magastari seeds)
METHOD:
First of all peel the Potatoes and cook them on a stove top with enough water until it is 3/4th done. (Actually the recipe calls for peeling and cutting and half cook the potatoes into Small cubes and deep fry them in Ghee until they are good), I did not deep fry but once it was nearly done I cut them into cubes and with a bit of more oil say around 4 to 5 tbsp of oil I roasted them nicely and kept it aside.
Then I cooked the Mustard Greens in 1 and 1/2 cups of water, drained the water into a bowl (do not throw away the water) and kept aside.
when the Greens were cooking I grounded everything in the Ground to paste heading to a smooth paste.
In a wok heat a tsp of oil add Green chillies and Onions saute then until they turn transparent then add Tomatoes and saute them again, until well cooked, allow them to cool.
Grind the spinach and the sauteed vegetables into a smooth puree and keep aside.
Next take a wok heat oil and cumin seeds, when they splutter add the Roasted potatoes then add the pureed Green paste and the Cashew paste to it with the reserved drained water and allow it to boil to this add Red chilli powder, Garam masala powder and salt as required with an other cup of oil as it starts thickening you can adjust by adding more water as needed to make it into a nice Gravy.
Garnish with coriander leaves and serve it with any roti, pulka or Nans.
I would like to send this to Pari's Flavours of Punjab event started by Nayana of simply food and to Anardana event hosted by me, started by Priya.
Hope she accepts my entry :)........