Hi everybody, hope you are all doing fine at that end!! :), well, as usual I am the 'Late Kate' here!!, When I was in school we used to have a story on Late kate in our English text book, After a long time I have realized who the late kate is!!, I will not give any saaboobs of why I am late, I am always in a midst of something or the other all the time. Coming back to the recipe.., thanks srivalli for a great challenge, my kids just devoured it!! even H and my friends who visited me today enjoyed it immensely!!, yup! even I loved it !!. I don't have to say no more as you all would have noticed our team out their have already posted the recipe, Oh! yes, this time making Golgoppas was the Indian Cooking Challenge for the month of May.
As you all know (this is for people who do not know!! 🙂 ) India is not only known for its diversity, but for its exotic cuisine from different cultures and traditions but also is famous for its street food, Of course even though parents do not encourage their children eating out side because of the lot of disadvantages it holds, you cannot resist them, can you?, No!!, When we are college goers parents assume that we are more sensible, understand what is right and what is wrong and have immense belief in you and spend the pocket money in a useful way!!, I was, I used to take my carrier but, but, I just couldn't resist eating outside, these days people who sell street food are also consicious and try to keep things more cleaner, only you have to look out for people like that, Here, I would like to remember a chatwala who would stand at the end of the road near my house, his name was veerabhadra, he is a young lad and a very famous one too!!, Once he opens his stall with in an hour he closes it with stock completely gone, today when my kids were eating the golgoppas said I second him!! (well, first impression is always the best impression, I know I cannot beat him, but this one was really good!!). It's been a long time I made any chat, I still have my Bhelpuri in my folder!!, someday I will post it!!..
GOLGOPPAS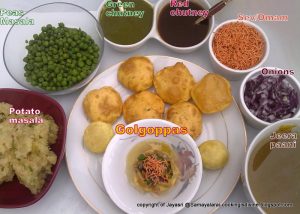 1 cup - Semolina
1 tbsp - All purpose flour
A pinch of Baking soda
water
Oil for deep frying
Mix all the ingredients except oil into a smooth stiff pliable dough by adding or sprinkling water little by little. Knead it well, with oiled hands as it is difficult to handle as the dough is stiff, cover it with a muslin cloth or wet cloth so that the dough doesn't dry out, keep it aside for few minutes or until you make the other ingredients ready for filling the golgoppas, so when you deep fry them you can serve it straight from the wok!!.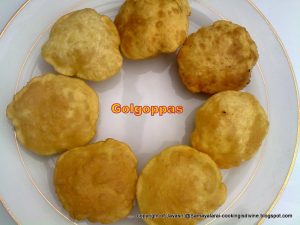 Knead the dough well with a little bit of oiled hands and pinch out marble sized balls (or 1/2 of marble size) and roll them out into small circles, do it in hand or make a big chappati and cut out small rounds using a cookie cutter or any other means and deep fry them until golden in colour.
(I know some of them are over fried well, that was my daughter frying she said she wants them like that, thank God! she usually gets ideas like making her name, or starting of the letter from her name or some designs etc., I don't know if I was lucky or the Golgoppas!!)
1 1/2 cup Chopped mint leaves
1 tbsp coriander leaves
1/3 cup Tamarind (using 3 to 4 flakes soaked and squeeze out the water nicely)
1'' Ginger
1 tsp Ground cumin
1 1/2tsp Black salt ( I did not use)
salt to taste
Grind all the above said ingredients to a smooth paste, I grinded everything except tamarind first, I always grind the dry ingredients first so they get blended well and then add water when I am making chutneys, I adopted the same method so the chutney is nice and smooth.
1 cup Tamarind (soak gooseberry sized tamarind in warm water, and extract the Juice)
1/2 cup Jaggery
2 tbsp sugar
1/2 tsp Red chilli powder
1/4 tsp Black pepper powder
1 tsp cumin powder
2 cloves (I crushed them finely in my mortar)
2 cups warm water
salt as required
Extract tamarind water (using one or half cup of water mentioned in the recipe) add minced jaggery and allow it dissolve then filter the water as usually you get to see impurities in Jaggery, Once filtered put it back on the stove and add all the other ingredients and allow it to boil for a few minutes so that the raw smell disappears, put it off and it is now ready to use.
1 cup peas (cooked separately)
2 medium sized Potatoes (cooked separately)
Potato Masala
: mash the cooked potatoes, add a pinch of cumin and coriander powder and salt to taste and chopped corainder leaves
Peas Masala:
I
cooked the peas with mint leaves, drained the water put it into a wok and gave a toss with a pinch of cumin and coriander powder
Set the above veggies separately.
ASSEMBLING THE GOLGOPPAS:
Take a Golgoppa, make a hole in the middle add potato and peas, chopped onions, green and red chutney as you desire and just gulp the whole puri in your mouth and enjoy!!
If you want you can have grated carrot and sev on top of it, I made Jeera pani and dipped the Golgoppa in it and the whole family enjoyed it.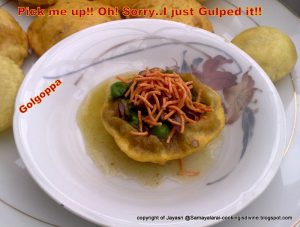 Do make them and you too enjoy it..... good day, c u soon..., take care.....