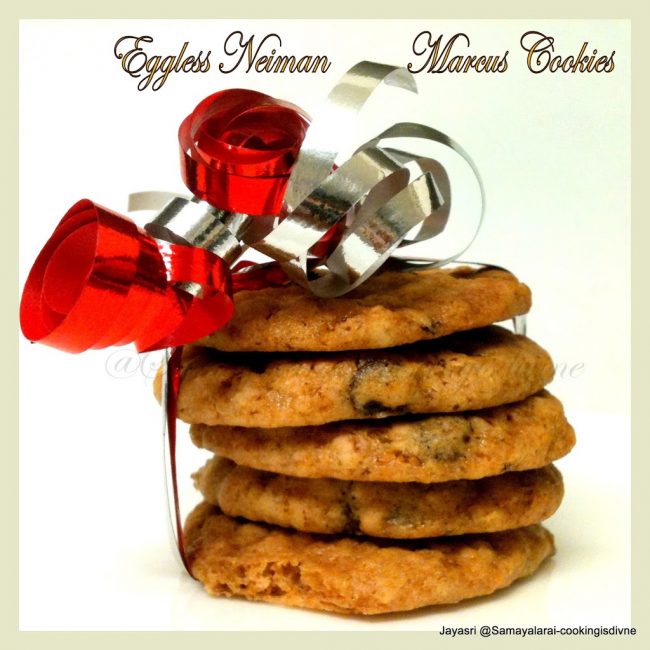 The famous Neiman Marcus Cookies are made with ground Oats and Choco Chips from the popular email chain that flooded the Internet for years.
At last I have decided I am not going to sleep until I publish this post, which had to be on the 24th, the deadline for the
Taste and create
started by
Min of the Bad girls kitchen
I am back with those group of people with whom I enjoy this.., so this month I was paired up with
 Bizzy Bakes
, as she says - that she is an avid baker, She loves baking, she has a wonderful blog with loads of recipes and Muffin Monday and come bake with Bizzy.., hop on to her blog to find to more.....Coming to this recipe - This recipe is called Neiman Marcus Cookie - I had heard a similar story about the other recipe and this seems to end up just the way. Here is a little story from Wikipedia.
Neiman Marcus -
 is a luxury speciality retail 
department store
 operated by the Neiman Marcus Group in the 
United States
. The company is headquartered in the One Marcus Square building in 
Downtown
Dallas
, 
Texas
,
[1]
 and competes with other department stores such as 
Saks Fifth Avenue
, 
Barneys New York
, 
Lord & Taylor
, 
Nordstrom
, 
Von Maur
 and 
Bloomingdale's
. The Neiman Marcus Group also owns 
Bergdorf Goodman
 speciality retail department stores on 
Fifth Avenue
 in 
New York City
 and a direct marketing division, Neiman Marcus Direct, which operates catalogue and online operations under the Horchow, Neiman Marcus and Bergdorf Goodman names.
So then what is the story behind this departmental store...., 
The store is featured in an urban legend involving a supposed recipe for its popular chocolate chip cookie.[33] In the legend, a woman and her daughter enjoy a cookie while shopping at Neiman Marcus in Dallas, Texas, and ask for the recipe. The waiter informs her there will be a "two-fifty" charge, which the woman interprets as $2.50. Upon receiving her VISA statement, she is shocked to discover she has been charged $250.00 instead. In revenge, she photocopies the recipe and urges her friends to distribute it for free to everyone they know so that the store will make no further profit on its sale. Because the story typically was passed along as a photocopy, it falls in the legend subcategory of Xeroxlore. Later, with the advent of the Internet, it reemerged as an infamous chain e-mail, "Cookie revenge".
Well, don't know how true it is, they say that there were too many loopholes in this story.., Whatever it is My kids just loved these cookies and thanks to Bizzy Bakes for these lovely cookies.
I made a few little changes to suit my style of Baking, you got it right, I made it Eggless and changed a bit with flour, as I had no stock of Brown rice flour.
GLUTEN FREE AND EGGLESS NEIMAN MARCUS COOKIES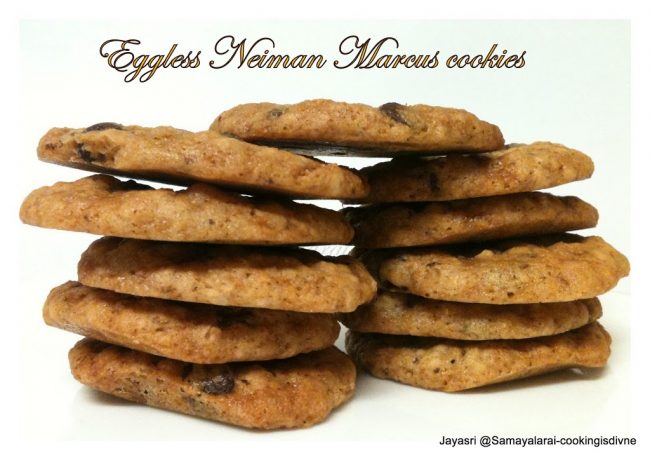 Recipe minimally adapted from Bizzy Bakes
1/2 cup Margarine/Butter (I used Butter)
1/2 cup Soft Brown sugar
1 tsp pure Vanilla extract
1/2 tsp Baking Soda
1/2 tsp Baking Powder
1/4 tsp salt
1 tsp Coffee powder
1/2 Cup Rice flour (white)
1/4 cup Tapioca flour
2 tbsp Potato Starch
150 gms Chocolate chips
Take the Dry ingredients the flours, BP. BS, coffee powder and  Salt, mix well sieve them together for at least three times, this ensures the flour is completely mixed well.
Cream Butter and sugar until light and fluffy then add the dry ingredients to the this and mix well make it into a nice dough add a tbsp of cold water at a time if required.
If using margarine be careful using water as margarine has a lot of moisture content in them.
Refrigerate this dough for at least 1/2 an hour
Mine was not a very soft dough as hers so you could drop them on the sheet, but rather it was a dough wherein I had to make small balls and press a little bit, (not too much ) as they spread while baking.
Take little balls and give a light press to them and place them on a baking sheet on a greaseproof/baking parchment and bake them in 5 minutes pre-heated oven at 375 degree F/ Gas mark 5/ 190-degree Celsius for 8 to 10 minutes.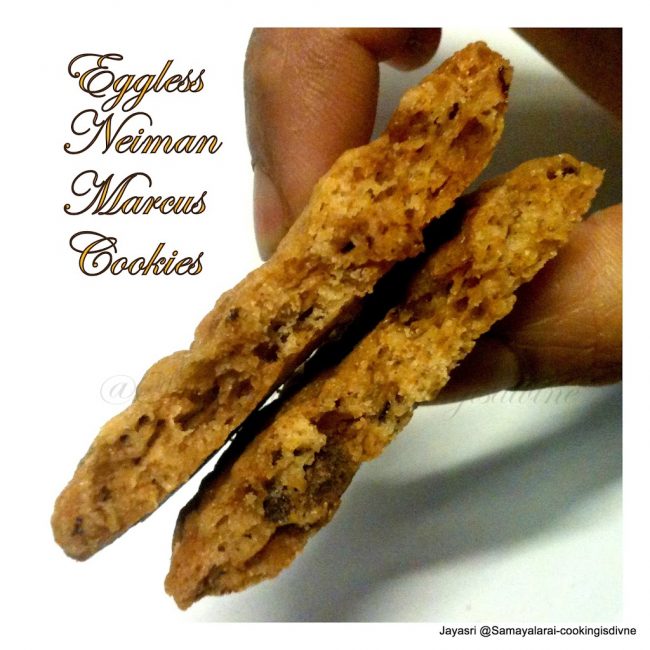 when you move the cookie if it releases easily that means it is done ( if a slight nudge will push the cookie on the sheet).
My verdict:
I was quite happy I chose this recipe.., My kids and friends loved it, they were a bit chewy but so yummy.., if you have a sweet tooth you will love it.
For the original recipe please check out her blog....