Joining Daring Baker's has given me an outlet for my baking passion but also such an in depth in Baking and techniques, I should tell you I am quite enjoying it, even though I missed the last one as I had personal health problems, I am still planning to do it sometime soon as I want to know the taste of it!!.
After coming to Uk Ginger Bread and children seem to go well together which is what I noticed, The children here seem to love the Ginger Bread men, and other different characters they bake in different shapes and sizes!!, The kids are beaming with joy when they see their parents buying them as treats !!, they are so delighted, but I never thought of eating them to see how they taste , This ginger bread recipe made me not only try it out, but the best was my kids who loved and enjoyed it, Thanks to Anna and Y for bringing out this challenge, The house was built by my kids, they enjoyed doing it, and they were eating the icing and smarties now and then licking them up when they were building it!!, I had to clean up a little so that i could take a photo of it, before they were into it !!
December 2009 Daring Baker's challenge was brought to us and to you all by Anna of Very Small Anna and Y of Lemonpi. They choose to challenge Daring Baker's around the world to bake and assemble a Ginger Bread House from scratch, They choose these recipes from Good House Keeping and from The great Scandinavian Baking Book as the challenge recipes.
I chose to use Y's recipe, beacuse I had no molasses, and actually I still have to find where I can get hold of them!!, never thought of using them, as I really don't bake too much, They had both given a detailed way of making these houses and some sites which you could go through for the way to build them.
I as usual was not a very good architect and was not very precise with making cardboard cuts I used my eyes as measurments and made the pieces and made the Icing which came out very well, I am not a lover of Icing as I can't so much sugar, (kids loved it) but enjoyed making it and filled in 2 piping bags and gave it to the kids for them to enjoy making the decorations, I know it is not looking too good but they loved it, I thought ginger bread and children and they would love it, so allowed them making their house, half the time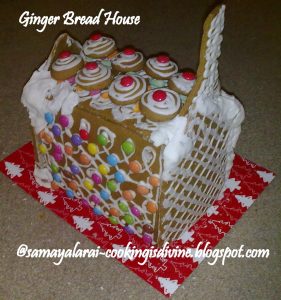 they were licking and eating the Icing, I did not use the sugar syrup because they took everything to the lounge and messed my carpet !!, so I just couldn't risk my carpet and sugar syrup with their laughing and giggling and shouting, so I just sat their watching them with more Icing and told them to bind the house together and get the photo soon, Oops !! at last they completed it. So, I know it is not looking too good but
Anna
and
Y
my kids loved it, and we all had a fun time doing it, thank you again.
I haven't posted the recipes here, I thought you must visit their blogs to check out on the detailed recipe of them both, and I also have provided a link to
Beatrice Ojankagas
and look into her blog too., I came to know about her from lovely baker Aparna, who has as always done a good job of baking the ginger bread house, who gives a lot of credit to this lady and about her baking, which i also want to try some time.
Anna and Y have provided some links too for making ginger bread houses check out their blogs…
some of them are :
Here are some links to free patterns and information about ginger bread houses provided by Audax Artifex one of our great daring bakers.
http://slice-heaven.com/store/show/FREEGHPATTERNS
http://www.gingerbread-house-house.com/free-patters-for-gingerbread-ho..
http://www.fashion-era.com/Christmas/christmas_food_gingerbread_house_re..
http://www.celebrating-christmas.com/recipes/gingerbread-house.shtml
My Verdict:
Never try to make ginger bread houses are any these kind of things which you want to make without any prior calculations !! as you will definitely end up having a hard time constructing your house, well, I didn't make them my kids did and they loved it, as they had such a difficult time constructing it !! so kept them from sitting in front of the TV or computer and spend some quality time together with such fun.