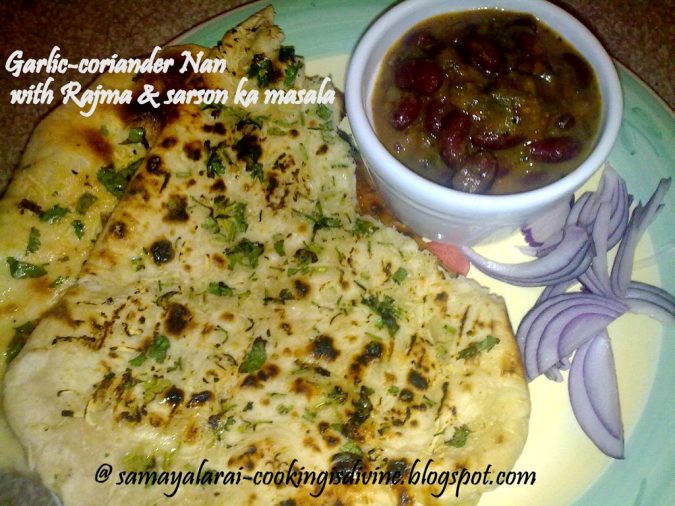 It is been such a long time I made Nan, as my children don't like it much, they prefer to eat roti than Nans when we go to restaurants all the four of us choose to eat roti with any kind of subzi, but my hubby always opted only for Butter Nans, Kulchas.  This event announced by
Trupti's food corner
is hosting this month's edition of
Zlamushka's Tried and Tasted
event featuring
Wandering Chopsticks.
 made me look into wandering chopsticks, she has got lovely recipes from nook and corner of the world, It is so amazing, I took this Nan recipe from her blog but tweaked it a to my liking by adding garlic and coriander to it, otherwise my kids won't eat it,  I am also sending this to JFI-Rajma, hosted by
Divya of Dil se,
JFI is the brainchild of
Indira of Mahanandi
, JFI is Jihva for ingredients is an online monthly food event celebrating the natural ingredients and what they can do for our jeeva, look out in her blog for all the JFI events, She is blogger with some great recipes and lot of things you can know from her blog.
GARLIC AND CORIANDER NAN WITH RAJMA AND  SARSON KA MASALA
For half a dozen naan, you'll need:
2 cups All-purpose flour

3/4th cup lukewarm water

2 tbsp oil

4 tbsp yoghurt

1 tsp sugar

1 tsp salt

1/2 tsp Baking soda

1/2 tsp yeast

Ghee or butter melted for brushing on naan

Minced garlic and coriander chopped for topping
METHOD:
Mix Sugar, yeast and water in a large mixing bowl

Add all the other ingredients except for ghee and the toppings

Knead it into the dough, cover this bowl with a cling film or a wet tea towel and leave it in a warm place and let it rise for 2 to 3 hours or until doubled in size.

Once it is raised make it into balls and flatten them with the help of rolling pin in a kind of triangular shape and pull the tapering end a little bit, now it just looks like a Nan

let it 1/2 '' thick do not make it too thin

Now top it with the mixture of garlic and coriander leaves and press it on them lightly.  You can also sprinkle some sesame seeds and roll it with a pin or press it on to the dough and place 2 of them on a baking sheet and bake it for 10 to 15 minutes you can see those red speck marks on them and just like a chapati bloating up here and there! That means your nan is done

Now you can take them out and brush them with butter or ghee and serve them hot with whatever side dish you like

I started with the oven but ended up making them on the stove top, they were very soft and nice, children did enjoy it.
On the stove top, what you have to do is place your Tawa / pan / girdle when it is warm enough, sprinkle water on to it, place your nan on to it, The dough gets stuck to it, cook it with a lid on top for just 2 minutes remove the lid you can see the top puffing up here and there.
Now turn the pan/Tawa with the help of a handle or with tongs directly on to the fire hold it a bit above the fire so that you don't want it to get burnt right,
The top gets cooked with a lot of brown and black spots on them, turn it back again and cook again underneath placing the tawa back on the stove.
This way it is evenly cooked both the sides and your Nan stays nice and soft for a long period of time, then brush it the same way and serve hot with choice of your gravy.
Remember when cooking on the stove top, the stickiness of the dough should not come out when you turn it over, so do it when it is still stuck and cooking it when turning it over it might fall off so be careful about it, you don't want a burnt Nan.
Once you know how to do and the process just takes 3 to 4 minutes it is easy and the end product is much soft and fluffy than baked ones.
RAJMA AND SARSON KA MASALA
INGREDIENTS:
1 Cup of Rajma or Red Kidney beans

1 bunch of Sarson or Mustard leaves

2 Tomatoes

1 large onion

4 pods of garlic

1'' ginger

5 to 6 sprigs of chopped coriander leaves

1/2 tsp mustard seeds

1/4 tsp turmeric powder

marble sized Tamarind or 2 to 3 tbsp of Thick Tamarind extract

1tsp of Coriander powder

1 tsp of cumin powder

1 and 1/2 tbsp of Chilli powder

1 small sized cooked potato

4 to 5 tbsp of oil
METHOD:
Soak the Red Kidney beans or Rajma on the previous night with a pinch of baking soda, this helps in softening the beans, next day wash it well with clean water and cook it till soft

soak the tamarind in water and squeeze out the juice and keep aside

wash the mustard leaves well and chop them into fine pieces or else you can cook and make it into a puree or just cook it and keep aside until needed

Grind onion, garlic pods and ginger into a smooth paste.

Take a wok, heat oil and add mustard seeds, once they splutter and the ground paste and fry them until they turn golden in colour

Then add the chopped tomatoes and fry them until the water gets evaporated and oil separates out.

Then add all the spices and fry them

Now add the tamarind juice extracted and allow it boil for few minutes until the raw smell seizes, If you are using tamarind extract add 1/2 cup of water and allow it boil

Now add the mustard leaves and  rajma, mix well and allow it to boil for few more minutes

So that the masalas are absorbed by both,

peel  and  mash the potato and mix it in the gravy, this helps the gravy to thicken

add required quantity of salt and chopped coriander leaves mix well and in simmer allow it cook for another few minutes

Now the Rajma mustard leaves gravy is ready to be served with rice, paratha, naan, chapati or roti.