Hi all, Hope you are all doing well, I have this habit of checking all the events in the blogging world and try to cook something out from either my own creations/books/blogs. well, I should say I really enjoy rather I should say the whole family enjoy the different kind of menus we have everyday, I even take photos of what I have dished out, but I would say a big BUT, have they ever made themselves visible or appeared in my blog Oops!, that is the big question, I never get time to post them on time, As we all know our dear fellow blogger and a wonderful friend to me, who mails me and writes to me, when ever I need her, my Inspiration to the baking world and my introduction to daring bakers and other baking blogs, I have already told you about her in my many previous posts, I even write her name when ever I join something telling them I came to their blog/event through her. When I am writing my intro I feel I owe it to her, I am hoping someday I would like to meet her. So, all this introduction was to tell you people I did not want to miss this opportunity to participate in
Zlamushka's Tried and Tested
event which is now being taken care of by
Lakshmi of Kitchen Chronicles
, being hosted this month by our dear Queen of MW
Srivalli of Cooking 4 all seasons
!.
I have a few to post, hoping at least I will post some of them...
As I had already told that my kids love for pasta, as Aparna says her Akshya loves pasta and pitza, my kids are none less the same, I think this applies to most of the kids around the world, My second daughter has become an expert on cooking pasta, she makes her own Tomato sauce by changing the spices she includes in them!, only thing I need to provide her is pasta and passata or pureed Tomatoes as she hates Tomatoes if she ever finds skin of tomatoes in her plate, she says she doesn't know why she can't swallow them!, but if it is completely mashed it's fine for her!, well and good for me when they are hungry, I know at least they don't wait until I come back home, she makes pasta for everybody.
That's how I planned to make this one, when I came back home, she had already started cooking pasta, so, I took over from there, as I remembered Aparna's
Penne with Roasted Red Pepper (Capsicum) and Tomato sauce
, is what I was going to do...
FUSILLI WITH ROASTED RED PEPPER (CAPSICUM) AND TOMATO SAUCE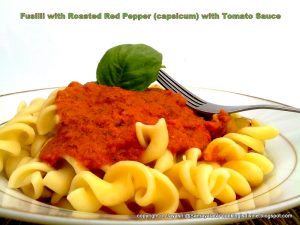 300 of Fusilli
1 tsp of Olive oil
2 Big red peppers
2 Big Tomatoes
1 Big Onion
2 to 3 tbsp of Olive oil
1 tsp Red chilli flakes
1/2 tsp of Ginger-Garlic paste
4 tbsp of broken walnuts
1 tbsp of honey (optional)
1 tsp Italian herbs
METHOD:
Cook pasta as per the Instructions with a tsp of oil, this helps the pasta not sticking with each other, then drain out all the water and run cold water over it, which keeps them apart..
To make the sauce:
Brush the peppers and tomatoes with oil and grill/roast it on the stove top, this blisters the skin on the top remove the skin chop them and keep aside with both the vegetables.
Chop the onions with a tsp of oil saute them until they are brown in colour or caramelized, keep them aside to cool.
Once they are cool, Puree the sauteed Onions, Roasted Peppers, Tomatoes and walnuts.
Take a wok, heat 2 tbsp of oil, add G-G Paste, saute for a minute then add the pureed Tomato sauce add Salt, Chilli flakes, Italian Herbs and honey as per taste and may be 1/2 or 3/4 th cup of water to make that into a sauce consistency and allow it boil for few minutes.
Once the sauce is ready either mix the cooked Fusilli or serve it on top of it with choice of your cheese or eat it just like that.
My verdict : The plates were clean that meant the pasta was well liked, I had a eye on this recipe as I felt it very interesting because she had added walnuts in this, I felt this was a healthy dish to be Book marked, they had cheese on top to relish it more, hubby ate it just like that!, me as I am not a big fan of pasta I ate the sauce just like that to see if everything was perfect, may be I would have liked it bit more spicy but my kids loved it just the way it was!, thanks aparna.
Take a look at my pasta plate one more time....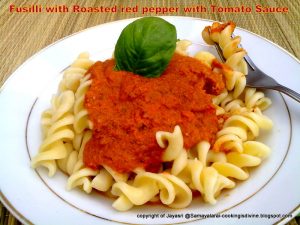 I will try to come back tomorrow with few more recipes which I have tried from My Diverse Kitchen. take care, bye for now, Have a good day ahead....