Life - is just a bowl of cherries - ?
proverb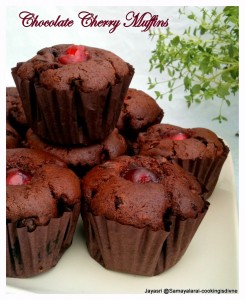 Hi everybody hope you are all doing well, Had a very busy weekend, posting anything was out of question, Had a lovely time with my visiting family.
Coming back to this recipe, I have made this recipe many a times, My kids love it too..., Adding fresh fruits to my bakes is one crazy I keep trying, when I baked these I kept my fingers crossed as the original recipe calls for dried cherries.
I love fruits and I always try to add fruits in my baking, sometimes they click and bake very well, sometimes they flop (they are still tasty to eat but not look wise) and trying to bake an eggless one is an other obsession with my baking.
I wasn't planning to bake these muffins, that day I went with my daughter to a farmer's market nearby my place, and I saw these Gorgeous looking Cherries, I love them so much, I couldn't resist buying them, My daughter (special thanks to her for all these lovely photos from my iphone!!) said it was too expensive and was discouraging me from buying it, I kept arguing with her telling her I would certainly buy these as they keep buying chocolates which I don't eat, and this was a treat for me. And in the end I bought a bowl full of cherries and we started walking home, I just gave her one and insisted she should try one, slowly started liking it and started dipping her hand into the paper cover and Lo! needless to say by the time we reached home I had only a handful of them, I told her that she should not eat any more and it was mine, later in the evening when I was pondering through Deeba's recipe Index, I saw this recipe and got hooked to it, then my grey cells started working quickly and off I went to my kitchen and baked these lovely goodies. I was happy that they were healthy and kids had some fruits too... Again went back next day bought some more cherries and both of us sat and ate the whole bowl again :).
when I made this the first time it worked out so well, I couldn't believe myself, I was thinking oh! my God, what shall I do if it doesn't rise up..., but it's been perfect every time and adding fruit to it makes it more healthier.
First time I made these was for my own Tried and Tested event from Deeba's blog, I did not want to include it in that because I had changed few things from the original recipe, I used fresh cherries, made eggless and used oats and changed a few bits in it, I still have to try the original recipe, I will do it soon, as I have a tub of dried cherries with me.


FRESH CHERRIES AND CHOCOLATE MUFFINS - EGGLESS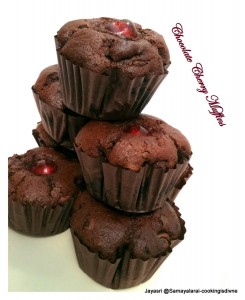 Recipe source: Adapted minimally from Passionate About Baking
INGREDIENTS:
1 Cup APS/Maida/Plain Flour
1/2 Cup Whole wheat flour
1/4 Cup oats flour ( see notes)
2 tsp Baking powder
1 tsp Baking soda
1/4 tsp salt
2 tbsp Cocoa powder
3/4th Cup Sugar
1/2 Cup Oil
1/4 Cup Chocolate chips
3/4 the Cup Fresh Cherries (chop and take out the seeds look at the photo)
1/2 Cup milk
1 tsp Vanilla extract
1/2 Cup Hot water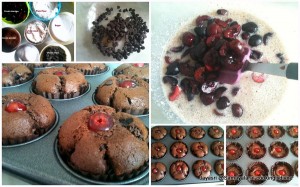 METHOD:
Chop the cherries by four and slowly remove the seeds, if they are firm it is easy to handle and does not give out too much juice, the way you cut them the fruit will be more intact and the seeds just come out.
Preheat the oven to 200 degree Centigrade/ 400 degree F/ Gas mark 6
In a Large bowl mix all the dry Ingredients together that is sieve 3 to 4 times all the flours, BP, BS, salt and Cocoa powder and keep aside.
In an other bowl mix all the wet Ingredients together milk, oil, vanilla extract and add sugar and dissolve it ( rather beat it / or whisk it till most of the sugar is dissolved ) then add the hot water and whisk once again then add the chocolate chips and mix.
Then add the cherries and the dry ingredients in batches until everything is totally incorporated and forms a batter, if it becomes too thick add 1 to 2 tbsp of milk to loosen it up.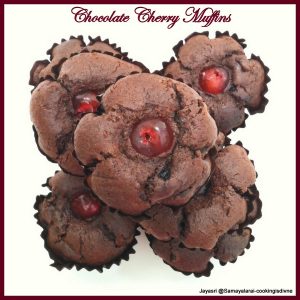 Pour this batter into the lined muffin tins till 3/4 th and bake for about 20 - 25 minutes depending upon your oven or a tooth pick inserted should comes out clean.
I topped each muffin with a dried cherry, just push it down a bit, I think this made the trick, the muffins tried to bake out from all the sides and gave a lovely look to it.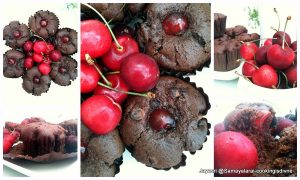 Notes: when baking eggless do not keep stirring the batter too much, make one round through the bowl with your spatula and bring it out again in the middle, this way air pockets will form, too much of handling the batter, we may loose that air pockets.
I baked these an other time without the cherry topping I felt it a bit more moist, I loved it with the cherry topping as the batter was trying to come out and I liked the baked look more this way.
Oats flour is I just get these Normal oats and powder them in my mixie and use it in my baking, you can try substituting with fine corn meal or Rye flour or Spelt flour I think.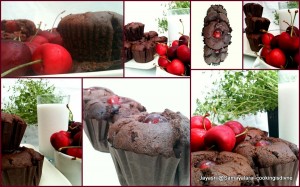 I would love to send these to :
zesty palette - Bake Fest #1,
Sizzling taste buds - A 100 day Global food Festival
update: sending this to Pari's - ''Only Oats event''
c u soon with an other recipe...