This was bit of a sudden thing that I had to whip up and bake !, I didn't exactly know how it would turn out!, surprisingly it turned out so well bit of crumbly, not too sweet, bit chewy BUT, YES! a very healthy bake with lots of nutrition in it!, I don't have to go further as you know with the recipe name that it was a healthy bake but is more rich with other goodie things added in it.
When I wrote to Kalyani that I would love to join her
Magic Mingle # 2,
It was only 4 days for the entry.., she asked me if I would like to participate or I could start with the March Monthly Mingle, and the magic ingredients were Almond and ginger..., Of course I thought of cookies but with my Migraine, I was not up to it, to sit and make all those little balls and bake, then thought I would create something else or anything authentic, not was going on in my mind as Headache had its priority than my thinking taking it over.
I just sat there and my daughter was going through my pantry as usual to see if she can find some chocolates, well I had hidden two Terry's Orange, she was behind it, I refused to budge with her whims then she saw those dates with almonds which my friend H always brings me when he goes to Dubai (I hide that too, that is favourite indulgence as some people who love chocolates!), I love dates, I try and use dates where ever possible, these dates with almonds are my favourite :).
seeing those Dates and Almonds I decided what I wanted to bake immediately, with my little sous chef (who is just 5ft 10''!!), ready to help me we baked these little goodies..,
Here goes my recipe.., may be not everybody would like it but my kids just loved it :), I am truly satisfied mother yet again as I thought I have fed them something healthy, except for the fat content..., it turned out very well...
EGGLESS FINGER MILLET AND OATS SQUARE TRAY BAKE






INGREDIENTS:
100 gms Finger Millet flour (Ragi)
100 gms oat flour * (see notes)
25 gms Rice flour
60 gms chopped skinned Almonds
100 gms Dates (without seeds)
1 tbsp Powdered Ginger
3/4 th Cup Dark Brown soft sugar
225 gms Banana (skinned, I used around 3 small bananas)
1/4 tsp salt
1/4 cup Oi1
1 tsp Vanilla essence
1/4 cup of Cocoa powder
2 (180 gms ) Medium Apples*(peeled and cored)
2 - 3 tbsp water
1 tbsp Apple cider vinegar
1 and 1/4 tsp Baking powder
1/2 tsp Baking soda
1/4 cup Hot water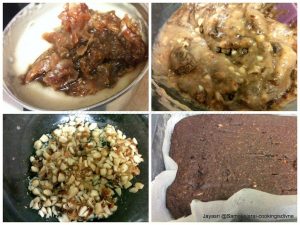 METHOD:
Preheat the oven to 180 degrees/350 deg F/Gas Mark 4 for 15 minutes
First of all mix Finger Millet flour, Oat flour, Rice flour, Powdered Ginger, Baking powder, Baking Soda and salt together.
Sieve everything at least 3 to 4 times until they are well combined.
soak Dates (without seeds) in hot water, just until everything is ready (5 to 10 minutes)
Skin the Bananas and puree them.
I pureed the Dates in the same mixie.
chop the Almonds into bits
Do this in the end - Peel and Core the Apples slice them into bits add 2 to 3 tbsp of water and cook them in Micro wave for 3 to 4 minutes (or according to your MW) until it is cooked soft.
Puree the cooked Apples to this add 1 tbsp of Apple cider vinegar
Take all the wet ingredients together Pureed Bananas, pureed dates, Pureed Apples and oil.
Mix all of them well together to this add 3/4th cup sugar and combine them well with chopped Almonds
Take all the sieved dry ingredients in a large bowl and a hole in the center pour in the liquid ingredients in parts so that all of them all very well combined.
Pour this in a tray and spread them evenly and bake them in the center of the oven for 25 minutes, then check in the center if it is baked, then bake it another 5 to 10 minutes according to your oven with a slight increase in the oven temperature.
Bake it until the tester/ wooden skewer comes out clean.
Remove it from the oven on to a wire rack, leave it for 5 minutes then later on remove it from the tray and leave it on the rack directly to cool down completely
Then cut them into squares and enjoy them....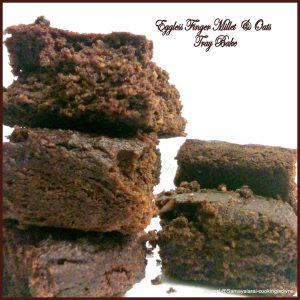 My Notes:
I have used Oats flour, you might get oats flour but what I do is I use normal porridge oats grind it in my Indian mixie into a nice powder, I do sieve to get fine powder, I just use it as it is finely ground.
I don't use Apple sauce, you can substitute apple sauce instead of the 2 apples I have used. I always substitute this way when ever I have to use apple sauce, I make this puree at the end of my bake so that the apple does not change the colour of the end product of the bake.
For vegan version use Carob Powder
These square bakes go to
Monthly Mingle #2 ''Almond and Ginger '' of Kalyani's
Valentine fest - ''served with love'' by Kalyani
Healthy eating event - HITS by Sangee
priya's easy n tasty recipes kid's delight
Chocolate Mela by srivalli
Vardhini's sweet luv - anything sweet
Radhika's let's cook # 12 - sweet somethings
Sumee's Bon Vivant moments
Anzz's Valentine's Day special
love lock with sweets by vidya
Pari of Foodelicious - ''Only Oats'' event