This is one of the few breads I have baked for my kids lunch box, this was very tasty with lot of cheese and some salad vegetables makes it more interesting.
Spicy and tasty, that's what this bread is all about.
On a cold winter night with a bowl of hot mild soup make this crusty loaf and enjoy your dinner with no regrets.
I baked this from a book by Gino D 'Acampo, makes one loaf and really delicious.
FILONE ALL' ARRABBIATA (SPICY LOAF WITH CHILLI AND CAYENNE PEPPER)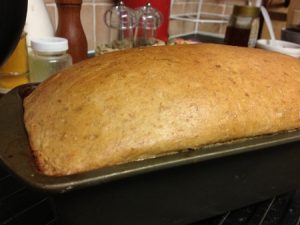 INGREDIENTS:
Makes 1 Loaf
Recipe Credit: Gino D'Acampo
Baking time: 3hrs (depending on temperature)
125 grms Strong whole meal flour
100 grms Strong White flour
1 tsp salt
1 tsp Sugar
7 grm (2 and 1/2 tsp) fast action dried yeast
210-225ml water warm
2 tbsp of extra virgin olive oil
1 tsp cayenne pepper
1/2 tbsp of Chilli flakes)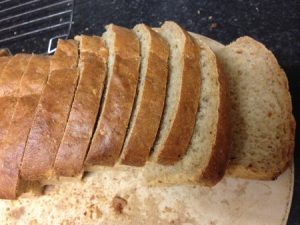 METHOD
In a large bowl mix all the ingredients, make a whole in the centre, add yeast, sugar and water and let it rest for few minutes, once it starts bubbling add the required amount of water and knead it to a soft dough.
Lightly flour a surface, transfer the dough on to the floured surface and start kneading at least for 10 minutes, stretch and pull this kneading will help the gluten to start working.
Once done oil a bowl and the dough cover it with a cling film and allow it to rise.
Preheat the oven to 190 degrees / gas mark 6
Once it is doubled up in size punch it down shape it into a loaf, place this dough on to a well oiled loaf pan and rest the loaf in the loaf pan and allow for a second rise covering it with a cling film
You will notice that it would have doubled in size now brush the surface with milk and bake in the preheated oven for around 30 – 35 minutes depending upon the temperature of your oven.
Once when it comes out beautifully, transfer this onto a wiring rack , after 5 to 10 minutes remove the loaf from the tin and allow it rest, otherwise it becomes soggy on the bottom as the bread will be still cooking after you take out of the oven.
cut them into slices so my kids can enjoy lunch with a new taste of bread.
Bear with my photos as my computer is having a bit of a problem
sending this to champa's Bake-a-thon event.. check out my blogger friends for their recipes…