Hi everybody, I am back again with my Home town recipe for making this Ellu – Bella (Sesame seeds – Jaggery Mixture). As I said in my earlier post People in Karnataka, people make this Lovely mixture with five Ingredients. Which they start preparing at least 2 weeks before.  We also give with this Sakkare- Acchu (sugar candy) in different forms and sizes Acchu here refers as Mould, Literally translated as Sugar Moulds. So a packet of the Mixture, Sugar mould, Sugar cane and a fruit usually Banana with Betel Leaves and Betel nut and Elachi Hannu (Jujube fruit / Ber).
These days people give them in plastic covers, gift boxes or little bags or in many more different varieties as they please.
This is called "Ellu- Bella Beerodu" that is giving this mixture to every body, near and dear, friends and family :).
This is how my Mum makes and how I make too.  You know why? because I feel she makes the best Sankranti Mixture.
Ellu Bella (Sesame and Jaggery) with other Ingredients such as Hurigadale (Daria Dal/Chutney Dal/ Pottudadalai), Dry Copra and Peanuts.  The process of making this starts 2 to 3 weeks before.  I remember my mum coming back from school(she was a teacher) finishing all her housework and then sitting with her Adike Kuthree (uha-di-ke Kuth-a-ree) / nut cracker watching a TV show and cutting Bella (Jaggery) in her first to do list. This is because Jaggery and Dry copra are dried in the sun for few days this helps in keeping the Trail mix stay good for a long time.
Jaggery needs to be cut into almost perfect cube shapes in her hand. My mum is a perfectionist she wants everything to be perfect like the Dry copra the black skin on the copra should be scraped very well no black marks so its pure white in colour.  Then comes the Peanuts should be roasted to perfection when my Aunt was alive, mum and she used to use sand to roast peanuts.  This sand had been used so many times for various roasting purposes it was like a treasure stored away careful for future uses! Why sand? Do you wonder? Sand would become hot and the sisters would put one or two fistful of peanuts and slowly roast it in a low flame which would make them perfectly roasted. No nodes in the peanuts, sister's were very particular about it, so had to check each one of them that was our job!
Til should be checked for any little pebbles are anything unwanted things in it clean it well then roast it again in a low flame make sure the colour should be perfect and dry it in the sun.  Then the Hurigadale/Chutney Dal had to be perfect too, she made use look perfect round ones no cracked ones!
ELLU – BELLA / SANKRANTI MIXTURE (A Mixture of Sesame – Jaggery)
INGREDIENTS:
500 gms Jaggery (Acchu Bella)
500 gms Dry Copra/ Dry Coconut
500 gms Peanuts
500 gms Hurigadale/PottuKadalai/
100 gms White Sesame/Til Seeds
METHOD:
To make this Mixture
Jaggery
(Palm Sugar) must be an Acchu Bella, Just like this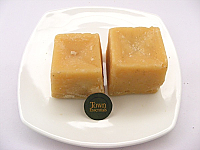 First for one day keep the Jaggery in the sun, Then with the help of Nut cracker cut the Jaggery into small cubes. Every day once you need to put it in the sun to dry :). There might be some wastages as every time you will not be able to cut them into equal cubes, this needs a little practice. You don't need to throw the wastages you can always use it for something else.  Drying it in the sun helps the end product to stay fresh for long time.
Then Comes the Dry Coconut /Copra / Kobari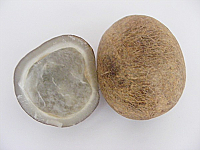 You need to scrape the outer covering of this, which you can see from the photo, then cut them again into small cubes with the help of knife on a cutting board same as that of the Jaggery and keep them in the sun for few days this will help the copra keeps good for a long shelf life.
Once these two are sorted out – that is you must dry them well in the sun, this helps them keep them for at least a month.
Next are the Peanuts, Roast fist ful of peanuts in a wok, lightly , don't burn them then once they are a bit cool not completely cool this way we can rub the skin of the peanuts quickly, put them in a cloth and rub between your palms or we have Mora ( a basket like thing made with bamboo) and rub on them. Once the skins are removed then pick up the peanuts and throw away the skin, Pick up lovely nice white ones no discoloured peanuts !!, then break open the peanuts.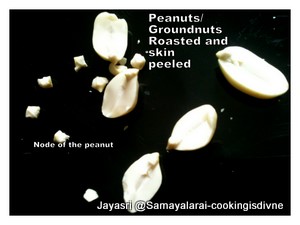 Once when you split open the peanuts can you see the little nodes you must remove them, Mum says they give a bitter taste, so carefully with all the good ones picked up remove all the nodes and keep the peanuts separately. So that is one job done 🙂
This is not too bad You just have to pick up nice round beautiful ones without any cracks.
Next are the White Sesame or Til seeds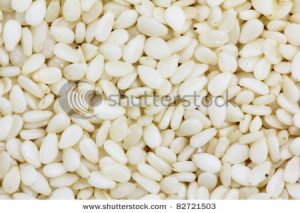 In a low heat roast fistful of White Til seeds very slightly it should not change too much colour.
So Now everything is done, Now we can mix all of them together and Lo! your Sankranti Trail Mixture is ready.
With this, we need to give Karumbu/ Sugarcane stick, Banana, Elchae Hannu (This is fruit which has a sweet and sour taste in it- Jujube fruit (Elchane Hannu also called Indian Jujube / Indian plum / Ilanthi Pazham / Ber fruit).
On this day  In the evening,  we make little children in the house sit and we put the Sankranti Mixture, Elche Hannu and  cut small pieces from the sugarcane and some coins in a Pavoo ( pronounced Paa – voo A kind of measurement used in olden days which is made of Brass or Iron, you get them in steel as well these days).  Woman of the house fill this Pavoo with the pot pouri and pour this on the head of the children and do Arati to them in the evening of Makara Sankranti.  This is a tradition followed in most of the houses this is done to bless the children for longevity, good health and a prosperous life with Aarathi and songs.
In Karnataka People say : Yellu Bella thindu Olle Maathanaadu meaning eat Jaggery and sesame seeds and speak only  good words…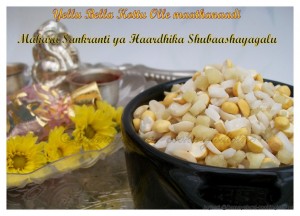 A wonderful festival with Lots to give and welcome the New year with happiness………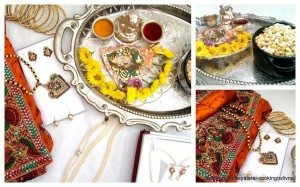 Mum gave me a sari for this festival…
May the God Bless you all with all the prosperity, Wealth, health and Happiness…..