I wanted to try yam dry curry in a different way not the usual way of making a simple curry with my palyada (dry curry powder recipe) podi, It was not a planned one actually!, I had soaked some Rajma (red kidney beans) yesterday planning to make some burgers or patties! but, I ended up using them in my dry curry!. 
ELEPHANT YAM/SENAIKILANGU/KARUNAIKILANGU DRY CURRY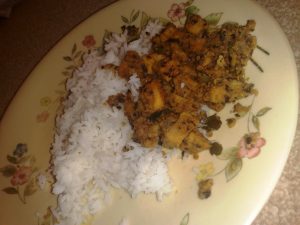 250 to 300 gms Elephant Yam
1/2 cup Red Kidney Beans
2 sprig curry leaves
3 to 4 tbsp oil
1 tsp mustard seeds
1 tbsp chenna dal
1 tbsp urad dal
1/4 tsp turmeric powder
2 tbsp Tamarind extract
1 big onion
2 pod garlic
3 to 4 red chillies
1 tsp pepper
1/4tsp Aniseed/sombu
1/2 tsp cumin seeds
1 tsp coriander seeds
Scrape out the skin out of the yam and cut them into cubes and cook them in enough water with salt until soft.
Take a wok heat a little oil fry red chllies, pepper , cumin & coriander seeds and aniseeds keep it aside until it is cool and powder them.
Meanwhile cook the Rajma or red kidney beans which has been soaked day before until soft, drain out the water, when it is cool run it in the mixie into a powder and keep aside
Take a wok heat the 4 tbsp of oil and then add all the seasonings mustard seeds, dals & curry leaves 
After they change colour add the chopped garlic & onions fry them until transparent then add the cooked drained yam into it and mix well
Then add the 2 tbsp of tamarind extract mix well and add the masala powder 
Then add the powdered rajma to it and mix well and salt as required.
Leave it in the wok for few more minutes so that all the masala is absorbed by the yam and they all combine well together.
Serve it with hot rice as a side dish or mix it with rice & eat or with chapatis.  
PS: Actually my children loved it with chapatis more, they even ate it next day!