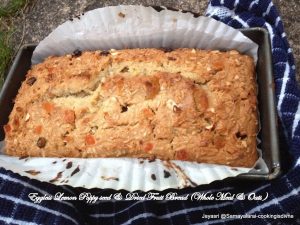 Hi everybody, Hope you are all doing well, I know I have disappeared from few days, it's a long gap between my posts, well, I have been so busy as Mom is here :))., Oh! I know its so wonderful to be with her here and enjoying her cooking completely. My kids have declared that their Mom is a super cook but their Paati ( Grandmother/Nan) is the world's best cook. I will have to write about it more in my authentic recipes, which I am planning to post soon enough. The reason for this little intro for my absence was because I took Mom few places here and still I need to show her some more, fingers crossed hope I will be able to cover as much as possible and I really don't want to miss this opportunity as she won't be coming back here again :(.
Today, I had to come to post this as you all know today is SRC Reveal Day. I thought of writing to my Hostess I might not be able to do it, but I just couldn't do it and really don't want to miss it, for two reasons going through Heather's blog when ever I had time, as her blog was in my phone permanently which I always do when I am assigned a blog!! and I really wanted to bake and of course team spirit for SRC.
I feel guilty and I never want to miss out, as this is such a big team and the stress and strain to manage this large group is not a easy joke. Hats of to the SRC team for that and thank them that I always come back to blogging just to post from SRC even sometimes I don't want to!!.
Suzanne my hostess had assigned me Heather's blog. She blogs at Fit Mama Real Food. A wonderful blogger with versatile things she blogs about. I had bookmarked a few like the Moist Banana bread, Zucchini Bread, Energy Balls, Nutella Balls and this Lemon and poppy seed bread. I have been going through her blog quite a few times when ever I got time to browse. She is a fitness freak!!, Mom to a cutest kid, a good cook and loves to bake and cook good food no processed food and loves to eat what nature provides which turn into meals to please the little crowd!!, DIY and Organizer too.., and of course she is a food blogger, click on to her website you will know what I am talking about, I enjoyed going through her blog and do you want to know why I settled on to this recipe.., Just because of those words she wrote in this post made me feel that is what I always keep thinking when I get free time..
As Heather says:
Baking is total relaxation time for me. When I need to get my mind off things, I head to the kitchen. When I'm bored I will bake. If I want to procrastinate, I will bake.
I love to bake particularly Breads.., that's my favourite.
Coming to this recipe I had no poppy seed in hand and just got carried away with the recipe., I loved the texture of her bread as she has used Eggs (2) if you plan to make this Bread check out the original recipe. You will know what I mean. Looks really Gorgeous. I had some Tutti fruity at home as I had baked a Bread out of it for them to take to school, the Left over filling I used it in this bread. The bread isn't too sweet, it has the Lemony taste to it.
EGGLESS WHOLE WHEAT AND OAT MEAL LEMON, POPPY SEED, COCONUT AND FRUIT BREAD
Adapted from Fit Mama Real Food with minimal changes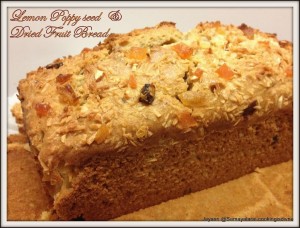 INGREDIENTS:
1 Cup ( 145 grms) Whole Wheat Flour
1 Cup (95 grms) Oat Meal Flour
100 grms Dried Fruits ( Dessicated sweet Coconut, Mango, Pineapple, Raisins, Cashews, Almonds )
3/4th Cup Natural Cane Sugar
1 tsp Baking Powder
1/2 tsp Baking Soda
1/4 tsp Salt
1/4 Cup Butter
1 Cup Yogurt
1 tbsp Vanilla Essence
Zest for 1 Lemon
3 Tbsp Lemon Juice
1 tbsp white Poppy seeds ( Indian variety)
METHOD:
Preheat Oven to Gas Mark 1
In 2 tbsp of hot water soak Poppy seeds until you prepare the rest of the ingredients.
Take both the Flours and sieve together and keep aside.
In a Large bowl take the Lemon zest, Yogurt, Lemon Juice and sugar and mix them well together.
Grind poppy seeds with water into a paste ( It won't become too smooth ), add this to the above mixture to this add Baking powder, Baking soda you will start seeing bubbles forming.
Add melted butter to it and mix well.
Add Dried fruits to it.
Add the prepared flour little by little and mix well together don't over mix it.
Pour this on to the prepared Loaf tin and Bake at Gas Mark 3 for about 45 minutes and bake for an other 5 more minutes reducing the temperature to Gas Mark 2.
Totally bake it around 50 minutes I changed temperatures because of my oven.
Insert a toothpick to find out if it comes out clean then it is baked.
Take it out and cool it on a wiring rack leave it for a few minutes then slice it and Enjoy..,
This is perfect Tea Bread can also be enjoyed as a Breakfast bread.
Here are my dear friends who have posted recipes for you to devour and enjoy a visual view of their creations from their kitchen through their Lenses...., take your time and enjoy the recipes... before I sign off I need to do a little thing.., My apologies for posting it a bit late Please do forgive me April, Suzanne and my dear Heather... Hope you like it..
Heather this Bread is so delicious.., I just couldn't resist I usually don't eat too much of what I bake just for tasting & texture to find out how it has turned out, but when I was slicing it Mom & me devoured it. Thank you for this recipe it is a keeper.
I am also sending this Recipe to
Nupur's ''Cooking with Spice - Poppy Seeds'' started by Anu's ''SYF and HWS - Cook with Spices
Sowmya's ''Taste of Tropics - Coconut'' started by Chef Mireille's event
Srivalli's Celebrating 4 years - Kid's Delight potluck Party
Swathi's Favourite Recipes Event - Breakfast Recipes
Archana's Bake Fest # 11 - started by Vardhini