Quiche
is spelled as keesh, which is said originally derived from french meaning a ''Little cake''. but some say that it is something which the German chefs baked 'Kuchen'' meaning a little cake in a shell.
SO, WHAT EXACTLY IS QUICHE?
It is a French Tart consisting of Pastry Crust usually filled with savoury fillings! Like custard, cheese, meat, Seafood or Vegetables.  It is a French dish, but is said that eggs and cream in a pastry is an English Cuisine!
In French Quiche is named descriptively like for example :
Quiche au fromage ( quiche with cheese )
Quiche aux champignons ( quiche with mushrooms)
Quiche with florentine (Spinach) and Provencale (Tomatoes) 
When and How do you serve? 
Quiche is such a versatile recipe can be served anytime of the day,  Serve it hot or warm.  It is a party food, serve along with Roast potatoes and cooked green peas, roasted and sautéed with spices. I usually serve it as breakfast on weekends or when my kids come back from school like a snack!!, Quiche is something made with eggs, dairy and cream cheese combination to a custardy consistency baked in a shell.
Quiche was something I came to know only after coming to UK, I started baking quiches with eggs when I started to learn baking, as my kids and Husband loved it. 
After I started baking Eggless I started experimenting to substitute eggs in all the recipes I baked.  Savoury bakes are my family favourite and I love to substitute Eggs in every recipe I make. 
I have lot of drafts of savoury bakes. I will try to share them soon.  Don't I do this often saying I have drafts, but that is so true, you wouldn't believe, my mobile has 3586 photos of cooking !!!, can you believe, I just noticed it when my son showed me.., hahah I really was shocked, he was telling me, thank God!, you have good storage space in your phone, I have to do something about it soon.
Eggless Baking
!
When Gayatri  asked us to bake quiches for Eggless Baking Group this month, I was into it completely because I keep baking quiches quite often as my family love it.   I have been trying new ways to substitute eggs to do quiches, tarts and pies which are our favourite savoury baking.  My family likes savoury bakes than sweet bakes, which you might have noticed in my blog.
Let us get to the recipe...

This recipe was adapted from
Martha stewart
using her pie - dough recipe.. here it is how I have changed the  original recipe.  I have substituted Eggs and whole meal flour and added extra veggies in it..
This will be a very long post bear with me....
EGGLESS WHOLE MEAL SPINACH, MUSHROOM CHEDDAR QUICHE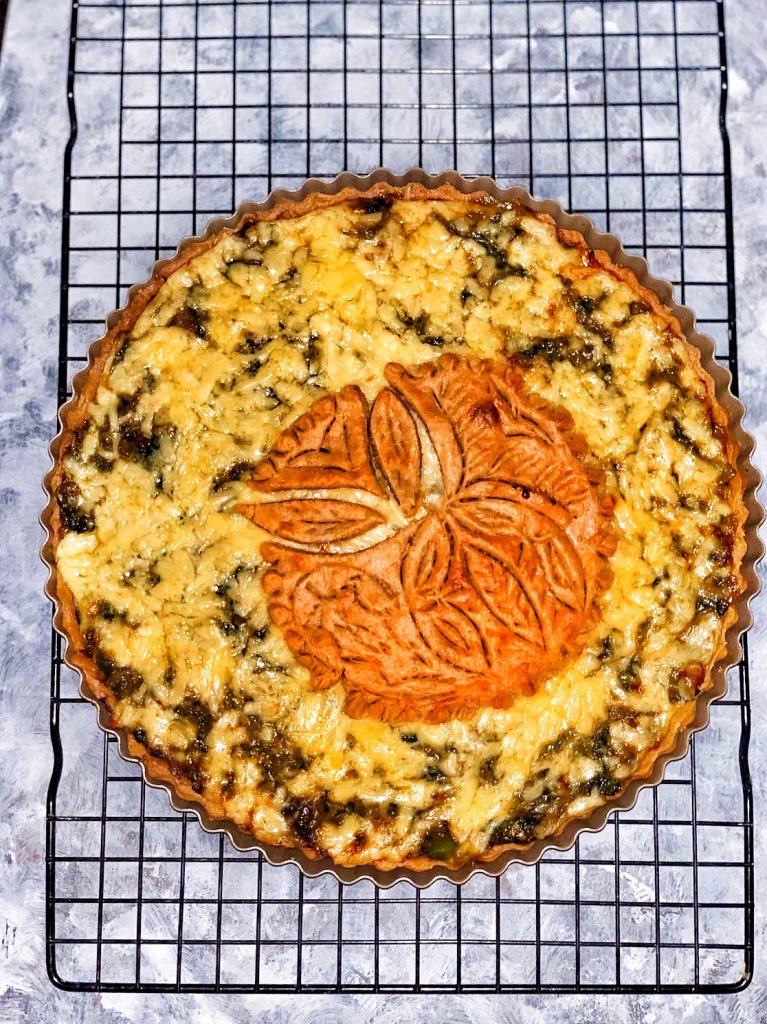 BASIC PIE DOUGH
Adapted minimally from Martha stewart
Makes 9 inch crust
INGREDIENTS:
1  and 1/4 Cup Whole meal flour
1/2 tsp salt
1/2 tsp sugar
100 grms ( nearly 1/2 cup ) butter
6 tbsp ( nearly 1/2 cup around 100ml ) Cup cold water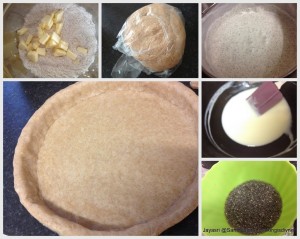 METHOD:
Mix the flours, sugar and salt well together.
Chop the cold butter into pieces, mix them in a food processor, as I do not have one I used my spatula ( a hard one ) and mixed them as much as possible, you can even use your hands and flour resembles like crumbles to this dough start adding cold water I started of with 1/4 cup and then started adding tbsp of cold water until the flour became a dough!.  Do not handle the dough too much.
Place this dough in a plastic wrap and chill it again in your fridge for at least an hour, so the butter firms  up again. ( you can even keep it overnight )
After an hour or so, take it out, I used a cling film, I  first spread it on my table top then placed this firmed up dough  on top of it placed an other cling film covering it, so I won't be touching the dough, and rolled it thin as I needed an 9 inch crust, I had to take them out of the cling film as it was not big enough and rolled them again a bit more from the middle rolling it around for an even base.  Or you can lightly flour the surface and roll out the crust, as I did not want to add more flour I made it this way.
Butter the tart case thoroughly, Sprinkle some corn meal on the base. Lift the dough carefully and place it on the tart case and press them completely and trim of the edges if any.
Prick the base with a fork this makes the dough not puffing up then place a baking sheet and put some baking beans ( or Rice ) on top of them, then put it back into the fridge for an other half an hour to firm the butter again or until you make the filling.
Blind Bake this case in a oven at 190 degrees/ Gas Mark 6 for 20 minutes you can see the crust turning gold at the edges.
Remove it from the oven and place it on a wire rack,
I learnt a trick from a book that if you add hot oil ( olive or any oil ) on the base of the pie crust immediately after taking it out of the oven the  crust will not become soggy and firms up.., I can't remember which book, anyway I added 2 tbsp of hot oil on to the crust immediately after taking it out of the oven after removing the baking beans, then put it back again in the oven reducing the temperature to 180 degrees/ Gas mark 4 for a further 5 minutes ( you can even skip this and just add the filling and bake your quiche )
Check out this website for some cool ideas on how to bake a perfect pie crust with lot of variations
SPINACH AND MUSHROOM WITH CHEDDAR FILLING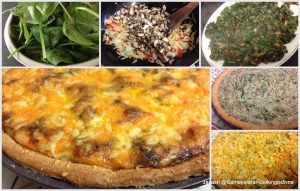 INGREDIENTS:
250 grams Spinach
150 grms Mushrooms
2 Onions
2 garlic pods
1 tsp of Pepper powder
1/2 tbsp Italian dried herbs
1 and 1/2 tsp of Salt
1 Cup grated cheddar cheese
1/2 cup Creme fraiche
1 tbsp Chia seeds ( + 3 tbsp of Hot water )
1/2 Cup Milk
1 tbsp Arrow root powder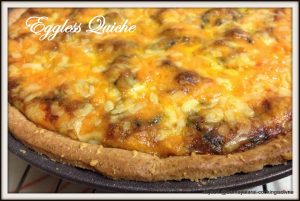 METHOD:
First step Soak Chia seeds in hot water for few minutes.
Next chop onions and  garlic.  Heat  2 tsp of oil add all the chopped ingredients and saute them.  Meanwhile wash and dry out the spinach with the help of a kitchen towel spreading the washed spinach on a towel, then chop them and chop Mushrooms too.., Once the onions become translucent add spinach and mushroom and saute them on a medium to high heat until they wilt away then sprinkle pepper powder, salt and Italian dried herbs mix well, and saute them. As veggies sometimes release water try to Sauté until it evaporates, actually it doesn't completely evaporate so not to bother.  Once done you can add 1/4 Cup bread crumbs, so it will absorb all the water. Take it out and allow it cool.
Meanwhile mix milk and arrow root powder and put it in a pan and cook it until it starts thickening, remove immediately when it is almost semi thick like a  sauce.
In a blender take  chia seeds, creme fraiche , and the above said sauce, blend them all well together, until it becomes like a thick creamy sauce.
Add this creamy sauce to the cooked spinach mix well, pour this onto the pre baked crust, add grated cheese on top of it and put it back in the oven and bake the quiche for a further 30 to 40 minutes until the quiche has a golden top.
Take out the quiche when done, leave it on a wire rack to cool down a bit then cut them out and serve them warm to enjoy with some salad leaves, Roast potatoes with ketchup or what ever you like.

Little Tips:
Take out the quiche when the middle is still soft this makes the quiche looks creamy custardy texture.
Check out Gayatri's Baking Eggless group round - up in her blog for a variety of baking eggless Quiches!