EGGLESS VEGAN ORANGE CHOCOLATE NUT BROWNIES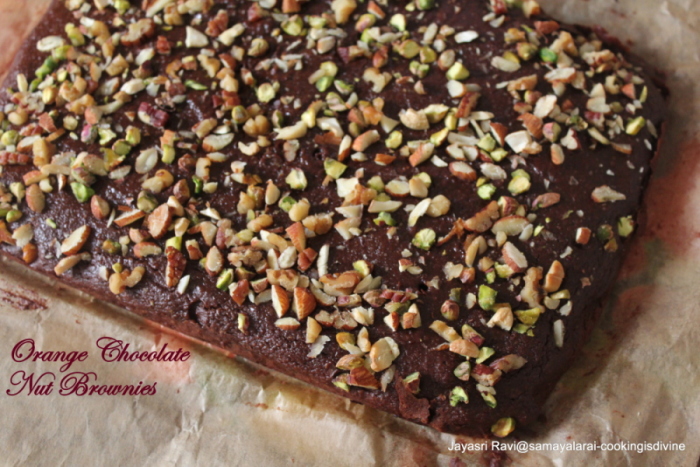 I was not planning on baking these, when I said I am thinking of baking something immediately kids called out from upstairs Brownies please…., Kids..? Uhh.,  don't get confused they are teenage children, anytime every time they love brownies especially my twins, eldest doesn't care for chocolates much (Just like me!), can you believe, I have completely stopped eating chocolates from past 2 months, I never used to eat chocolates before, coming here I had kind of got addicted to it, Now I have come back to my normal phase, my only favourite chocolate was snickers, yeah you know why I love nuts, I love to eat anything with nuts from chocolates, cakes  to Ice creams but everything in limits though.
The days are getting shorter, and its becoming colder, weather keeps changing all the time, sometimes I think cold is much better than rain,  the worst part is the daylight, it doesn't seem to wait for me at all.
Here comes my recipe, a quick brownie which is eggless and delicious.
EGGLESS ORANGE CHOCOLATE NUT BROWNIES
Recipe : Original
Prep time : 20 minutes
Bake time: 30 minutes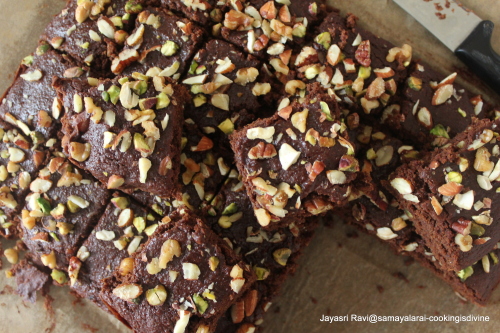 INGREDIENTS:
1  and 1/4 cup plain flour
1/3 cup Barley flour
2 tsp Baking powder
1 tsp Baking soda
1/2 Cup Orange Juice
1 tbsp Orange zest
1/4 Cup Oil
1 cup  + 2 tbsp Cup Natural Cane sugar
1/3 cup Cocoa powder
2 tbsp Milk* (optional)
1/2 cup assorted nuts ( almonds, pistachios, walnuts)
METHOD:
Preheat the oven Gas mark 4 / 180 degrees.
Grease and place a parchment paper on a 9" x 14" rectangular pan.
Take all the dry Ingredients Plain flour, Barley flour, Baking powder, Baking Soda, Cocoa powder together sieve them well twice to this add Sugar and mix well and keep aside.
In an other bowl take all the wet Ingredients and mix them well enough to this add the dry ingredients blend them all well together do not over mix.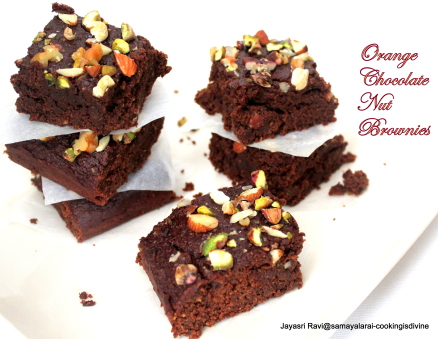 Scrape this on to the prepared pan smooth it  and spread some nuts on top of it and bake it in the middle rack of the oven, until the skewer comes out clean for around 20 to 25 minutes.
When done take it out of the oven and cool it on a wire rack.
slice them and serve it for the hungry lot… Enjoy…
**I used 2 tbsp milk to thin it down,  if you desire you can omit it if the batter is perfect, no need to add milk.
Natural cane sugar will not be sweet so you can substitute with ordinary sugar