Hi everybody, Hope you are all doing well, Last month I had stepped down in the CCC - that is Crazy Cooking Challenge as it was something Tina asked everybody to cook which was something to do with Non-veg. But this month she asked us to do a Cheese Cake, and I really wouldn't wanted to miss it out. I had completely forgotten all about it, with lots of things going on., when I received mail from Tina I realized I haven't made anything, as I was not at home from past 4 days, and returned yesterday, I made it immediately, everything was done and even photos were done.., only I had to just type and post, which I was not able to do in the morning had to go to work :(.., so here I am a little late but I haven't missed out, hope Tina will forgive me..
This CCC challenge is something different, she asks us to do something from an other blogger who is not too somebody like a pioneer woman / Martha stewart etc. isn't it interesting concept.., and I do love the challenge.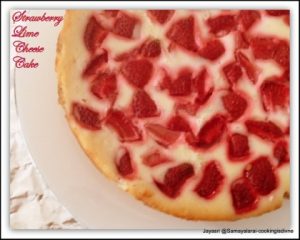 So, for this month's Challenge Cheese Cake I Chose this recipe from Anuradha's Blog , she as you all know who is behind the famous Muffin Monday and blogs at Bakerstreet.tv, she is a wonderful blogger with loads of dessert recipes, and the lovely Muffins which I love to bake, I used to be part of it..., which was a bit difficult for me as every week I couldn't nudge my kids to finish the muffins with other baking stuff, I keep doing.., so I had to sit back on it.., I have book marked a few too.., Her presentation and beautiful photography is amazing. If anybody is interested in Muffin Monday, do write to her. Thanks Anu for this lovely write up of how to bake a perfect Cheese cake 101, check out her blog for a detailed explanation, I again as always just changed them into eggless and still my kids liked it, My daughter who loves cheese cakes said the hint of Lime gave the cheese cake a wonderful touch...
Here is how the recipe goes...
She talks about how to bake a perfect cheese cake - according to her, there are a few things we need to keep in mind while baking a cheese cake so what are they-
1. All the Ingredients should be at room temperature
2. Oven should be preheated
3. Water in the Bain Marie must be warm
4. Using a spring form tin
5. Additional lining of parchment paper so there will be no leakage of the batter and seeping into the Bain Marie
EGGLESS STRAWBERRY LIME CHEESE CAKE
Recipe source : Bakerstreet.tv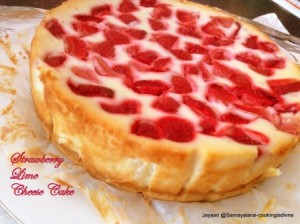 INGREDIENTS:
FOR THE CRUST:
1/2 cup digestive biscuits (I used Marie biscuits) ( approx 100 gms but I used around 200 grms*)
2 tbsp Brown sugar
1 tbsp butter ( I used 2 tbsp)
1/4 tsp cinnamon
FILLING:
I have made a few changes - If you would like the original recipe do check the link above

250 gms of Cream Cheese ( I used Philadelphia)
250 gms of Ricotta Cheese
1/2 Cup Sugar
1/4 cup + 2 tbsp Apple sauce
1/4 Cup Condensed milk
1/2 tsp vanilla
1 tsp Lime Juice
1 tbsp - zest of one medium Lime
1/2 Cup fresh strawberries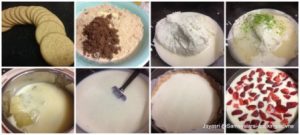 METHOD:
Heat oven to 180 degree / Gas Mark 4, oven rack in the middle, Lightly grease the sides of your pan.
Line the
Combine biscuits, sugar, cinnamon and melted butter to making into crumbs, Press these crumbs into the bottom of the prepared pan.
Bake the crust in a preheated oven for 10 minutes until the edges are slightly browned.
Now in a large bowl beat the cream cheeses together until its creamy and free of lumps, then add the sugar and beat until it is smooth.
Now and scraping them from the bowl bringing them together.
Blend Apple sauce and condensed milk until well combined and smooth.
Add this to the cheese batter with vanilla, lime juice and zest of lime, beat all of them just until smooth and well combined.
I sprinkled some chopped strawberries which I had hulled and tossed with 2 tbsp of sugar and a tsp of zest orange, which I had kept aside.
Bake to 40 to 45 minutes or until the cake is set and the center still jiggles, She says you have to turn off the oven and let it sit inside the oven for an hour.
Remove the cheesecake from the oven, leave it to cool to room temperature.
Run a metal spatula around the edge to prevent any cracks, Release the sides of the spring form tin and place cheese cake on a plate.
And Refrigerate it for at least 4 hours but I refrigerated the whole night (she says it can be done too).
USING BAIN MARIE
Cover the tin from outside with a Aluminium foil, before pouring the batter into the tin, Once you pour the batter, then keep this in an other container which is filled not completely with warm water, check out her blog or some videos in google on how it works
So why use Bain Marie - They say that while baking a cheese cake baking this way helps in preventing the cake getting cracks in the center.
NOTES:
After beating the cheese until cream and smoothy, she adds Egg at this stage.
She uses Strawberries in the middle of the cheese cake filling and again pours half the batter on top of it, for this she takes few strawberries hulled and which is already tossed with 2 tbsp of sugar and a zest of orange which was kept aside.
you can run a knife or skewer through the batter giving it a swirl effect.
I had very little strawberries so I skipped this step.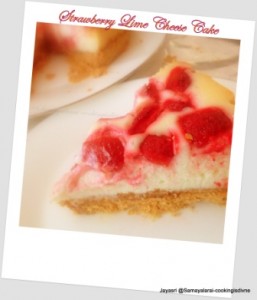 Check out all the cheese cake out here and enjoy......
Thanks Tina and Anuradha for this wonderful journey on cheese cake.....