I really did it!, I never ever thought I could bake a cake without using egg!, Madhuram's Eggless Baking always inspired me.  whenever i browsed through her blog I always thought she is a really queen of eggless baking, she is daring to bake so many things without eggs, I too wanted to try my hand but I was so scared, I thought what if it didn't turn out well !, But today I just made my mind I must try out you know why? I had some strawberries left and wanted to use in baking a cake, something different, I started searching for a recipe I did get some strawberry cakes but they were not used sandwiching or for decoration but I wanted to use it inside the cake so I basically used a basic recipe from about.com and changed a little and Lo! here I am with this recipe of baking a strawberries cake!
I had asked madhu to check out my blog and see if I have done it well!, or do I need to change anything in making it a better cake!, Now I am asking all the bloggers who have tried out their hand in baking cakes without eggs should sincerely give your suggestions and advice if I have done any mistake and needs some change in it.  I will be so thankful to you all.
well, coming back to the cake, everybody in the house liked it, my friend who doesn't like anything sweet said it was really good!, my daughter took it to the school and her friends too liked it!, She was saying mum your cake was quite delicious said my friends!. Here are some photos, I just couldn't resist posting some more of them which are still down below!
EGGLESS STRAWBERRIES CAKE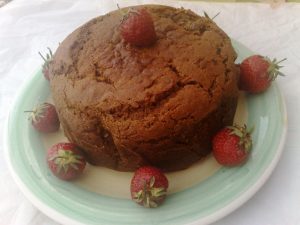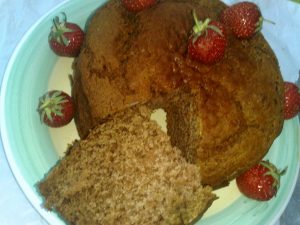 Ingredients:
3 cups plain flour
1 & 1/2 cup caster sugar
2 tsp Baking soda
1/2 tsp Baking powder
2 tbsp Rice Vinegar
1/4 cup water
1/4 cup oil (I used coconut oil)
1/4 cup soya milk
1 cup fresh strawberries pulp
1 & 1/2 tsp vanilla essence
Preheat the oven to 180 degrees/Gas mark 4
Take a bowl and mix together flour, sugar, baking soda & baking powder and keep aside
Then in another bowl slowly incorporate coconut oil & vanilla
In another container dissolve vinegar & water and mix well then mix this with oil & vanilla.
To the above mix add the vanilla essence & strawberries pulp and mix well.
I took around 10 to 12 strawberries and ran it in a mixie until they were nicely mashed and became a smooth pulp.
Then mix the soya milk
I used coconut oil remembering that madhu used it in her eggless baking, and I had some extra virgin coconut oil with me! I thought let me use this.
Then mix all of them together and whisk for 2 minutes
Into this mix add the already mixed flour slowly so that their are no lumps are formed  in it, until all the flour is completely mixed.
When the batter is well mixed it be smooth & I do not know how to explain! 🙂
Pour this creamy mixture into a Greased cake tin and bake it at 180 degrees/ Gas mark 4 in the middle rack.
Allow it to Bake for about 40 to 50 minutes, Check if the cake is cooked by inserting a knife or any method you use into the cake, if it comes out clean with no cake sticking to it then the cake is well done.
Take the tin out and leave it for few minutes then take the cake out from the tin and cool it on a wire rack.
Decorate the cake by using frosting, or any method you want it look beautiful which I have not done!
:)I am so happy I really did it...., I now want to try some cake so that I can send it to madhu's low fat vegan cup cakes!, hope i still have time!