Hello everybody, Hope you are all doing, well, me ? quite tired, I had friends around weekend so that's it, It was cooking, cleaning and site seeing. Weather hasn't changed much it's still raining, With wind blowing at 70 - 80 mph, my Tomato Baskets, fell down, got really scared thought all the hanging baskets might fall down and decided it is better to bring them all down until the wind subsides, Wind is gone and sun is gone as well, very depressing, have to wear jackets and shoes again, it's become a bit chilly at this end of the city :(, Weeds have come up again, need to pluck them out ( hate this job ), I had actually planned to sprinkle some Veedol when the weather was dry, after I had completed my gardening, but all my plans took a different turn when the rain started reigning over us and our sunny days have disappeared, All my seeds have become little seedlings which need more of a firm place and more soil to grow well and nice. It's such a pity they are still in my conservatory !!, scared to put them out because of the torrential rains, which has turned down to drizzling rain now, hopefully it will stop and I can see the sunshine again, which the British people and the dear plants need at this time of the year :).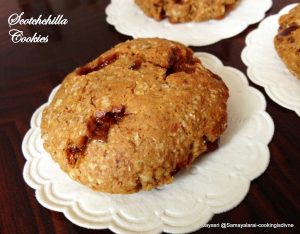 Coming back to this recipe, it is SRC time again,
The Secret Recipe club
of
Amanda
who is founder of this club has transferred her reins to
April Tuell
who is our new Head now, whom we all welcome with love and affection and would love to tell her its great to be with you, but do miss Amanda., Best of luck to both of them with their new ventures. My host
Suzanne
had assigned me to this blog
Restored of Robin,
don't be alarmed by the name, her blog is called
Penny Pinching Provisions
but she has renamed her blog title to Restored, so why is that ?, As she herself says she decided to Restore her health, simplicity and happiness, She says her blog focuses on good and healthy food, simple living and financially living frugally. So, I don't have to tell you more about it, as now you know what her blog stands for with some amazing recipes I have book marked a few and want to try them out, I tried already two of them and they turned out very well, I chose this for my SRC post as it is her own recipe and she has given a new name to it..!!!
When I was going through the bakes ( as I love baking ), this one caught me, I first thought this must be from some place, funnily it is her own make up recipe and name :)), So, I just decided on this, Bascially these cookies are called Scotchilla because it is made of Butterscotch and Vanilla chips, as I had the Butterscotch chips and oats the cookie was fine to bake but the only problem was Vanilla chips, which I have never heard off and now I have to hunt down for it, so I had to omit that and made with whatever I had in hand and a little changes, do check out her blog for the Original Recipe clicking on the link below. If you want to try it out. Go ahead and enjoy these cookies as my kids did....
SCOTCHILLA COOKIES
Recipe Source: Adapted with minimal Changes from Penny Pinching Provisions
Makes : 50 (of 20 grms each)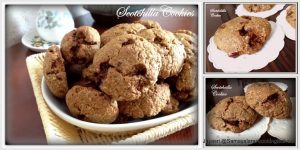 INGREDIENTS:
3 Cups ( 385 grms ) Old Fashioned Oats
1/2 tsp Baking soda
1/2 tsp Baking Powder
1 tsp Pure Vanilla Extract
¼ Cup ( 57 grms ) Butter Scotch Chips
¼ Cup (57 grms) chopped Dates
Preheat the oven to 350 degrees F / Gas Mark 4 / 175 degree
Celsius
Sieve both the flours together then add all the dry Ingredients Baking Soda, Vanilla Sugar and Cinnamon Powder to this flour mixture and combine them well together,
In a Large bowl take Melted butter and Brown sugar, cream them well together, to this add Vanilla Extract, Milk Powder dissolved in Hot milk and soaked Flax seed to this and beat them all well together.
To this creamed mixture add the dry Ingredients and gently incorporate the whole flour.
Stir in both the chiips and dates into this cookie batter
Drop these Cookie batter on to the cookie sheets in dollops or make a nice round ball, Press them and bake them for 10 to 12 minutes
Cool on a wiring rack and Lo! Enjoy these cookies...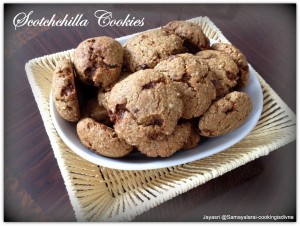 Notes:
Because of the changes I made, I had reduced the quantity of sugar, so they are not too sweet, Perfect for me, as I love oats :), I made these Eggless, if you want to use Eggs, she uses 1 Egg, she does not use milk powder or milk, I just used all those just thinking of my kids when they are going to indulge in it!, this way they will be consuming some milk too!!, Next time I am planning to reduce the sugar and butter quantitiy.
The cookies were soft but firm, they came out from the Butter paper without any problems they were very enjoyable to bake and eat!! , First time I really sat and ate 3 of them.., I thought they were quite addictive.
Check out all the bloggers who are in club and Enjoy a galore of recipes here....
I would like to send this to Jagruthi's cooking odyssey event Know your Flours - Whole wheat flour