''No one is born a great cook one learns by doing ''
''This is my invariable advice to people learn how to cook - try new recipes learn from your mistakes be fearless and above all have fun''
by Julia Child - My Life in France
We at Baking partners planned to bake Rene de Saba avec Glacage au Chocolat for this month's baking challenge as August 15th 2012 would have been Julia Child's 100th birthday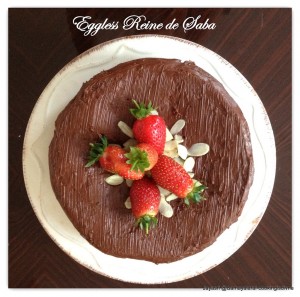 I wrote all those quotes, thinking of Julia, would she have been happy with the cake I have baked may be yes, may be no..., but may be she would have appreciated for the challenge I took to make it eggless, as she says try new things and have fun.., Yes I did have fun and the cake was delicious, may be less sweet but with low fat content, I could say a healthy bake.
Queen of Sheba and King Soloman were two characters glued to my mind from my childhood, I always loved reading story books, comics and especially books like Akbar and Birbal, Chanakya, Tenali, were mesmerizing characters, writing about these books are bringing back lot of childhood memories and loads of books I miss and wouldn't mind reading them all over again.
So, the next question is ? Queen of sheba and Julia Child, what is the connection between these two. Julia child is an other character I was so loved, when I think back, I never knew who Julia Child was, blogging has brought me to a new world to know about not just recipes but most of the time particularly with International cuisine, why was this recipe named so, what's is the uniqueness of this recipe, who was behind it ?, why did they call it so ?, which place and why has its origin from here etc.., etc.., right ? you too agree with me right ?.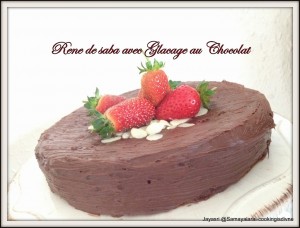 I came to know about why Julia child especially called this cake Rene de saba ( Queen of sheba ), from our beloved Google that when she made this cake she thought this cake is delicious it is fit for a queen and named it after her.
Queen Sheba like King Soloman was famous for her wisdom and also for her beauty and wealth, she is spoken about in Ethiopian history, the Bible and the Qua'ran.
Coming back to this recipe, this recipe is in her book ''Mastering The Art of french cooking'' by Julia Child, I came to know that this is the last recipe in her book. As I had already made this cake for the Book club by Simran. I contacted Swathi of Zesty South Indian Kitchen
who is the brain child for this Baking Partner group and told her about it, and said may be I will try a Eggless version of this cake, and she was delighted and said go ahead and bake it.
I actually should have remembered something before I baked this cake Eggless. Do you know why ? actually long back I had baked something like this for a brownie. well, was it not a good introduction that the cake I baked it for the first time was a disaster. The cake was delicious but just collapsed in the middle!! :)), No problem, I had some Ice cream asked my kids to enjoy it, actually they liked it as it tasted like a brownie, anyway that was done and dusted, I went to work, but kept thinking about it, I was really upset that I couldn't achieve it.
Came back home in the night, asked my daughter to measure the ingredients again and set about baking the cake, that was then I was telling her we will reduce the butter content and choco content in it and see what happens, the best thing was she was the one who helped me with the baking ingredients for the first time, just because of that I think she remembered the measurements and told me mum, I think the butter and chocolate are of almost equal quantities, what do you want me to do ?, I was quite surprised at her memory as she was not too keen on helping me with the cake baking, so we both decided that we will reduce chocolate and butter to the same quantity and see what happens.
so, this is how I made it...,
EGGLESS RENE DE SABA AVEC GLACAGE AU CHOCOLAT
For an 8'' pan
Baking time: 25 - 30 minutes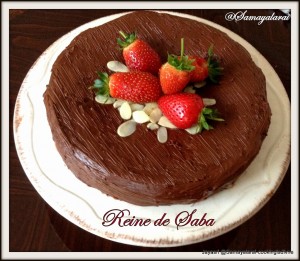 Ingredients:
65 grms ( around 2/3 cup) Plain flour*
74 grms ( around 3/4 cup) Ground Almonds
35 gms butter
35 grms Semi sweet chocolate**
2 tbsp of Coffee powder
1/4 cup Granulated sugar
3 tbsp Condensed milk
1/4 cup Yogurt
1 tsp Baking Powder
3/4th tsp Baking Soda
1 tbsp Corn starch
2 tbsp hot water
FOR CHOCOLATE ICING:
56.7 Grams / 2 Ounces semi sweet baking chocolate**
2 tbsp coffee
5 to 6 tbsp unsalted butter
** I have used Dark chocolate
If you like to check out the Original recipe for the cake which swathi gave us do please check out her blog here.
*She uses Cake flour, If substituting for cake flour: Take 1 tbsp of Corn starch in the cup and then fill the rest of the cup with plain flour but I changed it as I have mentioned above.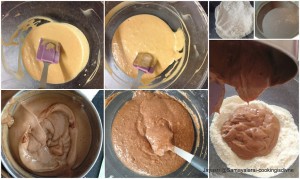 METHOD:
Preheat the oven to Gas Mark 3.
In a double boiler method, In a bowl boil water and bring it to simmering then place a small sauce pan over the bowl melt chocolate, In 2tbsp hot water dissolve coffee powder and then add it to the melting chocolate.allow it to melt switch off the stove.
Line the cake tin with Baking parchment, Measure Almond meal, All Purpose Flour, Baking powder, Baking soda and corn starch and combine well together, and sieve them well together and keep aside.
In a food processor or an Indian Mixie blend together condensed milk, yogurt, melted chocolate with melted butter to a nice and creamy consistency.
In a large bowl take this creamy blend add sugar mix well then add Baking powder and Baking soda, combine them well together, within a few seconds you will start noticing bubbles forming up.
To this blend immediately fold in the dry ingredients delicately with the help of a rubber spatula, until everything is well incorporated.
Turn the batter into the cake tin and bake it in the middle rack of the oven for 25 to 30 minutes in the preheated oven. Cake starts to puffs up around the circumference, plunge a tester / skewer into that area of the cake when it comes out clean then you would know it is done.
The center might be a bit shaky if a toothpick inserted comes out a bit oily and comes out with a few moist crumbs.
Take out the cake when it is done, Allow the cake to cool it on a wiring rack, after 5 minutes run the knife through the edge of the pan and turn it on to the cooling rack.
Allow it to cool for at least for at least an hour, if you plan to do Icing, you need to cool it completely.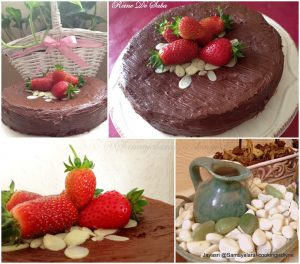 FOR THE ICING:
Place chocolate and coffee in a small sauce pan, and set it in a larger pan with almost simmering water away from heat allow it to melt with butter beat it together until smooth and shiny. Immediately spread it over the cake.
I used my pastry brush to make strokes on it and decorated it with flaked almonds in the middle and I had some home grown strawberries which I placed it on top just to make it look nice. Hope you like it.
If you want to see more beautiful cakes and the challenge done with care, love and especially with perfection here are my friends from Baking partners... check out their blog and enjoy the visual view.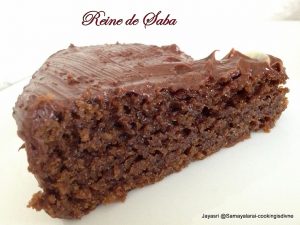 As I had already told you that I had baked this cake long bake for a book club I wanted to show you a click of that as well which I baked using eggs
Here is the link to that post : https://www.myvegfare.com/?p=242 and here is a picture of it.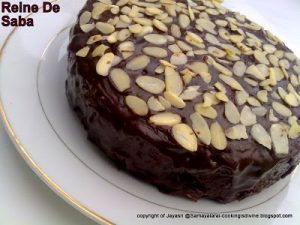 Seniding this to
cook eat delicious - desserts - Chocolate, started by cook eat delicious hosted by Riddhima of culinary vibes
Sending this to JCO - Super foods - Super Power
Bon Viviant #7, by symee's culinary
Bake Fest by Foodmania, started by Vardhini