Hi everybody, Hope you are all doing well, Breakfast -Yes Breaking the Fast is the best thing when living in India it was different with a lot of different variety of dishes turning up in my kitchen, Living in a joint family later on with in-laws and visiting relatives it always was my best part of the day, as I never was interested lunch, I always had a complete breakfast, as they say - ''Eat Breakfast like a King...'', I always promptly applied it in my food habit, But, even today it hasn't changed on weekends.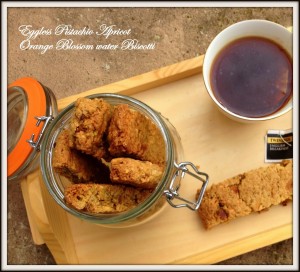 After coming here it was fine for a few months when kids were small and after that lot of things changed , sometimes when I am alone at home in the morning I don't want to make anything for myself and just eat whatever I get hands on!!, but when it comes to corn flakes it is all time favourite in my house.
I keep looking for healthy options for my kids to have for breakfast, particularly my eldest who doesn't like to eat anything early in the morning likes to eat tidbits with her milk, her new passion these days is drinking Tea!!, when Gayatri asked us to bake Biscotti I was so very happy I have baked biscotti earlier and I have posted one with eggs, Chocolate Almond Biscotti. Kids loved it, If you are a regular reader of my blog you would have noticed I try baking Eggless these days, and of course as this is an Eggless Baking Group I was quite happy going on with it.
I made a little mistake, I pressed the dough it a bit more than necessary, so the biscotti's kind of became Biscuits, Whatever it was Biscotti or Biscuits. Of course no compromising with the taste , it was delicious, as we loved it.
I have changed a few things in the recipe, trying to make it a bit healthier, Hope you like it.
EGGLESS WHOLE WHEAT AND OATS PISTACHIO APRICOT ORANGE BLOSSOM WATER BISCOTTI / BISCUITS ????
Recipe Adapted from Baking obsession
Makes 12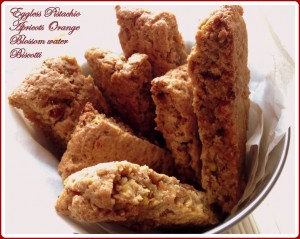 INGREDIENTS:
1 and 1/4 Oats (125 grms )
1 Cup Whole wheat Atta (140 grms)
1 Cup sugar (200 grms)
Zest of 1 medium Orange
Juice of 1 Orange ( I got 4 tbsp)
1 tbsp Chia seeds
3 tbsp Hot water
1 and 1/2 tsp Baking Powder
1/4 tsp Baking Soda
50 grms Butter
1 tsp Orange flower water
3/4th Cup Pistachios
3/4th Cup Dry Apricots
METHOD:
Soak Chia seeds in Hot water until needed
I used porridge oats and grinded it into a powder.
In a Large bowl mix Oats, wheat flour, Baking soda and Baking powder and sieve them together for at least twice. Just to make sure everything is well blended.
Cream together sugar and butter.
Blend Chia seeds with water and Orange juice into a smooth paste
Add this to the blended sugar and butter with Orange flower water and zest of Orange ,
To this add dried Apricots and chopped Pistachios, mix well.
To this batter and sieved flour and make it into a dough it is a bit sticky dough though.
Flour your hands and make two logs, and flatten it a bit ( I flattened it a far too much ).
Bake at 350 degree F/ Gas Mark 4 / 180 degree C ( But I baked my Biscotti's at Gas Mark 3 as my oven gets too hot)
Check out your oven and bake,for 25 minutes until it is golden brown and firm to touch , Remove it from the oven and cool it on a wire rack for 10 minutes reduce the temperature of your oven to Gas Mark 2, with a sharp serrated knife cut it into 1'' slices, keep them flat on to the tray and bake again for an other 20 to 25 minutes. until crispy.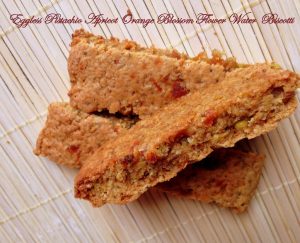 It stays for a week in an airtight container, it was tasty and delicious...
VEGANISIED : You can make it Vegan by substituting Butter with Oil.
Orange Blossom Flower Water : Here is a link to know how to make your own Orange Flower water
Shop here for your Orange flower water or even here.
Check out Gayatri's blog for the round-up and a beautiful array of biscotti's.
I am also sending this to Bake Fest Vardhini's event hosted by Archana