Hi Everybody, Hope you all had a wonderful Christmas, I am a bit late, but nevertheless, Merry Christmas to all my dear readers, friends and family.
I have been very busy from past three days with friends and family around, it's been a busy Christmas than I usually I do, Every year during Christmas I used to be in my sister's home, with lots of fun and baking and cooking, but this time I had the family around in my place, so I had no time to sit in front of the computer and write any posts, and felt very bad because I couldn't wish anybody either. Anyways, better late than never...
Here's
''Wishing You All A Very Happy Merry Christmas''.
I made these cookies as I had some Passion fruit at home..., will straight go on to my recipe...
EGGLESS PASSION FRUIT COOKIES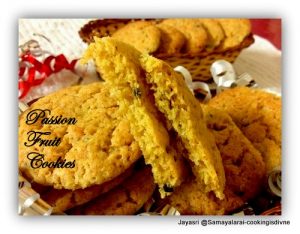 INGREDIENTS:
150 gms All Purpose Flour
25 gms Oats
3 Passion Fruit Pulp
1/4 tsp Baking Soda
150 grms Sugar
75 grms Butter
1 tbsp whipping cream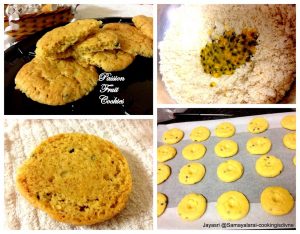 METHOD:
In a large bowl take all the dry Ingredients the flours and Baking soda and mix well together. To this rub in the butter and Sugar then add the pulp of the three Passion Fruit.
Mix well add whipping cream and bring it into a dough, Place this dough in the fridge for half an hour.
Make little round balls and bake in a preheated oven 170 degrees/ Gas mark 3 for 20 minutes.
They turn out to be in Golden colour. Remove them on to a wiring rack.
When cooled they were soft and chewy.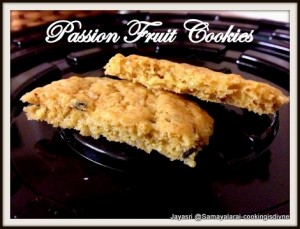 NOTES:
The cookies were soft and chewy, and tasted very well, My kids were saying that they tasted like Mysore Pak, this is a Indian sweet very famous in south of India. I was quite happy with the result.., do try it out and tell me if you liked it.
Funnily I made some Indention thinking they might show up and my cookies will have a beautiful design on it,
but they spread out and did not show any design at all, but that didn't really matter but tasted delicious.
I used Whipping cream, you can use Yogurt / water or any other thing for binding..., you can even substitute and one Egg.
These cookies go to Champa's Bake-a-thon event baking with me are Priya, Sumana, Preethi, Srivalli and Veena.
will visit you all soon, as the I think I will be able to relax this weekend...
c u all soon with an other post...
Enjoy.... and take care....