Do you like Coconut then this is for you, the coconut just gives you such lovely taste, you wouldn't go without an other piece, This cake is basically made with Eggs, I just turned it into an Eggless version, I come from south of India, from Karnataka State, Like keralites, People in Karnataka also tend to use lot of coconut in their cooking. Born and brought up, like any other Kannadiga, I use coconut in my cooking a lot, which is minimised now a days :(.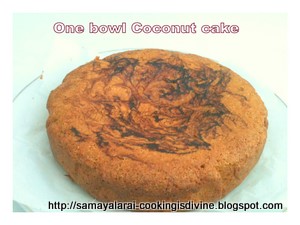 Well. It's already wednesday, that means an other
Blog Hop
already, I was assigned by
Radhika of Tickling Palates
with
Shireen of Ruchik Randhap
, and guess what she is from my state - but comes from Mangalore, I have been to mangalore many a times, Mangaloreans use coconut a lot in their cooking and cashews, I still remember when I went there the first time I was in a school trip from seva dal stayed near Mangala Stadium, where we had all our programmes and activities, Mmm.., that's what I remember and bought Cashewnuts!. Now of course I have lot of friends and I love their cooking style too., so going through her blog was lovely, remembering my friends and the Mangalorean food!, she has such a lovely space, she talks about the place she comes from and writes a little story in every one of her delightful reicpes.., In her blog she has photos of some of the veggies and fruits which makes me think of home, and its been quite a long time I tasted them. I tried two of her dishes, this is one of them, the other one I will post when I post one of own recipes.
Bascially, when I go to a blog I look for original recipes, so I had to try out the other recipe first and then this one!, she has tried out this recipe from
NZ's Favourite Recipe
. Check out her space for this recipe, it's a real beauty, the clicks are so beautiful, unlike mine, you feel like picking it up.
I tweeked the recipe little bit as I was making this eggless and the recipe calls for 3 Eggs, so I had to change it a little bit to replace three eggs
EGGLESS ONE BOWL COCONUT CAKE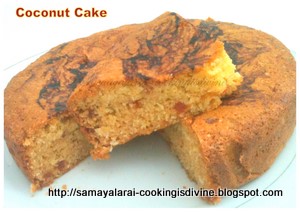 INGREDIENTS:
1 cup of Plain flour
1/2 cup Fine Corn meal
1/2 cup Dessicated Coconut
3/4 th cup Granulated sugar
1/4 cup Condensed milk
1/4 cup Milk
1/4 cup (+2tbsp) curds
1/4 cup Tutti-fruti
1 1/2 tsp Baking powder
1 tsp Baking soda
1/4 cup Coconut Oil
1 tsp Cardamom flavour
1/4 tsp salt
METHOD: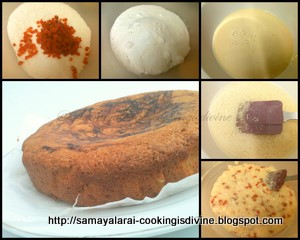 Preheat the oven 10 minutes before at 180 degrees/Gas Mark 5
Line an 9'' round cake tin
In a large bowl take both the flours, baking powder, baking soda and salt mix well combined, then sift together twice and keep aside
In an other bowl mix all the wet Ingredients, condensed milk, milk, curds, cardamom flavour and sugar, mix well combined until the sugar is well dissolved then add the dessicated coconut and Tutti-fruti, to this add the sieved dry Ingredients until well incorporated into it in a nice circular motion, don't mix in too much, the air bubbles created will fall through other wise.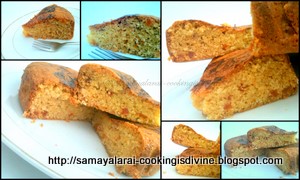 I added extra 2 tbsp of buttermilk to make it little more wet and to a dropping consistency, just have an extra 1/4 cup curds, use it according to your flour.
I took a 1/2 tbsp of cocoa powder and mixed with 2 tbsp of hot water then poured it on top of the cake and swirled it around the cake
Fold this wet batter into the cake pan and stick it in the oven for around 40 - 45 minutes or until the skewer comes out clean.
I had some friends over at dinner and they don't like to eat eggs, so this was perfect for the dessert, they loved it very much, well I couldn't keep my hands off it, I kept eating it, It was so lovely and delicious, thanks shireen for this lovely reicpe. you can see from the close up, how well it turned outl
This is my submission for Blop Hop wednesday you too make it and enjoy it..., as we all did...