Hello everybody, I was planning to post recipes which I made for Pongal festival, but then it is Monday today so I am back with baking for Monday Muffins, you must have noticed I love baking Muffins, simple versatile and quick to bake and my kids do enjoy them.
Baker street sent me the recipe to bake these delicious Mocha muffins, basically adapted from Bon Appe'tit.
I did not change the recipe too much, I just made it Eggless with a little twist with flour and sugar.
As my kids eat them ( hubby too.. can't stop him), I prefer to bake it a bit healthier, Baking has become an obsession, so I try to make it much more healthier, then don't ask me, why I can't use eggs, as Eggs are a good source of proteins.
Definitely, I can't say no, I have nothing against Eggs. Even though I can't become a vegan as I love milk and milk products, at least I can try omitting Eggs where ever I can, well, If a recipe calls for 6 eggs, I just have to go ahead and bake it as substituting 6 eggs would be a challenging job! or it may become a flop. So, whenever it is possible I try and bake it Eggless, and my kids don't complain at all.
They always turn out good and my kids do enjoy them very much.
Muffin Mondays
is an initiative by
Baker Street
. A culinary journey of sharing a wickedly delicious muffin recipe every week. If you are interested drop in a quick line to join her on her journey to make the world smile and beat the glum Monday mornings week after week.
EGGLESS MOCHA MUFFINS WITH CHOCOLATE CHIPS AND PECANS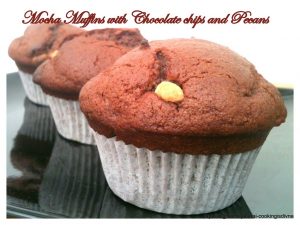 adapted from Bon Appe'tit with minimal changes
INGREDIENTS:
2 tbsp Hot water
1/2 tbsp Instant espresso powder
1/4 Cup butter milk
1/4 Cup vegetable Oil
1/2 tsp Vanilla extract
1/2 Cup All Purpose flour
1/4 + 2 tbsp Barley flour
1/4 Cup packed Golden Brown Sugar
1/4 Cup Agave Nectar
1 and 1/2 tbsp Unsweetned cocoa powder
1 tsp Baking powder
1/2 tsp Baking soda
1/2 tsp salt
100 gms Milk Chocolate Chips
100 gms coarsely chopped pecans toasted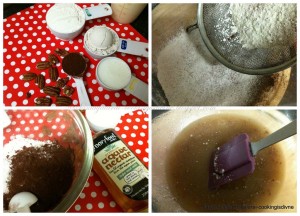 METHOD:
Preheat oven to 375 degrees/Gas Mark 6.
Line 6 Muffin cups with Paper Liners
Sieve both the flours with Cocoa powder, Baking powder, baking soda and salt in a bowl.
Stir 2 tbsp of hot water and expresso powder in a medium bowl until the powder dissolves.
In a large bowl add buttermilk, oil, Sugar, Agave Nectar and vanilla, whisk well until well blended.
In parts incorporate the flour into the Liquid mixture until well combined, Mix in chocolate chips and pecans.
Divide the batter equally among the prepared muffin cases.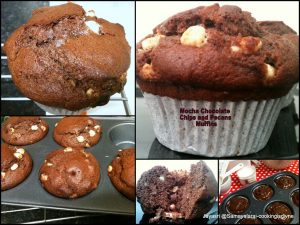 I baked my muffins 15 minutes in Gas Mark 6 then reduced it to Gas Mark 5, they got baked within 20 minutes.Bake Until the tester or tooth pick inserted into center of muffins comes out clean.
Transfer muffins to rack and cool.
My Verdict: Here I have Halved the recipe. So, if you want to make 12 Muffins just double the recipe and I would say if you are baking it Eggless then I would suggest you to add 1 tbsp of Flaxseed powder with 3 tbsp of very warm water and allow it to rest for 5 to 10 minutes and then blend them with other Liquid ingredients.
Even if you are baking 6 Muffins use 1/2 tbsp of Flaxseed powder, it gives a moist texture to the muffins and helps in replacing the fat content in the baking process, as the muffins were not too moist, they were soft though.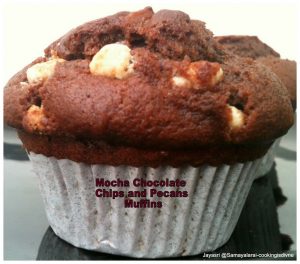 If you are planning to bake it in Vegan Version you can substitute buttermilk with soya milk and Cocoa powder with Carob powder and vegan Chocolate chips
These muffins are not too sweet if you have a sweet tooth, substitute Agave Nectar with Sugar, they are perfect for Breakfast with Tea or as an evening snack with Tea or coffee.
If you want to make it with Eggs then for the above recipe just add 1 Large Egg, you will get your Mocha Muffins perfectly, If doubled add 2 Large eggs!!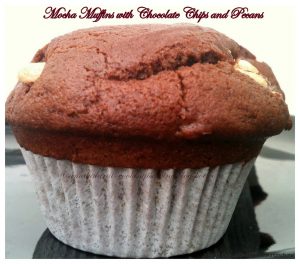 See you next week with an other muffin recipe....., check out her blog for the MM team members and their Lovely Muffins. Thanks Anu for these beautiful muffins which my family enjoyed.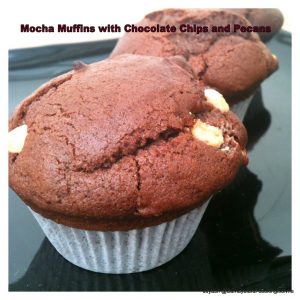 I am send this to vardhini's Bake fest and co-hosted by Anusha's Tomato blues