Hi everybody,  Hope everything is good at your side,  Here is a quick post for you which I made quickly to join the
blogger's buzz
team, I was unable to search for my step-wise-photos, for time constraint  please stay tuned in and I will update this post soon.  But here is a quick recap of how I made it.. Hope they will accept my entry as I am a day late :).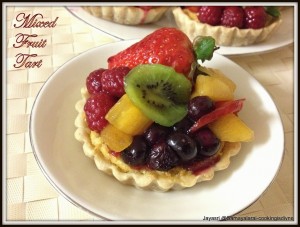 FOR THE PASTRY CASE:
1 cup Plain flour
65 gms butter
1/8th tsp salt
1/4 cup Sugar
1/4 + 1 tbsp water
FOR THE FILLING :
1/2 cup Plain Flour
3 tbsp of melted butter
1/2 + 3 tbsp sugar
1/8th tsp Baking soda
1/2 tsp Baking powder
1 tbsp Yogurt
2 tbsp Soya Custard**
1 tbsp Hot water
1/4 tsp Vanilla Essence
A pinch of Yellow food colouring (optional )
FRUITS FOR DECORATING
125gms Blue Berries
1/2 cup Rasberries
2 Fresh Apricots
1/4 cup of Melon
1/4 cup of Persimmon
6 Large Strawberries
1 Kiwi
1/4 cup sugar
2 tbsp Honey
2 tbsp water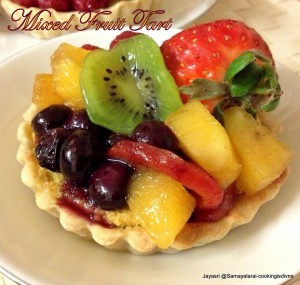 METHOD:
TO MAKE THE PASTRY
First of all Mix everything under Pastry except water they will be like crumbles now start adding water until it is well combined to make it into a dough not too soft or not too stiff. cover it with a cling film and allow it to chill in the fridge.
TO MAKE THE FRUIT DECORATION
Meanwhile In a large sauce pan take 2 tbsp of Honey and water to this add 1/4 cup of sugar and start warming it up keep stirring until all the sugar dissolves now add the Blue berries and cook carefully until they are soft but doesn't loose their shape when 1/2 way through add chopped Apricots ( I added Apricots as they were tart, if they are quite sweet you can just use it as it is).
After few minutes switch off the stove and drain them out through a strainer and keep aside.  To this sauce add Raspberries, shake them a bit so all of them get coated, now leave them in the pan.
TO MAKE THE FILLING
Meanwhile take little Tart tins apply butter all over  and keep aside until need. Now Take out the dough from the fridge make little balls and roll out  little disc shapes, Take these little rounds and carefully place them on the tart tins and press all over the sides, with the help of a fork prick the bottom of the tarts, don't make holes just give a prick all over.
Top all the 6 Tarts with Baking parchment and add Baked bean balls on top of it and bake these Tarts for 15 minutes on Gas Mark 3 / 170 degrees
once done take out these Tarts on to a wiring rack to cool down, after 5 minutes, remove the baked beans and the baking parchment and allow it to cool down a bit.
Preheat the oven to Gas Mark 3
Meanwhile when it is cooling down In a bowl take Plain flour, to this add Bicarbonate of soda and Baking powder, a pinch of salt mix well and keep aside. In another bowl take melted butter, sugar, soya custar, yogurt and mix well together, add a tbsp of Hot water and mix well.
Scoop this above cake mixture in a spoon and spread them evenly on all the tarts, Put them back in the oven and allow them to cook for an other 20 minutes,
Beautiful cake forms on top of the tarts, once done, switch off the Gas and take them out leave them on a cooling rack.after 5 minutes remove them all from the tart tins.
ASSEMBLING THE MIXED FRUIT TART
Slice of the top portion the cake nicely, and remove the top portion, take the cooked Blueberries, Raspberries, Apricots and arrange them on the tart shell as you desire.
Now either serve them just as it is otherwise with the help of tea strainer, sprinkle some Icing sugar on top of it and serve them.
These little Individual tarts were not only beautiful to look but also tasted very nice.
The sweet tart and cake inside the tart and the sweet fruit filling was divine..
Sending this to Blogger's Buzz, I am joining them and so looking forward to it...