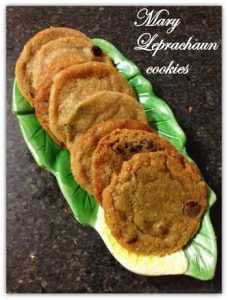 Of course it is not St.Patrick's day does it mean we should not make these cookies and eat it..,Well for something Green for St.Patrick's day she had made these, as she says you need not be an Irish to celebrate this day nor there is any excuse to celebrate festival days right ?. When I went searching in her blog for recipes, My eyes caught these cookies, I got hooked to these cookies as they had minty flavour and which I had never tried this before, I was a bit scared how my kids would like it, but they really liked it :)), I was a happy mother. As you can see I did not use too much green colour in it. so you would definitely see the difference in our cookies..
Oh! I never told you why I posting this recipe, and about what I am talking about, This is our Secret Recipe Club Assignment, next is to whose blog I was assigned to right ?, Suzanne my hostess had assigned me to Adventures in all things food by Andrea, she is into so many things not only cooking, baking, Farming, products and Giveaways and crafting. Do check out her blog you will definitely try it out...
I have halved the recipe.
Here is the Recipe...
EGGLESS MINT FLAVOURED COOKIES - MARY LEPRACHAUN COOKIES
Recipe Source: Adventures in all things
Time Required: 45 minutes
Made 15 cookies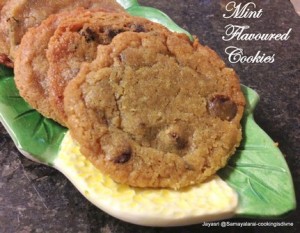 INGREDIENTS:
1 and 1/4 cup All purpose Flour
1/4 tsp Baking soda
1/4 tsp salt
75 grms butter*
1/2 Cup Cane Sugar**
1/2 tsp Vanilla extract
1 tsp Mint extract
1 tbsp Corn Flour
4 drops Green food colouring
1/4 cup Choco chips (dark Chocolate)
METHOD:
Preheat the oven to 350 degree ***
Take all the dry Ingredients together and mix well except for sugar.
cream Butter and sugar together, add food colouring, extract, then add the dry Ingredients into it mix well with choco chips, Refrigerate the dough in the fridge for 30 minutes, Make small balls flatten it a little bit and place them on a parchment paper and bake them for 20 minutes.
Remove them on to a cooling rack for 10 minutes and enjoy it..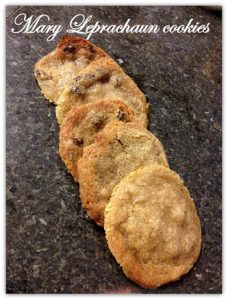 NOTES:
I halved the recipe so I could just substitute for 1 Egg
*I have reduced the butter she uses 1 stick butter (around 125 grms)
**Increased sugar by 1/4 cup, I have used Demarara Natural Cane sugar
***I baked them in my oven at Gas Mark 3 as my oven has a very high temperature.