Apples, Apples and apples.., Ooo this cake is full of the goodness of Apples, I had to settle with this cake in the last minute, A lovely blog with lovely recipes. Actually I had planned to make an other cake, and made the cake too and it tasted so nice .., but was a disaster as I have this stupid pan which is very thin and I have already had twice problem with it, and every time I bake something in it, it gets stuck to the pan, I had completely thrown it below of my baking equipments, I picked it up completely forgetting about the tin as it has a lovely shape and thought baking in this tin will look good and all the things I had planned to top it everything altered once I turned the cake to remove from the pan, It was all stuck on the top! but I am definitely going to try it again in an other pan and am going to post that recipe soon…, as I want to share it with you all, so as in change of plan I had to choose an other recipe and I got hooked by this one (I was hooked by an other three!, in the end I chose this!!), you know me, I always try to bake eggless and here I am with this one, you can bake this with eggs as is the
original recipe
calls for.
Ooo…., I did not tell you why I baked this cake right ?. this month I was assigned to
The world in My kitchen by Mindy
, what a beautiful name for a blog, I thought I should have kept that name! I seem to think like that to every name I come across and wonder at the creativity of my blogger friends, well not any more now though :(, A very beautiful blog she has and loads of recipes from various sources, beautiful clicks, made some book marks tried 3 of her recipes (tried eggless versions thought), even then it came out very well, My family liked it that is all what it matters to me, well consumed is very well done!
Well I seem to go off track always, yet again I will start – I was assigned by
The Secret Recipe club
of
Amanda's
now co-hosted by 4 lovely ladies who have taken the initiative to help her maintain this club as it has grown to a very big family now and my hostess the lovely
Angela
of Big bear's wife sent me an e-mail to try recipes from Mindy's blog and thanks to both of them which I did love going through her blog and tried 3 of the recipes, I will post the other two later on :(.
She says the talk of this cake was going around the blogosphere such a lot and she wanted to try this ASAP and because of this cake she was hooked by this book too.., and then on to her wish list
Around my french table
.
EGGLESS MARIE – HELENE'S APPLE CAKE FROM DORIE GREENSPAN
Recipe adapted from The world in my kitchen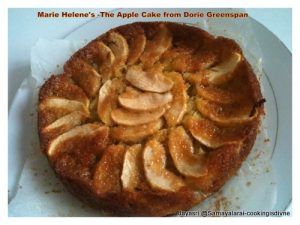 INGREDIENTS:
3/4th Cup All purpose flour
3/4th tsp Baking powder ( I used 1 tsp )
salt a pinch
(1/2 tsp soda I used)
4 Large Apples ( I used 3 Royal gala apples Medium sized)
2 Large Eggs ( I used 1/2 cup hung curds)
3/4th cup sugar ( I used Granulated sugar)
3 tbsp Rum ( I used 3 tbsp Orange Juice)
1/2 tsp vanilla
8 tbsp butter
Turbido sugar to sprinkle ( I used Billington's Demerara sugar)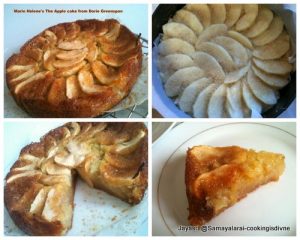 METHOD:
Preheat the oven to Gas Mark 4/350 dF/ 180 dC
Take a 8" Springform tin and line it with a baking parchment/silicon sheet
In a bowl take all the dry ingredients together and sieve or mix well together ( APS, salt, Baking Soda and Powder)
In an other bowl take all the wet Ingredients buttermilk, orange juice, vanilla extract, melted butter and mix well
To this above mixture I added sugar and mixed well thoroughly
To this batter I mixed the flour in batches and made it into a nice cake batter.
Now peel, core and chop the apples 2 of them and the other one in semi circles.
What I did was I poured the mixture to the tin as 1" layer then layered the chopped apples on top of it then layered the left over cake batter on top of it then layered the remaining apples which I had cut in semi circles and sprinkled the sugar on top of it.
Please do check out her blog if you are using eggs and for the method in which she folds the apples for this cake
VERDICT:
As mindy says this cake is so forgiveable and you can use any kind of apple you want, the cake was very moist as she says.
My cake was very moist too, sweet and had a hint of orange. Don't fall for the look my cake, looks gorgeous, as I was making this eggless, I learnt a few things baking this cake next time,
— what I do not want to do is – I would like to make a few more changes next time, by substituting with may be silken tofu, I will not arrange the apples like I have done now, just chop the apples and mix it with the batter as mindy has done, and reduce the quantity of apple to just two, the cake is very moist, and chopping and adding the apples to the batter should ensure you get it nicely blended with the cake batter, the apples on the top of cake some of them were crunchy some were (the white ones as you can see were partially cooked ), well, as they are apples it doesn't really matter, it was very sweet for my tooth, you can serve it Ice cream or warm custard or whipped cream I think.
If any of try this recipe do let me know (the eggless version of course!), not with the eggs as it is already talk of the town 🙂
Thanks to all the three of you on this assignment :)) c u soon with an other assignment next month and if you are interested to join contact here