Hi everybody, hope you are all doing good, This will be a quick recipe, with no beautiful clicks as I have been postponing to post anything in my blog for a very good reason, but I have to do two posts today, as today is the deadline of two events which I eventually participate, I have been trying a few things with these two combinations and totally enjoyed it.. , Thanks Kalyani for this beautiful combo, even though I did not make it a healthy one, This was the only recipe I could make it quick and post, well, no further ramblings I will get to the recipe..
This month
Kalyani
choose two ingredients Green Tea and Pistachios.. for
Magic Mingle
GREEN TEA MOUSSE WITH PISTACHIO AND STRAWBERRY VERRINES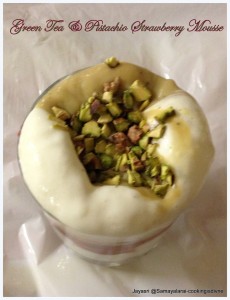 GREEN TEA MOUSSE
140 gms  Whipping cream
70 gms white chocolate
1 tbsp Green Tea Leaves
1 tbsp Dolce de Leche
1 tsp Agar powder
2 tbsp of warm water
CREAM-LESS STRAWBERRY MOUSSE
140 grms Strawberry Puree
140 grms Sugar
1 tsp Agar
3 tbsp Warm water
Whipping cream as required
Pistachio Nuts as required
METHOD
TO MAKE GREEN TEA MOUSSE
In a thick bowl heat cream and tea Leaves until boiling set aside for 30 minutes, strain the tea leaves from cream then whip to soft peak melt chocolate and mix into tea infused cream and set aside.
TO MAKE CREAM-LESS STRAWBERRY MOUSSE
Soak Agar powder in  warm water beat keep it aside for few minutes then beat again , Puree strawberry and sugar together heat them in a bowl, add this to the puree and boil for few minutes keep it aside.
Beat whipping cream until soft peaks are formed. chop pistachios and keep aside.
ASSEMBLE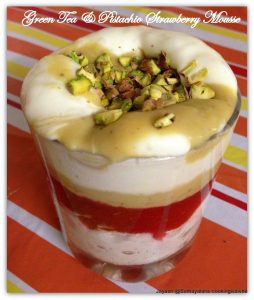 In a glass bowl or any thing you wish to arrange, layer whipping cream, add chopped pistachios, then layer them with Strawberry mousse then layer it with Green tea Mousse then layer it with Whipping cream and pistachios again then top it with Green tea mousse and top it with pistachios again, leave it in the refrigerate an hour or two and serve it cold.
Recipe source from these two blogs with minimal changes from here and matchachocolate.com
It was very sweet said my kids, hope you like it...