People have got to learn: if they don't have cookies in the cookie jar, they can't eat cookies - Suze Orzam
I love baking cookies; they are no hard work, fuss free, few ingredients and Lo! Bite sized, fulfilling on the go & all time favourite sweet something's, what do you say? Do you like cookies? What's your favourite?
This post has been in my draft for some time, I have been away from my blog  for a long time. Days just go by without me knowing it, well I could blame it on my kids now.  They are in University now, excited that they came back,  I have been quite busy past month, been cooking and baking non-stop.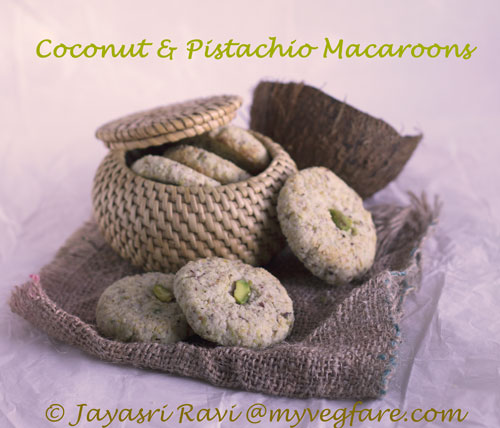 So, they have been here for a short break for  Christmas vacation and I am so excited about it, from past few months I haven't baked much at all, After they joined University this year, baking has taken a back seat.  Every week, sometimes twice a week I used to bake breads, they loved home-made breads for their Lunch box and also I used to bake cakes, muffins etc, just for munching / snacking.    I have been thinking about this from past year wondering what I would do when they go away, probably stop baking and stop blogging too.
Well, I don't think I can stop blogging now as my kids are cooking on their own and always ask me and look at my blog for recipes, I have planned to blog basic & simple recipes just for my kids for their reference.
Coming back to the recipe, I baked these when my kids were here, they were very tasty, and if you want you can increase more sugar if you have a sweet tooth.  They were quite tasty I ate quite a lot as my two favourite Ingredients are in that, Coconut & Pistachio two of my favourite ingredients.
Recipe Source: Jayasri
Prep time: 10 minutes
Baking time: 20 minutes
INGREDIENTS:
100 grms Pistachio Nuts
100 grms Fresh Coconut
100 grms Caster Sugar
100 grms Icing Sugar
2 tbsp Rice Flour
2 tbsp Corn Flour
1/8 th tsp Baking soda
2 tbsp Oil
Pinch of salt
Few Pistachios for decorating
METHOD:
First of all powder pistachios coarsely, take Fresh coconut and give one  whiz in your food processor or mixie don't do it too much it will start giving milk which we don't want, as we want the taste of coconut , Now mix this with Icing sugar, salt and Baking soda and keep aside. In a bowl beat Rice flour, Corn Flour and oil beat them together, to this add the dry ingredients mix well.
Make small balls, I made around 27 balls out of the dough,  flatten them out and bake them for 20 minutes in a preheated oven Gas mark 3 on a baking sheet (I have a gas oven and gets hot,  even in low temperature so I always bake in a low temperature).
Once done take it out and cool on a wiring rack,
You just can't stop with one  enjoy it with your Cuppa ya Chai
C you soon
Bye